I'll admit it: Before stepping into the Chevy Bolt EV, I was a skeptic.
I wasn't really sure I'd enjoy driving the all-electric car to and from Denver to Glacier Basin at Rocky Mountain National Park. I didn't know if I'd have the same flexibility or spontaneous freedom that comes with a traditional gas zoomer.
Chevy invited me out to do exactly this and test the limits of the 2017 Bolt EV, which went on sale in Colorado this month.
At first glance, you get the feeling it's going to be at least a little zippy. At 102.4 in. from wheel to wheel, it comes in quite a bit shorter than the Honda Fit, while being a few inches longer than its sister, the Sonic. And for the record, it does have a bit of push under the accelerator. But to get there, you have to know how to optimally drive the thing. A PR rep from the brand gave us five writers a quick tutorial on the Bolt EV's regenerative braking system, which when used right, gets somewhere near the EPA-estimated 238-mile range (more on all of that later).
I was paired with a Nightfall Grey Premier version reading 4100 miles on the odometer and set off on Colorado 36 towards Boulder. Another publicist would be my co-pilot.
The Bolt EV's interior is an array of screens and numbers, most notably a cluster inside the dash that can be completely controlled with an arrow pad on the steering wheel. One of the key relays on the screen is the range meter, which constantly updates based on your driving skill.
This is where the whole "regenerative braking" thing comes in. When driving in its "Low" mode, the driver can pull off the pedal slowly, allowing the car to regenerate energy instead of using energy to brake.
Yes, at first, it's a bit strange. But it's almost like an automotive ballet – a delicate balance of easing on the pedal, while letting the car take over and roll to a stop in about the same length you would normally brake. At higher speeds, this process is a bit jittery, but it also helps extend the driving range. After you've mastered the ballet, you're ready for the recital.
After a stop for lunch in Boulder, we ascended the remainder of Colorado 6 towards Estes Park and the Park entrance. It's a hell of a drive with scenery at every turn and plenty of turns to gauge handling. The Bolt EV's 17" Michelin Selfseal all-season tires stuck to each twist and responded well while gauging speeds through the regenerative system.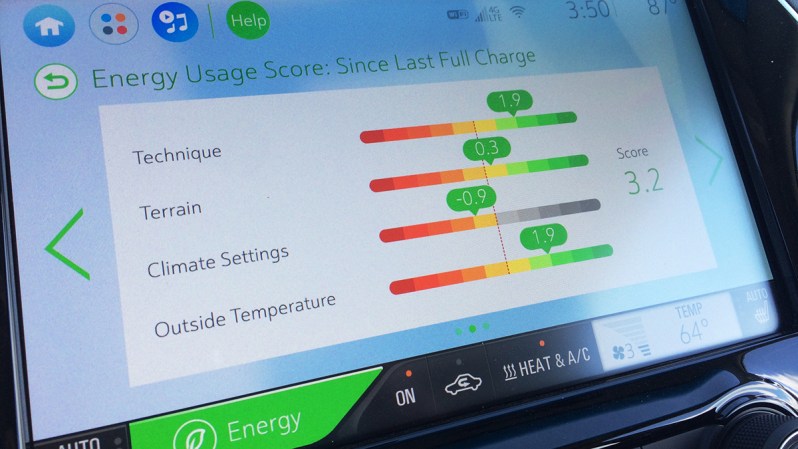 We spent the night in a valley campsite surrounded by a number of spectacular peaks and the Continental Divide. A sustainable meal prepared by a volunteer from environmental group Leave No Trace was a fitting complement to a drive up that sped past every gas station and left the 20th century in its wake.
The next morning, we all piled in to two of the five vehicles in the fleet and went for an early hike up to Bear Lake (trailhead: 9475 ft.) The Bolt took a car full of explorers through winding turns in stride and rolled to a comfortable stop in the parking lot. Elevation issues non-existent.
The Chevy Bolt EV has this way of making you try to drive better than you do with your normal gas guzzler back home. An internal computer spits out a variety of numbers that scores you on your electric driving ability (yours truly was among the top on the trip). So, the drive back down was an excellent time to cruise on half a full charge and make it to Denver International with about 60 miles to spare. (Final mileage around 200 miles.)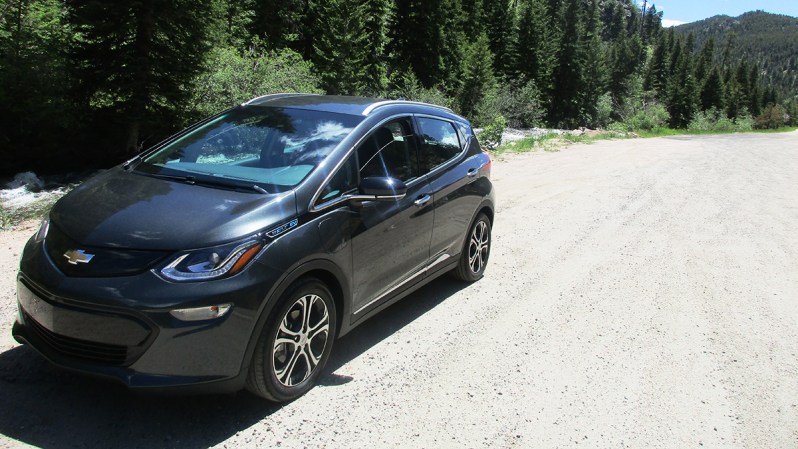 The Bolt EV isn't the most riveting car on the road by any means, but it does make you rethink the future of the everyday vehicle. It's supremely quiet and causally whizzes its way through freeway traffic like a sleuth. The technology packed into its 3,563 pound frame is a testament to American ingenuity and you have to think it would be everything the average Yankee driver needs and more.
It comes in around $30,000 after rebates and credits, which puts it in the ballpark of much sportier and dynamic cars, but there's the little benefit of not having to stop at the gas station. It's not quite enough for me to run to the dealer, but add all-wheel drive to an all-electric package that's this functional, and consider my season tickets to the ballet sold.
Editors' Recommendations