Anyone who has watched any television lately knows by the glut of SUV commercials that there's no shortage of models on the market. Luckily, you only have to care about one: the 2018 Chevy Traverse. Lighter, quicker, and more handsome than before, the 2018 Chevy Traverse might just be peak crossover SUV. With stellar engineering, all the bells and whistles you actually want, and supremely easy driving, this crossover SUV might just be the perfect everyday and road-tripping vehicle.
In early August, my old friend Laura Copelly and I were graciously allowed to take a 2018 Chevy Traverse AWD Premier for a three-day test-run from Detroit, Michigan to Traverse City in the north of the state. During the trip we used and, while I won't say "abused," I will say "trialed" the Traverse in every way we could imagine–and this vehicle never failed to be anything but excellent all-around.
Styling
Sleek, streamline, and much less curvaceous than its previous iteration, with a bigger, wider, more masculine grill and 20-inch machined-face Argent Metallic aluminum wheels, the 2018 Chevy Traverse no longer looks like a mini-van and a full-sized SUV had a baby. The Traverse is a family-friendly crossover with the cargo space, head space, and the passenger space of a bigger class with the looks of a luxury SUV any man would be proud to be seen in.
Driving
Michigan, by nature, is a state built for cars and trucks. Its multiple highways criss-cross the state both East/West and North/South and, because Detroit is home to the Big Three Automakers (GM, Ford, and Fiat Chrysler), a car-culture was inculcated early on, and that cannot be escaped. Because of this, people drive really fast. Everywhere.
As a lover of a speed-driving myself, I felt right at home on Interstate 75, but was skeptical that the Traverse would have enough kick to pass adequately on a road that feels more akin to the Autobahn than the highway. But, thanks to the 3.6 L V6 SIDI VVT engine, an engineering redesign that trimmed 350 pounds from the vehicle, and 310 hp with 266 lb-ft of torque, when passing (or starting for that matter) the tiniest tap of the accelerator engages the nine-speed automatic transmission, pushing the Traverse smoothly through the gears and easily outstripping any competitor car in the right lane.
Even better than the Traverse's pick-up and speed off the start is its handling. This vehicle definitely drives like something in a much smaller class. It takes sharp curves and tight turns easily without that feeling you sometimes get in an SUV where you feel like the car might just tip over with you and your dog or children in it, along with all your groceries and community lacrosse gear. We took the Traverse through several winding highways along the lake, as well as through a few state and national forests, and never felt like the vehicle was unwieldy or unstable.
Backing up in the Traverse is also a breeze thanks to its rear camera views and rear park assist, which in Chevy's words: "Senses stationary objects and warns you if an object is too close. Guiding lines on the rear vision camera screen help when backing up." Along with these fairly standard back-up technologies, the Traverse also has "surround vision," which is a fancy way of saying that, through the use of cameras and sensors and a computer, you can view a bird's eye view of the vehicle in the local environment–pretty useful for people who are terrible at parallel parking, but that's not you…definitely not you.
Over the course of our 700 miles in the Traverse, our fuel economy clocked in a tiny bit below the advertised average of 25 mpg on the highway; we consistently averaged 24.5. As far as city driving goes, we exceeded the estimated mpg of 17 with an average of about 18 mpg. Those numbers, which are pretty damn good for a vehicle of this size and engineering, come both from that 350 weight loss and the start/stop technology employed, which shuts off the engine when stopped at red lights or bumper to bumper traffic and starts again seamlessly once the light turns green. Annual fuel cost for the 2018 Chevy Traverse is approximately $1,800.
Interior and Connectivity
With smart styling, optional leather seats (with heating and ventilation), room for seven, captain's chairs in the second row, a third row of seating, and nearly 93 cubic feet of cargo space, the Traverse has got interior design down to an art. Along with hidden storage compartments, a center console big enough to store a puppy in (we do not recommend this), the interior also sports over-sized windows allowing for panoramic viewing and the convenience of charging ports in each row. To top that all off, the second row has "smart slide" seating, allowing passengers in the third row to simply slide the second row seating away and at an angle from them, allowing for much easier entry and egress. The smart slide seating is also functional while holding an empty rear-facing child's seat. For fathers with small kids, you know the hell of having to remove and replace child seats–this handy mechanism eliminates all that.
As for connectivity, the Traverse has all your new favorites including an 8-inch, diagonal color touchscreen with Chevrolet Mylink audio system, Bluetooth streaming, Apple Carplay and Android Auto capability, OnStar, a 4G LTE Wi-Fi hotspot with limited data trial, and an option for XM radio. Like most vehicles now, the Traverse's connectivity capabilities were extremely functional and easy to use for both driver and passenger. The navigation system worked flawlessly, even through the winding roads of Sleeping Bear Dunes National Lakeshore, and we had a blast playing random songs from our phones by simply plugging them into a USB port on the dash and hitting play. The automatic connectivity feature for smartphones was really the shining star of all the new tech. The overall easy of use and accessibility when it comes to tech in the Traverse makes this vehicle perfect for travelling both shorter and longer distances. I imagine a cross-country road-trip in this vehicle would be rather peaceful, with all the kids silently on their tablets and phones with no one arguing over the other's monopolization of the only charging port and no one complaining of being too hot or too cold (thank you individual climate control).
Safety
For many people who don't care about speed or style when it comes to a vehicle, their number one priority is safety. The 2018 Chevy Traverse has it all, including: forward collision alert, front pedestrian breaking, Lane Keep Assist with Lane Departure Warning, forward automatic braking, rear cross traffic alert, rear park assist, Lane Change Alert with Side Blind Zone Alert, teen driver tech, all the airbags you could want, and a rear seat reminder–possibly the best child-saving invention the auto industry has ever developed–which alerts you when you've left something in the back seat, whether that's a briefcase, a pet, or, you know, a living human baby.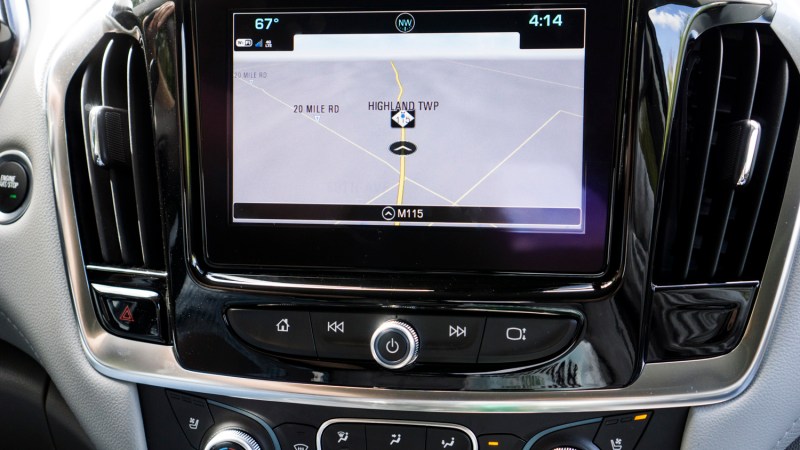 Price
The 2018 Traverse AWD Premier version that we drove (excluding the duel Skyscape sunroof) has a price tag of $47,350. The lowest trim with AWD, the LS model, comes in at a respectable $34,995, and the top of the line trip, the High Country, will set you back $53,000.
Takeaway
For a man with a family, the 2018 Chevy Traverse is the perfect all-around SUV. With plenty storage, tech, and pep, it meets all the requirements for a handsome looking ride that can double as the traditional family car. And, even if you're flying solo, the Traverse is great for guys who like to camp, fish, or just hit the road with the boys.
Editors' Recommendations