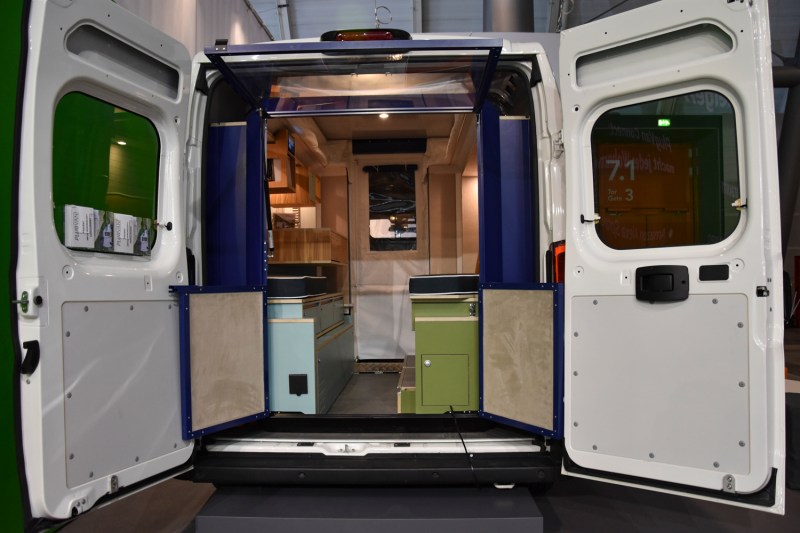 Whether you're a hardcore backcountry man or an off-grid car camper, there's an undeniable draw to getting back to nature. However, traditional campers and travel trailers can be prohibitively expensive both to buy and to maintain. PlugVan is a unique plug-and-play module designed to literally "plug" into a variety of stock work vans, converting them into full-fledged camper vans in less than 10 minutes.
PlugVan is a 6.5-foot cube that slides into the rear of most cargo vans. Setup is accomplished manually with the help of four retractable legs that help guide it into place. Once the unit is secured, the walls and roof expand up to a foot to guarantee a snug fit in even the widest and tallest of vans. The module packs a ton of features in a compact space including a kitchen area, a convertible bed/lounge/dinette, climate control functionality, multi-zone lighting, and optional smart home-oriented features to monitor onboard electronics all with touchscreen controls. Because the module doesn't occupy the van's entire rear cargo space, it leaves plenty of room for stowing all your outdoor adventure gear behind the front seats.
This "deconstructed campervan" model opens a world of possibilities for wanna-be camper owners who can't or don't want to commit to purchasing a dedicated travel trailer. Weekend nature-seekers can trick out their work van — or even rent one if they don't already own — on a Friday afternoon, then remove the module in time for work Monday morning.
This solves one glaring problem with all-in-one drivable campers: the mechanics of the automobile itself are literally part of the living quarters. In most cases, the latter is going to outlast the former. When the engine, or the transmission, or the whole thing finally kicks the bucket, owners are left with a perfectly livable camper that they can't actually drive to the campsite. By disconnecting the camper compartment from the van itself, PlugVan allows owners to swap the module into other vans on the fly. When it's time to upgrade your van, merely transfer the PlugVan module to the new ride and ditch the old one.
Of course, this isn't the first such product designed to convert your everyday work or leisure driver into a backcountry-ready camper. Rooftop car tents have been around as long as there have been crossover vehicles and people willing to sleep in them. In the last year, several European companies have created similar drop-in modules, but most offer only basic amenities. Nestbox, for example, brings the convenience of a workable sink, a two-burner cooktop, and a bit of storage space to the rear of almost any vehicle. However, PlugVan looks to be the first module to boast all the features of a well-equipped travel trailer.
The downside is that PlugVan is designed primarily for European model vans, although it'll technically fit almost any van with room to spare. Pricing for the entry-level model starts at less than USD $7,000. The tricked-out flagship edition with Alexa-enabled smart home features and a host of high-tech amenities tops out closer to $23,000. The company is also working on a separate bathroom add-on that will allow PlugVan customers to live off-grid almost indefinitely.
Editors' Recommendations