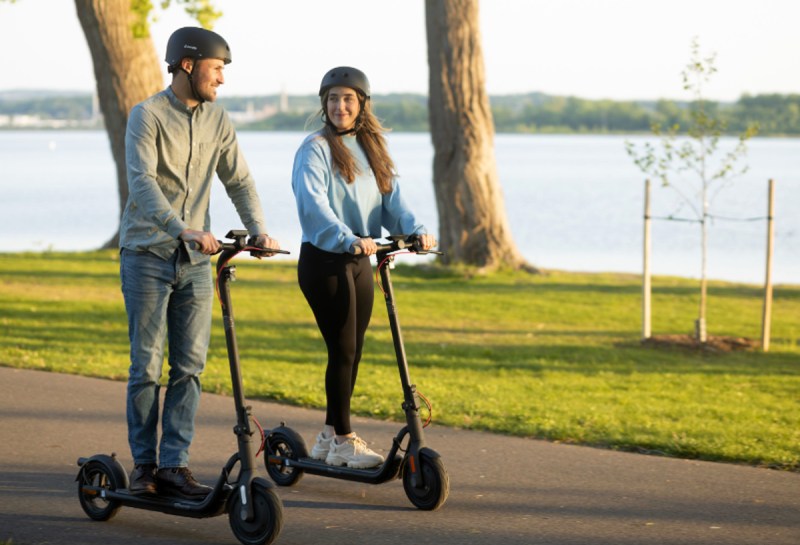 Electric bikes may get more attention, but electric scooters are amazingly versatile micro-mobility personal transportation alternatives. E-scooter manufacturer NAVEE Tech recently introduced a new electric commuter scooter, the NAVEE V40 Pro. The NAVEE V40 Pro is a mid-level e-scooter in NAVEE Tech's lineup that balances speed, range, safety and security features, and price.
NAVEE V40 Pro performance
The NAVEE V40 Pro has a 300-watt continuous output, 600-watt peak performance, front hub electric motor rated to carry a rider at speeds up to 20 mph. NAVEE rates the electric scooter's maximum range at 25 miles when its 36-volt, 7.8Ah battery is fully charged, but range always depends on multiple factors such as speed, incline, passenger and cargo weight, wind speed and direction, and air temperature. According to NAVEE, the V40 Pro can ascend inclines up to 15%, which is a reasonable grade.
NAVEE joins a growing number of electric scooter and e-bike manufacturers whose products are Underwriter Labs certified. The V40 Pro is UL 2272, UL 2271, and UL Worldwide Environmental Regulatory Compliance Solutions certified. This level of testing and certification lends confidence that the e-scooter will be safe during charging and operation. Because the weather isn't always predictable, the V40 Pro's IP55 dust and water resistance rating is also reassuring.
The V40 Pro doesn't have discrete suspensions front and rear, but its 10-inch low-resistance pneumatic car-grade tires should have some give for relatively smooth riding. This is a smooth surface e-scooter, so you won't want to take it off-road or on the beach, but it should perform well on natural paths and sidewalks, streets, and bike lanes. If you ride early and late in the day, the V40 Pro's auto-sensing headlight and taillight will help you see and be seen.
NAVEE V40 Pro features
The V40 Pro's generously sized deck is 25 inches long by 6.5 inches wide, which should be large enough for most riders. The maximum 265-pound cargo weight includes a rider and anything they wear and carry.
Front and rear brakes provide stopping power for the V40 Pro. As with any new e-scooter, riders should practice soft and hard braking from various speeds so they won't be surprised by how fast or slow the scooter can stop.
The NAVEE V40 Pro has a digital display used to show speed and battery levels. Additional features include a mobile app with the scooter to track performance and an integrated compartment to secure an Apple AirTag for convenience and security.
Small overall size for easy transport or storage is one of the most significant benefits e-scooters have over e-bikes. The V40 Pro had a dual-folding handle design with a rotating handlebar, making it easier to store in a car, a closet, or even under a bed.
The NAVEE V40 Pro's handle folds down and latches to the rear fender aid carrying. The scooter weighs 35 pounds, more than some but less than many comparable e-scooters.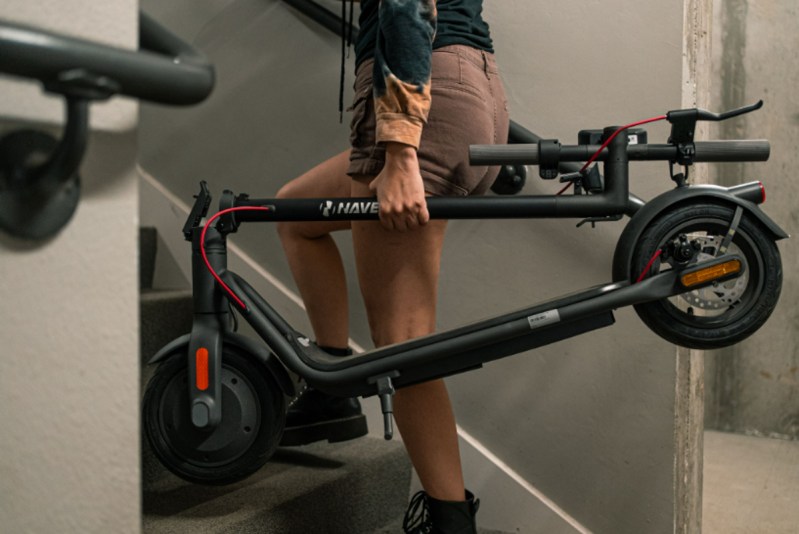 Electric scooter riders quickly discover a world of opportunities to ride for convenience, to beat the costs of driving or public transport fares, and just plain fun. E-scooters aren't only for city dwellers, as more people who live in the suburbs realize the two-wheeled conveyances provide a quick and easy way to get to the mailbox, visit a neighbor, or drop off lunch, homework, or forgotten permission slips at a forgetful child's school.
NAVEE Tech introduced the NAVEE V40 Pro to sell with Best Buy, either at stores or online. The NAVEE V40 Pro is currently on sale for $430.