Well, 2018 is shaping up to be a pretty awesome year on the water. First, we told you about a flying hydro-jetpack. Then, there was the flying Jet Ski and the electric surfboard. Now, it appears we'll need to make room for yet another aqua toy in The Manual boathouse.
The Jet Capsule Compact Yacht is designed for the sort of well-heeled hotshot who just won't stand for owning anything called a "dinghy." For those times when you need to go ashore in style — when you need to roll up to the marina in a Star Trek-worthy vessel — this one-of-a-kind capsule has you covered. It's ideally designed for short jaunts, but there's no reason you couldn't head offshore with 11 of your closest friends for an all-day capsule party.
On the inside, the high-powered pod is designed to transport passengers in plush comfort via a variety of seating configurations. Limousine, Taxi, and Private floor plans feature bench seating, stadium seating, and private jet-style seating respectively. The Classic version provides for two captain's chairs, a wide bench, and a bathroom — plenty of room for your wife and mistress(es) to spread out comfortably.
The full suite of on-board electronics is exactly as expected for a millionaire's escape pod: a state-of-the-art nav system, a Simrad VHF radio and chartplotter, and electro-hydraulic steering. Analog instrumentation provides a solid backup system and a dash of old-world elegance. A Bose surround sound audio system also ensures your passengers will never get bored.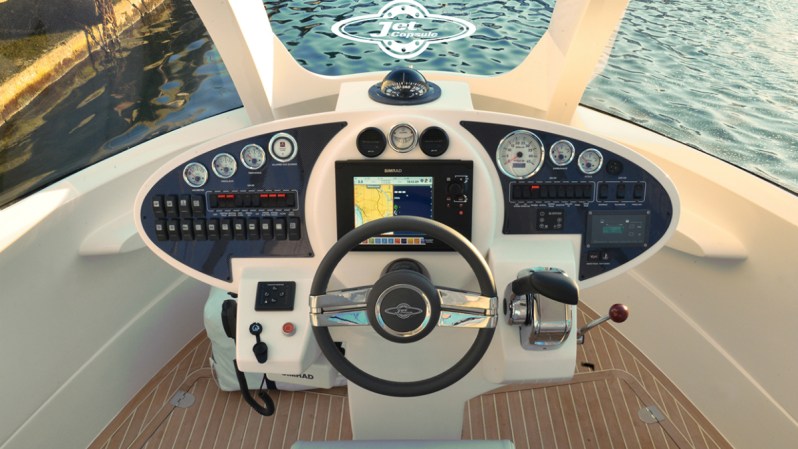 The Jet Capsule provides a wealth of futuristic gadgetry to protect and insulate you from your surroundings. The 70-percent carbon fiber, V-shaped shell is not only lightweight, but also helps the high-tech HamiltonJet propulsion system push the craft across the water at up to 40 mph (35 knots). Photochromic film on the panoramic windows tints automatically based on ambient light levels to shield passengers' eyes from sunlight reflecting off the water.
Based on the '90s-era website and other quirks (including the sinister-looking boat pilot in the media photos), you'd hardly think the company is peddling a high-end product. However, the base Jet Capsule starts at USD $229,000, and various configurations and additional options quickly push the price north.
Editors' Recommendations