It's been more than three months since Elon Musk debuted Tesla's new, eye-popping Cybertruck. Car enthusiasts and the auto industry media have hardly stopped talking about it since. Exact details of the truck's production — or not — remain a mystery. One thing is now official though: Lovers of the design will be able to get their hands on a Cybertruck just in time for Christmas. Sort of.
Hot Wheels just announced an exclusive collaboration with Tesla. Later this year, everyone's favorite toy car company will unveil the officially licensed, radio-control Hot Wheels Cybertruck R/C. The brand is billing it as "the only way to drive the Cybertruck in 2020!" As the name implies, the 1:10 Cybertruck R/C model will be a 1/10th-scale model of Elon Musk's "unbreakable" pickup. The toy prototype photos depict a scale replica of the same hard, angular design that Tesla unveiled last November.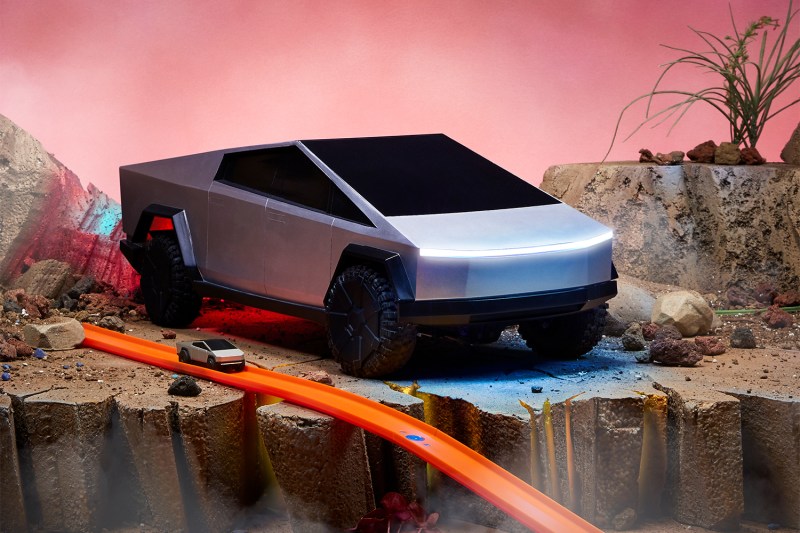 It will feature working headlights and taillights, a tonneau "vault" cover over the bed, a manually telescoping tailgate with a fold-out loading ramp, and a removable body that reveals a fully detailed interior. The hobby-grade kit even includes a reusable "cracked window" vinyl sticker. The flagship 1:10 Cybertruck R/C and smaller 1:64 model will both offer Chill and Sport driving modes. Hot Wheels expects the larger version to boast a top speed of 25 miles per hour in all-wheel-drive mode, while the smaller version could reach up to 500 miles per hour scale speed.
Elon Musk is, of course, no stranger to brash, in-your-face PR stunts. Planned or not, his shattering of the Tesla Cybertruck's "unbreakable" windows at the vehicle's reveal last November got everybody talking. He's made something of a brand out of being, doing, and selling the unconventional. In just the last few years, he launched a $100,000 Tesla Roadster into space, become the face of commercial space tourism, and sold an actual flamethrower online just because he could. By most accounts, Musk has largely trumped Richard Branson as everybody's favorite, half-crazy-but-not-really billionaire playboy.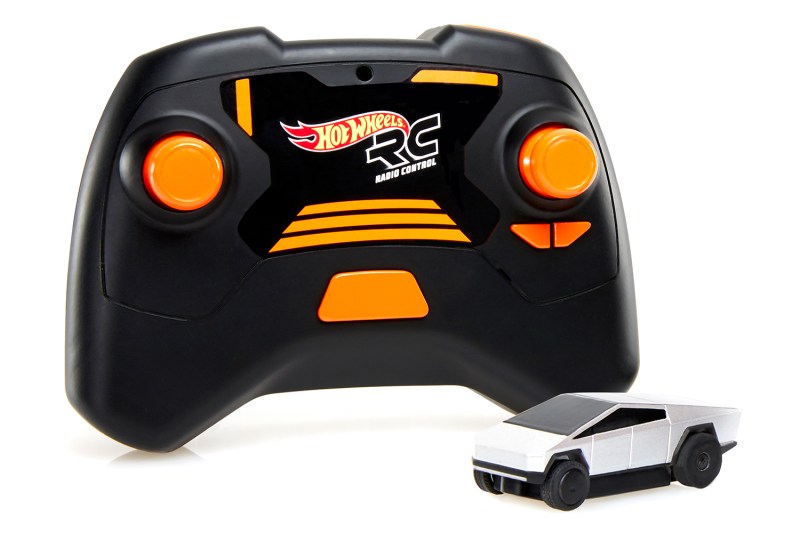 The limited-edition Hot Wheels Cybertruck R/C is expected to ship this December. The 1:10 Cybertruck will sell for $400, while the 1:64 version will be available for just $20. Both are available for pre-order at MattelCreations.com.
Now, if only some forward-thinking architect would build a scale, post-apocalyptic Cyberhouse to garage your toy Cybertruck.
Editors' Recommendations