Last year, Jaguar announced that it would be partnering with the SVRA (Sportscar Vintage Racing Association) to bring its F-Type R to automotive enthusiasts around the U.S. This task would be accomplished by sponsoring seven SVRA races between May and November of 2016, at each of which the UK automaker would give attendees the chance to get behind the wheel.
Of course, since its announcement, Jaguar has introduced a new range-topping F-Type, the 200-mph SVR. Digital Trends and The Manual were invited to test this fearsome feline on Coronado's Naval Air Base-turned racetrack, home of the annual Festival of Speed. Want to hear how it went?
Crossover commute
Before I could man-handle Jag's 575 horsepower sports car, I'd need to journey from Orange County to San Diego in the all-new F-Pace crossover. To my great surprise, not only did I enjoy Jaguar's version of the auto industry's cocaine, I fell madly in love with the thing.
First off, it's beautiful. I want to be clear: I've never said that about a crossover. The Mazda CX-9 is handsome and the Audi Q7 is sharp, but nothing is quite this debonair. The F-Type-inspired headlights and taillights, wide hips, high beltline, and sloping roofline work absolutely every angle. My First Edition tester featured styling upgrades like 22-inch dark wheels, red brake calipers, large air intakes, and Rhodium Silver Metallic paint. I never imagined a utility vehicle could draw jealous stares – especially not in OC's crossover mecca – yet that's exactly what happened every day I drove the F-Pace.
Inside, the good vibes only improve. Depending on trim level, the F-Pace can be configured with the latest safety and convenience technologies, including a self-parking feature and 10.2-inch infotainment system. During my heavily trafficked two-hour trip down south, I had plenty of time to enjoy Jag's adaptive cruise control and lane keeping assist, which both worked flawlessly. Standard all-wheel drive and available adaptive dampers mean the F-Pace rides comfortably and confidently while you cradle in soft, well-bolstered seats.
The F-Pace's 3.0-liter supercharged V6 could also be considered my warm up for the F-Type SVR. 380hp and 332 pound-feet of torque are channeled to all four wheels via a ZF eight-speed automatic transmission. Lesser F-Pace trims use the same engine with a slightly less potent tune, but I doubt the experience varies much. Low-end torque is outstanding, and in Sport and Dynamic modes, the F-Pace shifts eagerly, steers with precision, and handles with agility. Speaking of SVR, let's get one of those badges on this crossover, pronto!
The F-Pace faces some stiff competition from the world's best luxury automakers. BMW's X3, Porsche's Macan, Audi's Q5, and Mercedes-Benz's GLC all beat the F-Pace to market, and all have larger brand cache (especially considering Jaguar has never made a crossover before). And yet, in my humble opinion, the Jag looks better, drives better, and is more attainably priced than all of its competitors (prices start around $42K). The Macan may be quicker to 60 mph, and the BMW might have more cutting edge convenience features, but the F-Pace excels in every category, not just one.
Autocross appetizer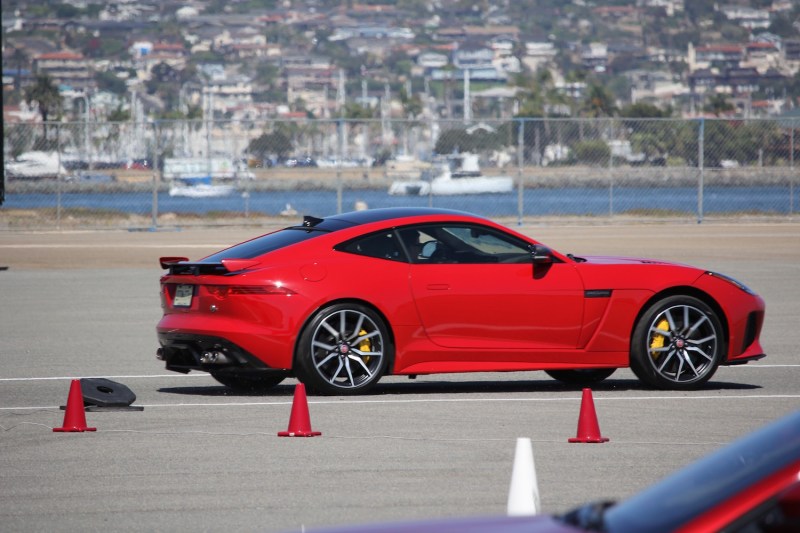 Once through the base's security checkpoint, I find Jaguar's experience center, where XE, XF, and F-Type models patiently wait to attack an autocross course. Naval personnel and Speed Festival attendees are welcomed to rides with racing driver Shea Holbrook or to drive Jaguar's lineup on the tight course.
Here I'm introduced to the Jaguar F-Type SVR for the first time. Differentiating the SVR from the standard F-Type R is an active rear carbon fiber wing, carbon fiber front lip spoiler, underbody airflow enhancements, titanium exhaust system, cast-aluminum rear suspension knuckle, new active dampers, and available forged aluminum wheels. Under the hood sits the same 5.0-liter supercharged V8 as the F-Type R and Range Rover Sport SVR, but it's been tuned to deliver 575hp and 516 lb-ft of torque (25hp and 14 lb-ft more than the R). The F-Type SVR uses a ZF eight-speed transmission and permanent all-wheel drive to hit 60 mph in just 3.5 seconds. In addition to boosting power, Jaguar has cut between 55 and 110 pounds from the F-Type's figure, depending on options like a carbon fiber roof.
If you're doing the math, you've concluded (as I did) that this is far too much car for a short autocross course. But really, would you argue with this kind of equipment or just zip it and drive? Thought so.
Before the F-Type SVR can even sing its high note, the sports car reaches the end of the course's first straight. From there, it's two swift left hooks before hitting another short straight. Stopping power from the carbon ceramics is immense and steering responsiveness feels far more immediate than even the tenacious F-Type R. Before the run is over, the car must dart between a rapid-fire S configuration, where the SVR's balance and control is displayed brilliantly. If I wasn't already excited for the full track, I could hardly contain myself now.
Air strip entree

No one will accuse the F-Type R of muting its acoustic gifts, but even that raucous cat whimpers next to the SVR's titanium bellow at full throttle. Soaring down the main track's first straight, the F-Type SVR settles into triple-digit speeds with ease.
Nearly every corner of the circuit would be a late apex, meaning the F-Type could use its dominant brakes to push deep into each bend before diving towards the exit. It takes more patience than I can muster not to rush corners on the first lap, but the SVR's forgiving drivetrain doesn't throw out the car's rear end in protest. Instead, the sports car allows mid-corner corrections and the wide straights (inherent to an air strip) allow me to keep my foot cemented to the accelerator.
By the second lap, I'm more in tune with the track's demands and Jaguar's Special Vehicle Operation's (SVO) tweaks to the F-Type are becoming more apparent. Subtle enhancements to the chassis, suspension, aerodynamics, and transmission mapping add up to a markedly quicker track animal. The F-Type SVR is likely still a touch off the pace of Chevrolet's 650-hp Corvette Z06, but it would give the Mercedes-AMG GT S and Porsche 911 GTS one heck of a fight.
My three-lap affair with the F-Type is certainly not enough time to analyze the car's strengths and weaknesses in-depth, but it's quite clear what the additional $20K over the cost of an F-Type R buys you. Performance enthusiasts should keep a keen eye on JLR's SVO division for products that will stand toe-to-toe with BMW's M and Mercedes-Benz's AMG creations.
Now where's my beloved F-Pace parked?
Editors' Recommendations