A vacuum cleaner in falsetto – that how I'd describe the sound of a Formula E racecar whizzing around the Long Beach ePrix circuit. It's easily the least exciting part about Formula E, and while that may sound like an insult, it's actually praise for what the series means for motorsports and beyond. As I'd learn, the EV competition will do far more than entertain the masses, it will lead to higher performing, more durable, and more efficient road cars.
Trackside, Digital Trends sat down with Michelin's Global Director of Motorsports, Pascal Couasnon, to discuss what makes Formula E special.
Digital Trends: Tell us about Michelin's involvement in motorsports and why Formula E was attractive to the brand
Pascal Couasnon: It's important to first understand Michelin's motorsports philosophy. Like many brands, we'll tell you that we're here to learn and to test new technology, but it's especially true for us. Motorsport, since day one, has been an area where Michelin can learn from and prove our concepts. We are present in many different disciplines, and each has its own purpose in the testing of technology. We're involved in the World Rally Championship, Le Mans sports car racing, Formula E, and MotoGP. More and more, carmakers are coming to us to maximize fuel efficiency while maintaining performance, and Formula E gives us a very unique opportunity to solve some of these problems. The tire is responsible for 20 percent of the energy consumed by your standard vehicle, one tank of fuel out of five, and even more for an electric vehicle, up to 30 percent. Therefore, if we can make a major improvement in tire technology, it has great impact on road car efficiency.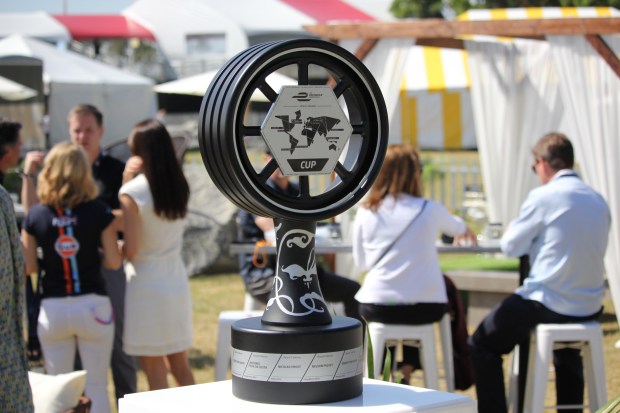 In Formula E, improving the grip is great, but if the tires make the cars more efficient, the whole sport benefits. Another great aspect of Formula E is that because the tires are under our control, we can put some sophisticated, confidential technology in the tires and don't need to worry about that information being stolen. Each team in Formula E is under contract with us to lease tires at each race – if they don't give back the tires, they pay 1 million euro penalty. We are not selling tires here, we are leasing fast mobility. Each race, we offer a tire technician along with the tire, to participate in the team's strategy to win.
How does Formula E differ from other motorsports?
In Le Mans, for example, the teams drive for about 45 minutes and then need to refuel. However, they cannot refuel and change tires at the same time, so they came to us and asked for a tire that would last longer without performance fade. And that's what we gave them: consistent performance from lap one to the last lap before a tire is changed. In rally, though there are many terrains, there are only two types of tires, so we developed ones that are versatile and yet still very high performing. In all these series, we are looking for opportunities to experiment with technology that will be useful in mass market.
Formula E is special because unlike other open wheel racing, the wheel size is very similar to real-world cars. We aren't putting tires with huge sidewalls on 13.0-inch wheels in Formula E just like we wouldn't in the real world. Instead, we're using normal, sports car-sized tires on 18.0-inch wheels, much like what you can buy today. Also, we only have one tire for dry and wet, something that isn't possible in other racing series. This, too, is like normal tires – you don't change your tires when it rains. We started from scratch and Formula E was open to innovation. Formula E is also a different crowd – in this series, motorsports comes to the people, not the other way around. Here we are racing in downtown, which is pretty cool. The feeling of being a pioneer with a racing series is exciting. It's like a smartphone compared to those massive first generation cell phones – that is Formula E.
What will it take for this series to be a success?
First of all, time. We need to realize this can't be compared with NASCAR or Formula 1. This is only Formula E's second season and we're still figuring out what makes it most exciting. Second, we need a good mix of freedom for technology evolution with pace of development so cost doesn't jump too high too fast. Attracting automakers will be very important. Jaguar is coming next year, Renault is here, Volkswagen is here, and we're hearing rumors of several others.
How should we feel about Formula E?
Pascal had a lot more to add about the impressive development of tires for this specific series, but I want to focus on what he's brought to light above. As a general theme, it's clear that Formula E is every bit as serious of a motorsport as established competitions like Le Mans, WRC, and Formula 1. The time and effort taken by Michelin and other partners to create tailor-made equipment for maximum performance and durability is not a small effort. I also spoke with Michelin's Motorsports Technical Director, Ken Payne, and he genuinely made my brain hurt in an attempt to process all the calculations and tweaks that are applied to each racing and road car tire.
It's also important to note that while Formula E is as devoted an effort as other motorsports, it's also completely distinct in the entertainment and performance deliverables. Obviously, electric motors and batteries don't wail like petrol-powered engines, but there's far more to the experience than that. Racing on a street course – "downtown," as Pascal puts it – means tighter courses, less grip, and more road imperfections than a smooth GP circuit. And speaking of the noise (or lack thereof), being able to carry on a conversation with other spectators is, in some ways, more pleasant than constant ear-bursting sound. Moreover, Formula E doesn't need to fret about disturbing nearby businesses or violating noise restrictions, so the series has far more opportunities to setup shop in cities that have never hosted racing before.
In terms of the actual vehicle performance, yes, the car-swapping, lower top speeds, and alternating fast and slow laps (to let batteries recharge) aren't as thrilling as 200-mile-per-hour straights, split-second pit stops, and consistently quick laps, but energy management adds a totally new variable to the racing chess match. It will certainly take reorientation of spectator expectations to generate mass excitement, but we may come to see the differences between Formula E and other motorsports as welcomed, not apocalyptic.
A final point: though Pascal was directly speaking to the close proximity of Formula E tires to consumer tires, the rest of Formula E technology will have similarly relevant impacts on the future of mass market products. More efficient batteries, longer driving ranges, higher top speeds – Formula E will push the envelope for each EV characteristic that currently discourages car shoppers.
Who knows? The series may even find a cool sound to pump from the cars – my vote is for Star Wars pod racing tunes.