Coffee entrepreneur Austin Peterson journeyed through South America looking for the perfect bean. Instead, he found another passion in the old trucks carrying the product up and down the topographical hodgepodge of the Colombian mountains.
Wherever he went, the only things with a motor making any progress were the 1960s and 70s-era Toyota FJ40s, Land Cruisers, and Land Rover Defenders.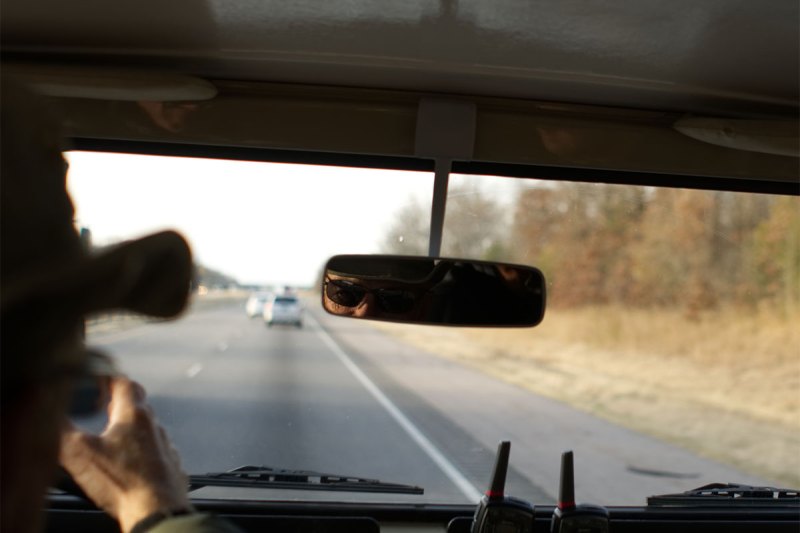 "These were the only trucks making it through the rocky and wet jungle roads," Peterson says. "I fell in love with them because of that."
As his adoration blossomed, he spent 18 months sourcing primarily the FJ40s and Land Cruisers (in any condition he could find), then building a team of qualified mechanics and designers ready to tackle the mammoth task of restoring these machines.
As a tribute to his childhood dog, a Black Labrador named Crash, the company was formalized in 2014 as Black Dog Traders. It's primary goal? To bring these battle-tested beasts out of the forests and into the garages of off-road enthusiasts around the world.
Peterson speaks like a seasoned car manufacturer, wise beyond his 27 years. He sources these trucks mainly from farms throughout Colombia, then brings them to his shop in Armenia – a small city more than six hours west of Bogotá. There, a team of 15 begins the tedious process of disassembling the entire vehicle (or what's left of it) until it is literally in pieces on the floor. Every piece is sand blasted down to the metal to check for crude repairs and rust. If salvageable, the pieces are restored to factory standard. If not, they are replaced with a new part.
"If you look at a Land Cruiser and compare it to a Jeep or Defender, it's one of the most aesthetically pleasing trucks out there," says shop foreman Diego Arango, "but they're also tough."
Arango is the perfect representative of toughness. The native Colombian moved to the US with his family in 1979 and eventually settled in Atlanta, Georgia, where he became fascinated with cars in a high school auto shop class. He started out fixing rusty cars "worthy of the Flintstones" (they had actual holes in their floors), then went to work sweeping up at a local shop. He set up his own shop at age 17 in his dad's barn and was keen to learn everything about the business.
While working in a local Chevrolet dealership's repair shop, the dealership's owner asked if Arango was afraid to work on his Lamborghini. Arango jumped at the chance and a new opportunity presented itself.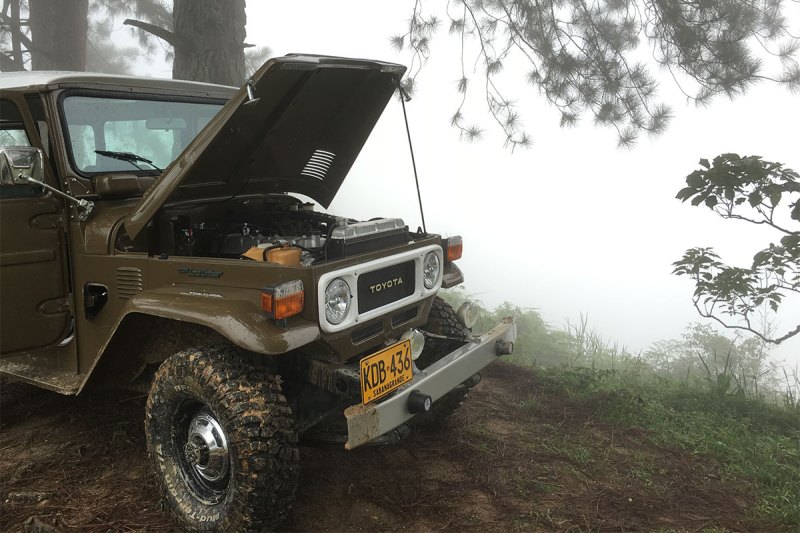 He quickly earned a reputation fixing notoriously complicated, expensive cars including Ferraris and Maybachs.
"I learned the ins and outs of the craftsmanship it took to build these cars," he says.
Business became so good that he needed to move his own work into a larger shop. During a move, he stopped by a wrecking yard near the new locale. While rummaging for parts, a scrap container fell onto Arango nearly crushing him, resulting in a stay in hospital intensive care for 98 days. He suffered a broken leg, broken ribs, a broken jaw, and multiple head injuries.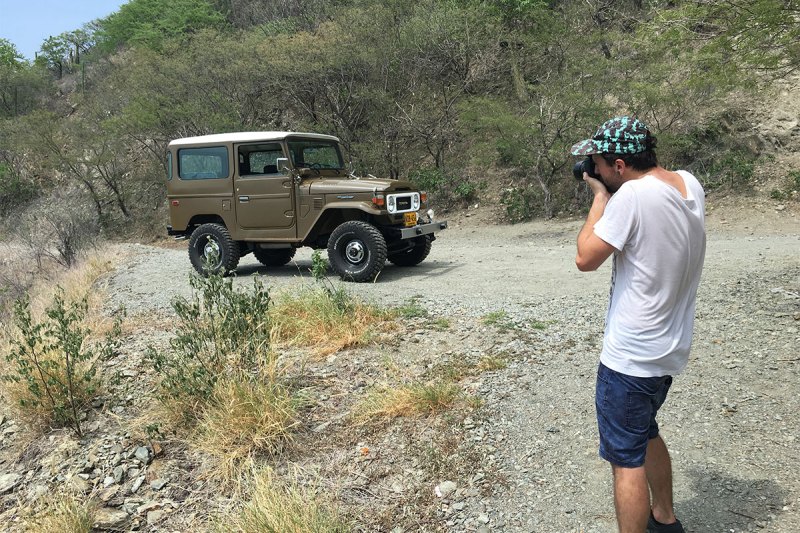 Once he showed signs of improvement, Arango moved back to his family's farm in Circasia, (a small town near Armenia, Colombia) to recover and replenish. After months of rehabilitation, he purchased a FJ40 and began restoring it.
Arango met Peterson through a Land Cruiser fan group shortly before Peterson was able to get Black Dog off the ground. They plotted a system to have their trucks fully restored in 4-6 months, almost half the time as some of their competitors.
Peterson says he runs his shop "like a Ford plant." Everyone has one specialty and they are masters of that craft. All of his employees are paid on a bonus schedule based on total build time and final delivery. That's important, as these trucks are rebuilt from the ground up. Wiring and pumps are replaced, the chassis is refinished, and typically the suspension needs substantial work too. Builds are offered in three different levels based on the individual need of the buyer.
After they're finished, the trucks are shipped to their US showroom in Plano, Texas. The vehicles go through a final inspection and signoff before being sent to their new home.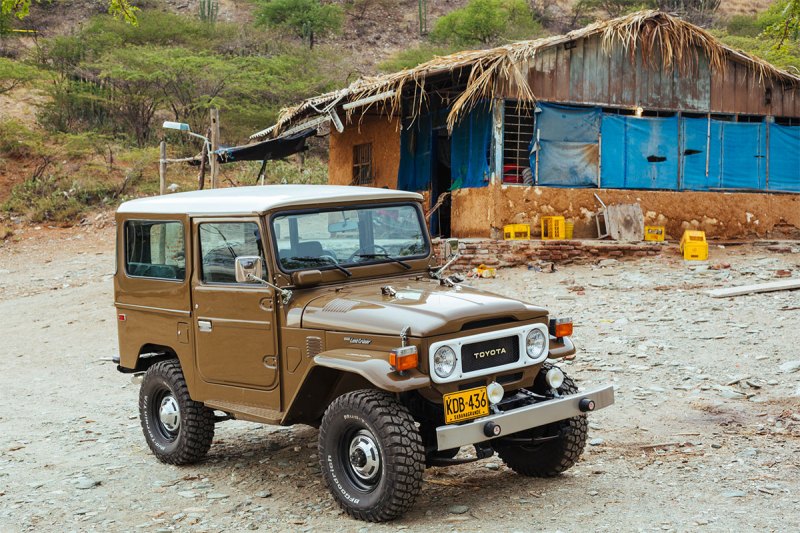 Black Dog has sold 32 vehicles since opening and has already established a clientele ranging from the average enthusiast to die-hard off-roaders on three continents.
This base has allowed them to venture into some new categories – really taking these beasts to a whole new level.
At this year's SEMA Show, they'll unveil the Vicio: a Frankenstein-style modification of their highest build offering. It's a FJ45 chassis with several components fabricated from newly stamped aluminum or steel. It will extend the truck to a four-door crew cab, something Toyota never produced. Vicio will have a Toyota Racing Development turbocharger and the creature comforts of a modern Land Cruiser. The final product will have a convertible top, umpteen bells and whistles, and 504 HP.
If all of that sounds like a tasty $250,000 dent to your wallet, too bad. It's been pre-sold and they're planning to fly the buyer down to Colombia so he can join in on a group trip back up through Central America to Las Vegas. However, Black Dog will happily build you a similar model at a later date.
"This truck is going to be a lot stronger and lighter than the original," Peterson says.
As aggressive as the Vicio truck will be, he also has the company's first electric vehicle in the works.
Codenamed "Version 1", the stripped down Suzuki LJ50 will have an off-the-shelf, lead-acid electric motor and minimal creature comforts. Self-classifying it as a "Ranch Truck,"it's a pint-sized SUV that never really took off in the States, but was popular in developing cities for its flexibility and maneuverability. Expected range is 50 miles, with an upgrade option to 200 and the first one will be raffled off at this May's Overland Expo West. (Interested parties can register here.)
The ambition doesn't stop there. Black Dog also is working on a fully electric Land Cruiser slated for completion by the end of the year. Peterson won't divulge many details, but he says it will "be like a Tesla (in terms of power and luxury), but you can drive it up a tree."
And that's really the goal here. Not just bringing these legendary trucks back to their former glory, but making their legacy even better.
Whether it's a Toyota, Land Rover, or Suzuki, all of these frames have seen and done more than any reasonable four-wheel mover should. In their own way, these are cult pieces of automotive art and Peterson is leading the way in making these classics relevant for the 21st century buyer.
"These trucks live in the most harsh environments in the world," he says. "Very simply, they've survived."