We're all familiar with the "most improved" award. It's the morale booster of elementary school sports teams and teachers, the recognition of effort even if results aren't on par with the truly gifted. What a great concept, right?
Unfortunately, the adult world doesn't hand out awards for effort. If you suck at your job, you get fired. If you build a bad product, no one buys it. This reality is no truer than in the automotive industry. Vehicles that can't match rivals simply die a quick, accountant-declared death.
So when Cadillac began its transformation from a worn-out luxury brand into an innovative, stylish automaker, the consuming public didn't immediately flock to showrooms with cash in hand. The American marque still huffed and puffed beside its German counterparts; its efforts were still not enough.
But the field has changed. Cadillac is no longer warming the bench; it's starting every game. The ATS, CTS, and CT6 are all magnificent sedans, and yet Cadillac still sells more of its aging SRX crossovers than any other model. Therefore, the SRX-replacing XT5 is by far the brand's most important vehicle — but is it also its most valuable?
Platform pioneer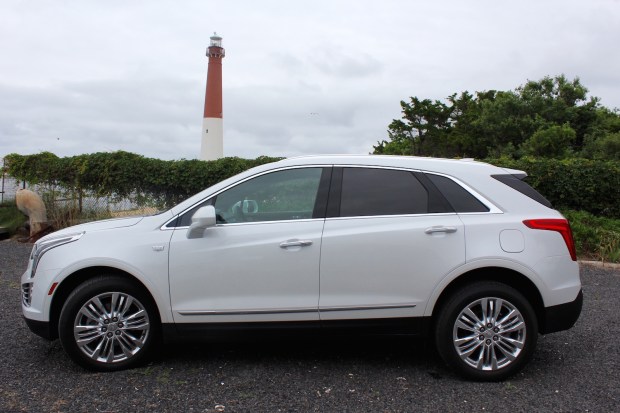 As the ATS attests, Cadillac knows how to build a brilliant chassis. Hoping for a repeat performance, the luxury marque introduces an all-new modular architecture with the XT5. Compared to the outgoing SRX, the XT5 sheds 300 pounds, meaning the Caddy is a full 600+ lbs leaner than a rivaling Mercedes-Benz GLE350. As a bonus, Cadillac says the lightweight chassis is designed to function like a race car's safety cage, with a durable, stiff structure that improves handling and shields occupants in a crash.
Capitalizing on the crossover's new architecture, Cadillac offers a twin-clutch all-wheel drive (AWD) system with torque-vectoring technology and three driving modes: Tour, Sport, and Snow/Ice. Each setting alters power application, but all modes have the capacity to use four driven wheels if needed. While the $2,495 AWD option adds weight, the fact that it's not a permanent system means the XT5 consumes less fuel when you don't need the additional traction.
Mated to the XT5's front-wheel drive (FWD) or AWD setup is an all-new 3.6-liter naturally aspirated V6 and an eight-speed automatic transmission. Regardless of trim, the XT5 produces 310 horsepower and 271 pound-feet of torque and is available with steering wheel mounted paddle shifters to manually row through each gear.
As a result of its lighter frame, aluminum block engine, start/stop technology, and improved transmission, the XT5 manages 19 city, 27 highway, and 22 combined miles per gallon in FWD configuration or 18 city, 26 highway, and 21 combined mpg if you prefer AWD. These figures represent a 3-mpg improvement over the outgoing SRX and settle somewhere in the middle of competitive vehicle set.
Sharp, not seductive
If you hoped to be swept off your feet by the XT5's styling, you may be disappointed. While Caddy's new high-volume crossover manages to soften the SRX's unromantically gruff exterior, it can't seem to fully escape the shadow of its predecessor.
In truth, I have issue with almost every modern Cadillac's rear styling. It escapes me how designers can so artfully craft a front fascia, but run out of steam as they work backwards. The XT5's face is one of the most attractive in the segment, and its profile is conservatively appealing, but the rear end is just dull. In jet black, the XT5 manages to highlight its best exterior traits, including Cadillac's signature LED running lights, but other colors charm less effectively.
The XT5 is likely a single generation away from a beautiful aesthetic – one that requires no explanation or excuse – but Cadillac hasn't stolen the show yet.
Cabin delights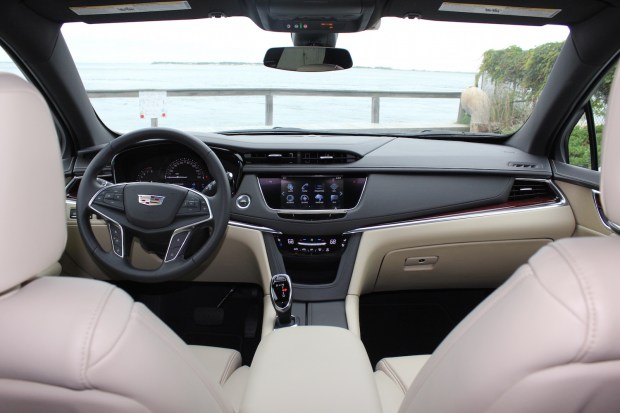 If the exterior doesn't wow, there's still hope. Within the XT5's cabin, Cadillac has prepared one of the most streamlined interiors of any luxury offering. Supple leather, real wood, and brushed metal surfaces envelope passengers without overwhelming the design.
Not only does the cabin feel spacious, aided by a large panoramic sunroof, each seat is beautifully styled and – no surprise here – superbly comfortable. The Sahara Beige leather of my tester looked and felt like rich cream, blended with other trim pieces into an ornate design. The minimalistic dash incorporates Cadillac's updated CUE infotainment system, which houses every main convenience function. The few button redundancies include climate control settings and heating/cooling adjustments for the front seats.
The latest iteration of Cadillac's infotainment unit is quick, intuitive, and includes Apple CarPlay, Android Auto, and a 4G LTE Hotspot. Display resolution and usability don't match rivaling systems like Mercedes-Benz's COMMAND module, but there isn't much else to complain about. With a bit of time (as any owner would have), CUE becomes second nature. However, there's no getting around the XT5's tired analog gauges and small, grainy driver display. It feels like Cadillac is shooting itself in the foot with such an archaic instrument cluster when the rest of the interior experience is so sublime.
Like its main rivals, including the BMW X3, Audi Q5, Lexus RX, and Porsche Macan, the XT5 only comes in a five-seater configuration. Unlike its competition, the XT5 offers generous rear passenger legroom and 30 cubic feet of cargo space with the rear seats up, or 63 cubic feet with them stowed. Additionally, the XT5 rides as good as its interior looks. I must have driven the crossover over every pothole in New York, but each bump was muffled like a tattling child caught in the clutches of an older sibling.
In Premium Luxury trim, as my XT5 is equipped, safety goodies include rear cross traffic alert, blind spot monitoring, lane keeping assist with lane departure warning, forward collision alert, pedestrian detection, low speed automatic braking, a backup camera, and parking sensors. At first glance, this sounds like a comprehensive list, but missing is an adaptive cruise control system. For that feature, you'll need to fork over an additional $2,340 for the Driver Assist Package. In a $55K luxury vehicle, something so common shouldn't cost extra. Fortunately, the included semiautonomous features like lane keeping assist do an excellent job of ushering the vehicle back into line without ping-ponging it back and forth.
If you can forgive the driver-centric tech, the XT5's cabin is a quiet, sumptuous habitat that feels on par with Mercedes S-Class refinement.
Conclusion
Given how readily I'd recommend the rest of Cadillac's lineup for an MVP award, I anticipated the XT5 would deserve similar recognition. Compared to the outgoing SRX, the XT5 is a massive leap – improved in every way (yes, even the rear end design). But while Caddy's other offerings no longer rely on their value proposition to lure buyers, the XT5 may not yet be ready to take off its training wheels.
Cadillac has a genuine competitor on its hands in Mercedes — a fact that is crucial to the luxury marque's continued renaissance — but blending in won't cut it when buyers are convinced their only choices hail from foreign lands. It takes more than a whiff of greatness to persuade stodgy shoppers to expand their horizons.