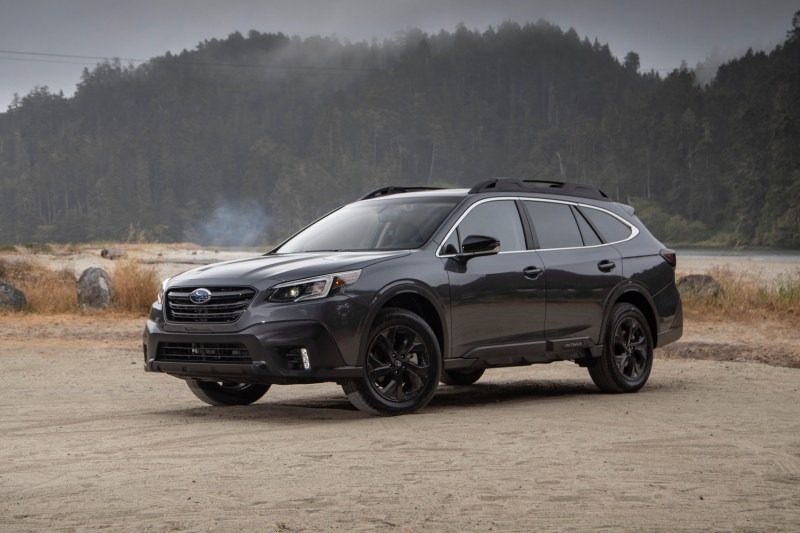 Crawling our way up the steep northern California dirt roads, I hooked the front wheels over an uphill, off-camber ditch full of mud. Our lead driver made it look easy. After two attempts the tires were still just slinging mud. We needed some intelligent assistance. We flipped into X-Mode and crept through, continuing up the narrow, over 13-degree dirt road.
At a recent Subaru media event, we traversed steep mountain track and nausea-inducing coastal road in the latest generation of Subaru's best-selling adventure-mobile, the 2020 Outback.
This Outback, with its off-road ability and plenty of storage room, promises to be one of the best ways to get out of the city and to the adventure. We were on our own adventure to find out if it lived up to the hype and tried not to get lost in the redwoods of northern California.
Turbo Upgrade
The standard engine is a 2.5-liter boxer-four with 182 horsepower and 176 lb-ft of torque paired with a continuously variable transmission mimics an 8-speed auto. Almost 90% of the parts are new compared to the previous version. One tank can take you over 600 miles with 26 mpg in the city and 33 mpg on the highway. Towing is rated for 2,700 pounds.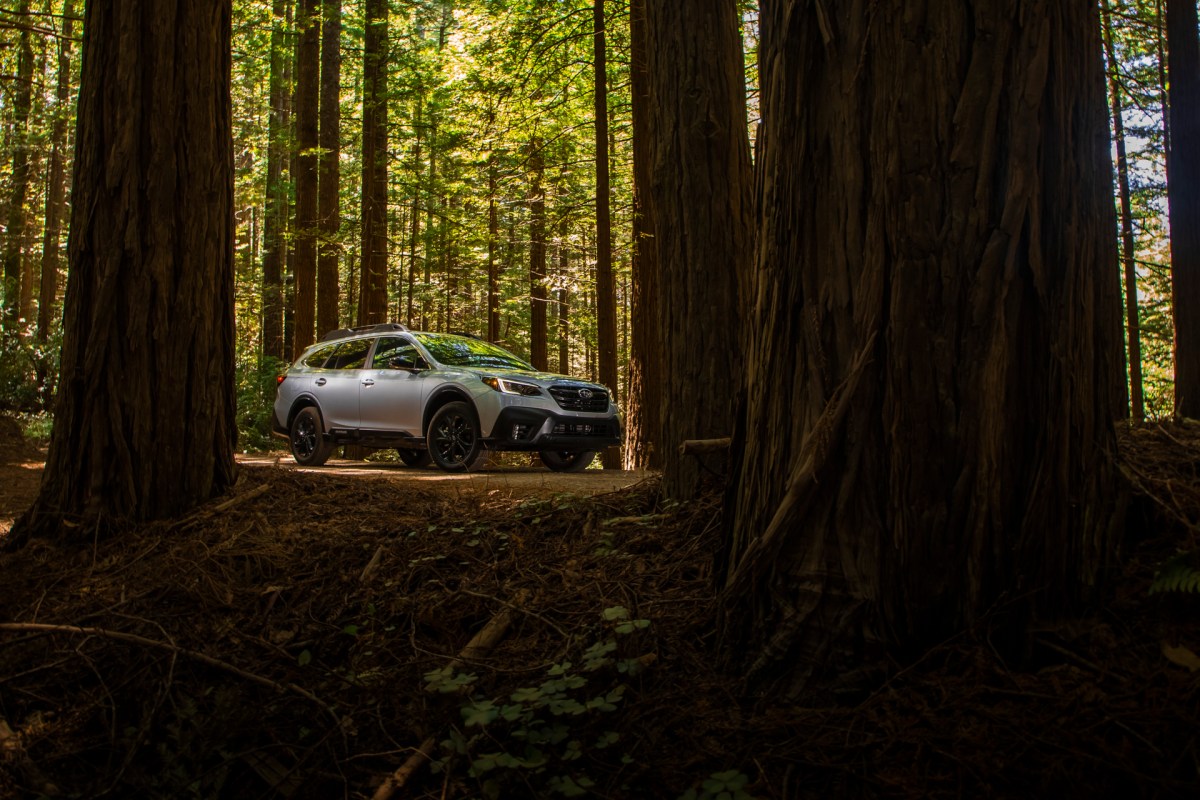 The fun begins with the 2.4-liter turbo boxer four-cylinder with 260 horsepower with 277 lb-ft of torque. Fuel economy takes a slight hit with 23 mpg in the city and 30 mpg on the highway, but towing is increased to 3,500 pounds.
All trims sit on the Subaru Global Platform which is a stronger, stiffer frame. It can absorb 40% more energy in a front or side collision. Front and side pillars can be thinner because of higher strength steel. Body roll, noise, vibration, and harshness are all reduced. The back doors even have a metal pin on the bottom that mates with a notch on the body.
Off-Road
Crawling around in the dirt and mud, the turbo doesn't have much chance to stretch its legs so both engines feel similar. But it's here the rest of the Outbacks standard features get a chance to shine.
Our lead driver left the road and went up into the hills of California's Lost Coast. Rough dirt road took us through two streams and up 13-degree inclines without breaking a sweat. Deep drainage ditches are easily conquered with the 8.7 inches of ground clearance. Approach and departure angles are less than an off-road SUV but certainly enough for the rough roads that take you to most adventures.
When things got real slippery we turned on X-Mode, which is not a tights-wearing superhero, but just an option in the onboard infotainment center that better controls wheel slip and hill descent speed. Hooking the wheels in a muddy ditch on a steep climb just sprayed the car with mud. With X-Mode enabled, more power was re-routed to wheels with traction and we climbed through. Dual-mode X-Mode (available on the Onyx Trim) has additional options for sand and snow.
X-Mode also enables the Hill Descent Control. After a quick coffee break 800 feet above the surf, we headed down a wicked steep dirt track. At angles you'd have to be careful walking, the car drove itself. Hill Descent Control automatically brakes and detects wheel slippage, and adjusts accordingly. I had to hit the gas at times as it was so controlled.
Cruising Highway 1
Cars successfully covered from muddy ditches and rocky dirt track, we headed south on Highway 1 to Mendocino. The stiffness of the Subaru Global Platform was apparent in every corner with little body roll. It's hard to remember this tight handler is a lifted off-road wagon. The lower center of gravity of the boxer four engine helps here as well.
Updated suspension soaked up any bumps or potholes we could find; MacPherson struts with new internal rebound springs, aluminum lower L-arms and new 23 mm hollow stabilizer bar on the front with a double-wishbone setup with subframe, coil springs, and new 19mm hollow stabilizer bar on the back.
Accelerating out of a corner, merging, or passing is where the turbo really spins up. At higher revs, there's a noticeable difference between the two engines. For better towing and more entertainment, I suggest the turbo in the XT trims.
Adventure Tech
The 2020 Outback isn't just a stripped-down metal bucket ready for off-roading. It's packed with creature comforts inside to make long trips safer and more comfortable.
All but the base trim come with an 11.6-inch portrait screen for the infotainment center (base gets two 7-inch displays). Heating, Apple CarPlay or Android Auto tunes, TomTom navigation, and driving options like X-Mode are all controlled through the easy-to-navigate touchscreen. Entertainment and climate options each get their own processor behind the scenes for faster response times. So you don't have to fiddle with a touchscreen while driving, volume, and temperature get physical knobs.
The Outbacks aren't just pretty, they're smart, too. EyeSight Driver Assist and DriverFocus systems come standard on all trims. EyeSight includes Adaptive Cruise Control, Lane Centering, emergency front braking, a heads-up display with collision alerts, a front-facing camera, and many others.
The DriverFocus system recognizes your face when you get in the car and can remember 5 drivers. It can set your seat position and temperature options for you. It also keeps an eye on your face while you drive and chirps if your eyes are closed or off the road for too long. Subaru expects the Outback to get top safety ratings when it's tested but they're trying hard to prevent those crashes in the first place.
When packing up all your gear, the Outback has you covered. Hover your elbow or hand in front of the rear Subaru logo and the power gate opens up itself. The wide back door opens to 75.7 cubic feet of cargo space (78 if you use the old style of measurement). With the seats folded down, you get 78 inches to stretch out and sleep or pile in the dogs.
What Does the 2020 Subaru Outback Cost?
So what's this all-in-one city-to-adventure-mobile cost? Base price starts at $26,645 with dual 7-inch touchscreens, 2.5-liter boxer-four engine, EyeSight and X-Mode. Limited, Premium, and Touring add other features like Nappa leather upholstery, the 11.6-inch touchscreen, the DriverFocus system and others bringing the Touring up to $37,345.
The XT trims, Onyx, Limited, and Touring come with the 2.4-liter turbo engine with 260 horsepower. The star of the show, the Onyx XT starting at $34,895, rocks 18-inch alloy wheels and badging in black. Included is the water-repellent StarTex material, front view monitor, hands-free power rear gate, and dual-mode X-Mode.
The top of the line Touring XT starts at $39,695 including everything mentioned here but the kitchen sink. Ventilated front seats, heated steering wheel, 11.6-inch touchscreen, Nappa leather upholstery, and the 2.4-liter turbo engine will keep you comfortable on your adventures for years to come.
See more about the new 2020 Outback at here.
Editors' Recommendations