They say you shouldn't meet your heroes, but what about giving them a second chance?
I did not have high expectations for the 2017 Nissan GT-R Premium. Broadly praised though "Godzilla" may be, my last encounter with the supercar left me thoroughly underwhelmed.
In 2014, when offered seat time in Nissan's highest performance model, I all but kissed the feet of the individuals responsible. This was one of the fastest accelerating cars in the world – it was difficult to contain my enthusiasm. After five minutes behind the wheel, however, my tune had changed. Indeed, the GT-R was tremendously quick – or so said the speedometer – but it was even more so artificial. The steering, sound, traction control, and all-wheel drive system did not combine for a thrilling drive, but rather a disconnected one. "Oh well," I thought. "The GT-R just isn't designed to be exciting."
It is now one of the final model years for the R35 generation GT-R. Introduced to the U.S. market in 2009, the Japanese supercar will soon get a complete overhaul. So before writing off this generation, I asked Nissan for a reunion with my once-hero (and boy am I glad I did).
Fresh Figure
It wasn't just the lack of engagement that turned me off the GT-R in 2014; its blocky, bloated figure lacked artistry. How then can a mere facelift completely change the car's overall aesthetic?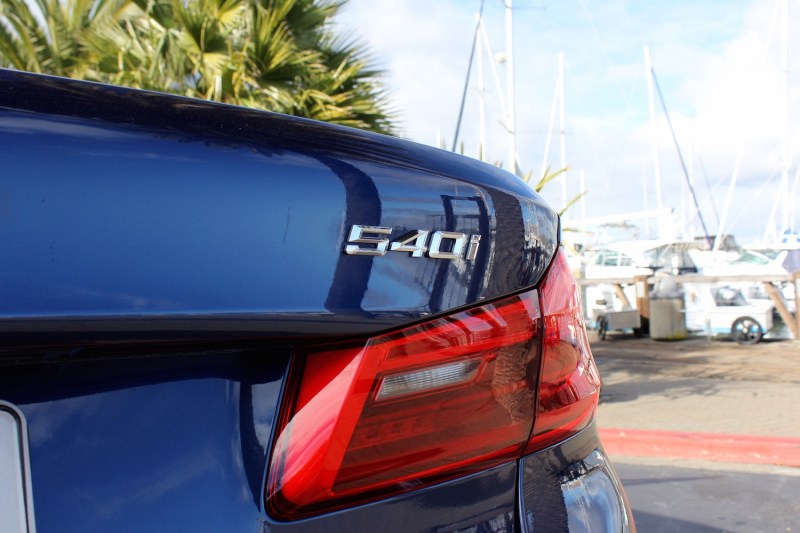 At the front, Nissan implanted a new grille with V-motion styling and improved airflow. The odd bumps that sat beneath the headlights of last year's car have been replaced with additional air inlets, and the chin has been re-sculpted. Moving over and around the car's body, a 30-percent stiffer hood improves high-speed wind deflection, 20-inch forged-aluminum wheels look incredible, and a remodeled C-pillar helps manage airflow. With elements borrowed from the track-focused Nismo edition, Nissan updated the rear diffuser and lower rear fascia (but kept the four massive exhaust tips).
These tweaks sound minor, but they do wonders to give the aged supercar fresh appeal. More importantly, the new styling cues are just as creative as they are functional. I won't hasten to call the 2017 GT-R beautiful, but it's no longer an alien hunk of metal. Delicate massaging of Godzilla's tall, broad silhouette, and in my case, a stunning red paint job, upgrade its look to "cool."
Inner Beauty
Convincing critics that Nissan's amendments to the GT-R's exterior transform its curb appeal is far more difficult than persuading them of the car's interior majesty. When it was priced at $70,000, no one cared that cabin materials were chintzy, but as pricing exceeded the $100K mark, extra screens, toggle buttons, and performance data lost its novelty. For 2017, Nissan has redeemed its interior design with high quality leather, vibrant colors, and premium trims.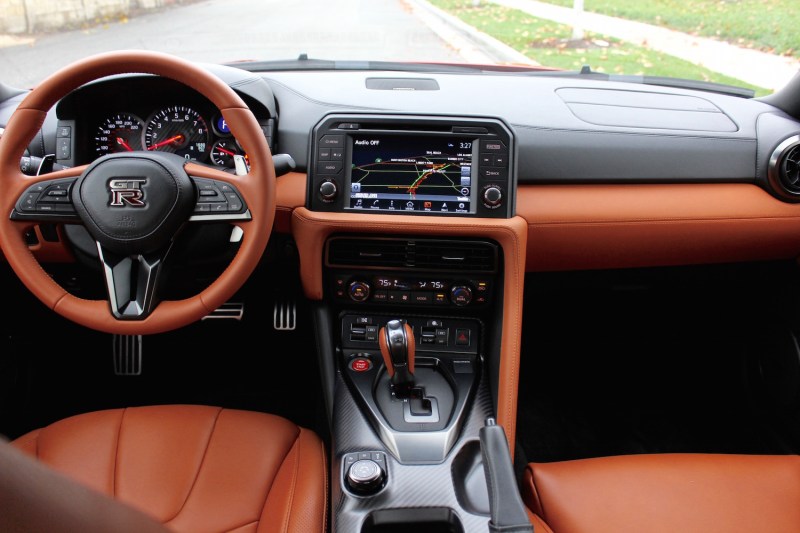 I can't imagine how many cows were harmed in the making of the updated GT-R's interior, but their sacrifice was not in vain. Everything front occupants lay their hands on (and many surfaces they won't) is swathed in supple black or 'Rakunda Tan' leather (part of the $4,000 Premium package). Brushed metals, carbon fiber, and textured surfaces fill out the remaining space.
Front-and-center on the GT-R's dash is a new 8.0-inch touchscreen display that can also be controlled via buttons on the console or next to the screen. While not the most sharp or snappy infotainment system on the market, Nissan's unit is sufficiently quick and intuitive to not detract from the high-end cabin. Below the display sits a reduced number of buttons to adjust the dual-zone climate control. Further below you'll find a row of now-iconic toggles to manage transmission/throttle response, suspension damping, and traction control. I'll get to what those "fun switches" do in a moment.
Complementing the refined cabin is a quiet, smooth ride and plenty of head/leg room for front passengers. Contoured sport seats are tightly bolstered – perhaps excessively so – yet they remain comfortable even on long hauls. If you aren't a child, you simply won't fit in the rear bucket seats – believe me, I tried squeezing several different-sized amigos back there. Just consider the additional chairs an insurance reduction tactic or extra interior storage and move on.
Where Fun Intersects Fast
At this point, I'm beginning to mentally pry nails from the GT-R's coffin lid, but I still need to prod the supercar's performance tuning.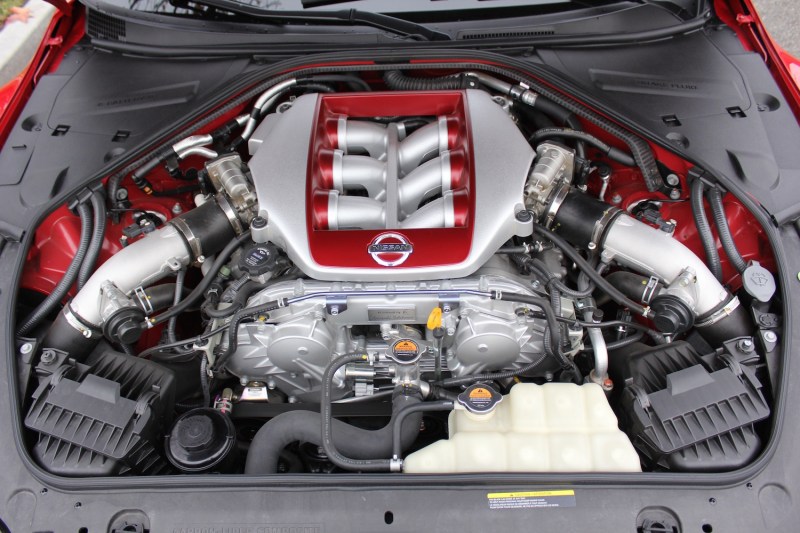 Most of the go-fast updates for the 2017 GT-R focus on its 3.8-liter twin-turbocharged V6. Over the years, Nissan has lured more and more power from the same engine, culminating in the Nismo edition's whopping 600 horsepower. The car I'm driving only produces 565hp and 467 pound-feet of torque, but that's still 20hp and 4 lb-ft more than last year's model. Countering the heft of better quality interior materials is a new titanium exhaust that's quieter at low speeds but still bellows a merry tune at wide open throttle.
Additional tweaks include a refined six-speed dual-clutch automatic transmission, a five-percent stiffer unibody structure, and less punishing Bilstein dampers. Add it all up and the GT-R feels as quick as ever, with a far more confident stride.
Though it's no longer a unique party trick, launching Godzilla never gets old. Put the powertrain, suspension, and traction control adjustments in their R modes, give the brake pedal a firm press, mash the throttle, and release the brake for one of the most addictive experiences on earth. Nearly as stimulating are roll-ons from the 3,000 rpm mark, when the GT-R sends all four wheels tearing into the tarmac as the supercar's newly molded front fascia gulps down air. Thrust from outside the engine's sweet spot is far less impressive, but forced induction has its limitations.
So it's still ludicrously quick in a straight line – so what? My bone to pick was always with the GT-R's playfulness, or lack thereof. Thankfully, Nissan appears to have yielded to the demands of a hooligan. Well, one demand: "give me some slip." The car that has seriously been compared to a video game earned its reputation for absolute handling precision at the cost of driver manipulation. Fools could become heroes on track via the GT-R's clever traction management and AWD systems. It was great for the fools and terrible for the talented – those who wondered if it was their skill or the car's that produced stellar lap times.
I'm here to tell you that the 2017 Nissan GT-R is still a precision instrument; it can still slingshot around a corner like gravity is working overtime. Now, though, it will also wag its tail and slide its tidy ass on the ground if you give the right command. Feedback through the electronic steering rack is limited, but hang me over a vat of boiling liquid if it isn't one of fastest-responding systems ever fitted to a road car. Think of moving your hands in one direction and the front wheels are already migrating. Six-piston front and four-piston rear Brembo brakes haul the vehicle down in no time, and body roll apparently doesn't translate in Japanese. Try steam-rolled-flat cornering instead.
Our Take
Everything I remember of the GT-R being cold and calculated has been marginalized by its new sense of eagerness. Blistering performance is joined by interior refinement, a gentle ride, and thoroughly improved design for an upgraded experience. Rarely does an automaker enhance so much before putting a vehicle out to pasture, but these changes keep the car relevant. Nissan's R35 GT-R has simply never been better.
$115,000 is a hefty sum for any performance car, and had Nissan demanded so much for the vehicle I drove three years ago, I'd be writing a very different review. In a way, the GT-R is a bargain once more, but among competition far loftier than before. Fine, I'll say it: the Nissan GT-R is my hero again.
What are the alternatives?
The 2017 Nissan GT-R Premium's price tag puts it in the crosshairs of cheaper cars like the base Porsche 911, Chevy Corvette Z06, and Jaguar F-Type, but also in the hunt for more expensive models like the Audi R8, Mercedes-AMG GT S, Acura NSX, and Porsche 911 GT3. In terms of performance, the GT-R ranks somewhere near the top of this roundup, but many would argue its challengers are easier on the eyes.
How long will it last?
Though Nissan has not officially confirmed the launch of its next generation (R36) GT-R, we can expect the new vehicle by 2020. At that time, we're likely to see a Williams F1-derived hybrid powertrain, several aerodynamic improvements, hypercar levels of agility, and a steeper asking price.
Should you buy it?
Unlike all other vehicle segments, supercars are highly subjective purchases. The 2017 Nissan GT-R has tremendous competition, but also a prodigious list of alluring qualities. If you demand beauty or burnouts, look elsewhere. However, if you want the quickest car under $120 grand, a plush interior, and uniqueness, there is no better option.
Editors' Recommendations