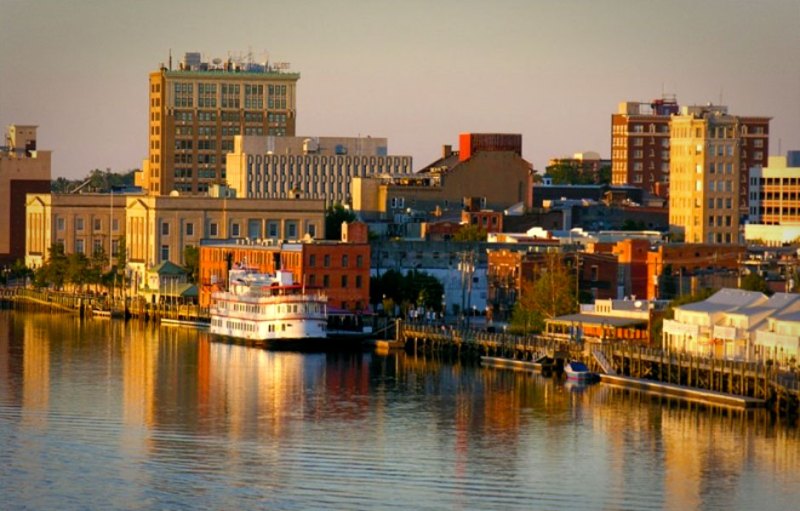 You may start doing some double takes when you visit Wilmington, N.C. Bits and pieces of this town, its buildings and its riverfront have appeared on the big screen repeatedly and you may find yourself having a sense of deja vu. This town, known as Hollywood East, has starred in hundreds of flicks such as Iron Man 3, We're the Millers, Weekend at Bernie's, Teenage Mutant Ninja Turtles, Cape Fear and TV series like Revolution, Under the Dome, Eastbound & Down, Dawson's Creek, Matlock and One Tree Hill.
Hollywood Location Walk
It's a bit cheesy, but the Hollywood Location Walk, offers a fun way to see the town on foot while having a guide point out where significant scenes were shot. You'll hear things off the grid about some of the stars, the shoots, and movies that have found a home there. A bonus is that you'll get your bearings very quickly and see bars, restaurants and shops along the way that you'll want to explore on your own later.
Feel the Shivers
Wilmington's paranormal side features in a couple of other popular guided tours. The Ghost Walk of Old Wilmington winds down dark, spooky alleyways with tales of the weird and unexplained. Cameras are encouraged. Who knows what type of apparition might appear on your pictures. Plus, you might get a dime from the so-called Dime Ghost. And there's a Haunted Pub Crawl where you can down a pint inside some of Wilmington's pubs that have a sordid past.
Front Street Brewery
Speaking of beer, we recommend scheduling time to eat and drink at Front Street Brewery. Beer is brewed on site here—you won't find it any fresher. If your interest in beer goes past just enjoying the taste, you can take part in a daily session from 3 to 5 p.m. to learn how Front Street brews its creations. Plus, free tours and tastings are scheduled at 3 p.m., 3:45 p.m., and 4:30 p.m. daily.
When it's time to eat, you'll discover a clever menu with some interesting and surprising choices. Things like a mug of bacon, beer nuggets, fried pickles, beer-braised bratwurst, country fried steak and a wide mix of burgers, soups, salads, entrees and more.
Step Back in Time
Anchored across the Cape Fear River from downtown Wilmington, you'll spot the Battleship USS North Carolina. Tours are offered daily and you'll get a glimpse of what life was like aboard this ship during its service in the Pacific Theatre in World War II.
Comfortable Lodging
Located at the corner of 2nd and Dock Streets, we like the privacy and the convenience of The Wilmingtonian Hotel. Suites and rooms are available in a compound of three houses: Dram Tree, Maritime and Cinema. You won't find a big breakfast here, but you can pick up fresh fruit, juices, water and other treats all day in the main lobby. The place has a laid back atmosphere and you can even take your dog with you.
Editors' Recommendations