Forget about the same old tourist traps and try something a little more off-path for your next trip. When looking for a vacation spot, some people thrive on the constant go-go-go of sight-seeing and trying every local hang. Others want a special place that melts the stress away. If that's the kind of vibe you're looking for, we have the perfect place to go.
In gorgeous Norway, there's a beautiful gem that you'll want to add to your bucket list today. Called the Soria Moria Sauna, you'll find Instagram-worthy views that you'll never forget in a setting that will make you want to pinch yourself to make sure it's real. While you're there, you'll also find the peace and serenity you've longed for. Let's find out why this treasure in Eastern Norway is all too magical.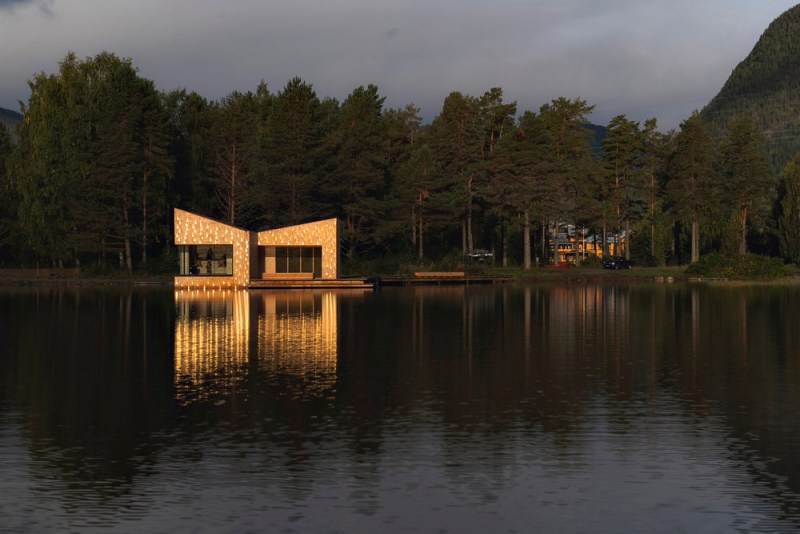 A little background on this gorgeous spot
Norway's Telemark Canal has experienced an identity crisis in recent years. Once a thriving tourist destination, its popularity has drastically declined in the last decade. When the canal was completed in 1892, it was dubbed the "eighth wonder of the world" at that time. It took 500 men five years to complete the 65-mile-long canal, which included 18 locks to accommodate the 236-foot elevation change as it traveled inland. Talk about a long workday.
The decline in tourism over the years hurt local villages, so a massive project was begun to highlight points along the canal. The project, called The Tales of a Waterway, includes art installations, creative lighting displays, and new architectural landmarks. One of the first parts of the project to be completed was the Soria Moria Sauna, and it's already drawing tourists to Dalen, and for good reason.
Dalen is the final stop of the waterway, and it's where the Telemark meets Lake Bandak. It's a serene, impossibly beautiful spot surrounded by sharply jutting mountains, a forest of evergreens, and lake water that is crystal clear. It's an ideal spot for a sauna that draws its inspiration from Norway's most inspiring fairy tales.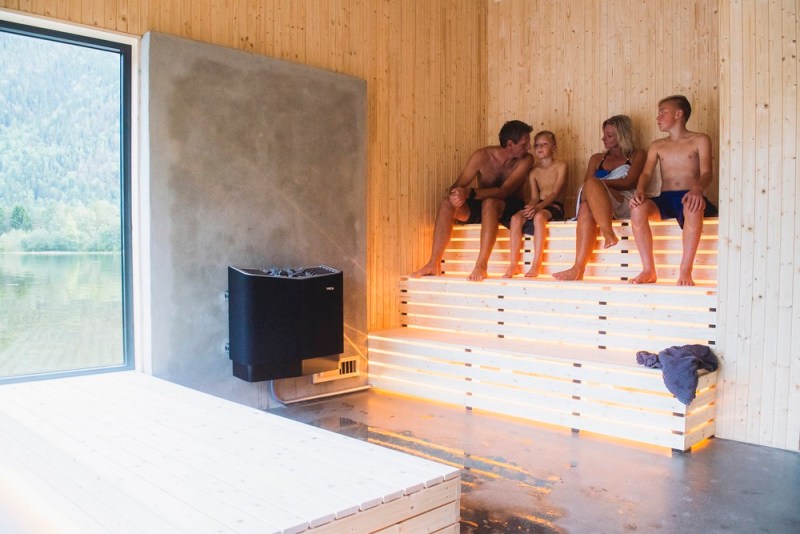 All the steamy details
With such a picture-perfect spot, you might expect a one-of-a-kind cabin to be built instead of a sauna. But Norway has a strong social culture built around the sauna. Families will often spend afternoons together in the steam, and people there learn from a young age that time in the sauna is a chance to cleanse the mind, body, and soul. So, when architectural firm Feste Landskap / Arkitektur was tasked with creating the attraction for the Dalen location, you could guess what the obvious choice was.
The Soria Moria Sauna, which took its name from Norway's most famous fairy tale, sits in the waters of Lake Bandak. Accessed by an angular dock that is meant to mimic the mountain peaks, the structure features the sauna, a changing room, a covered seating area, and a large deck for sunbathing.
Outside, heritage and myth merge in the unique cladding on the building. Traditional wood shingles cover the exterior and are interspersed with stunning golden shingles. These glimmering little squares are meant to invoke the idea of the mythical Soria Moria Castle. The sauna also showcases a unique roof line, sloping down toward the center of the building, forming a V-shape. This is meant to be another interpretation of the steep mountains that surround the lake.
Inside, Soria Moria Sauna offers plenty of spots to sit quietly and be with your thoughts, or to socialize with others. There are stadium-style wooden benches for families to relax together, and in one area there is a small bench that looks out onto the lake thanks to the large corner window. A covered seating area outside lets folks transition from the heat of the sauna into the fresh air before moving onto the deck for a dip into the stunning lake.
Accessed via a winding, wooded path (a physical metaphor for the path one takes to reach the Soria Moria Castle), the sauna is in a secluded spot that is meant to be an Eden for anyone adventurous enough to take the journey.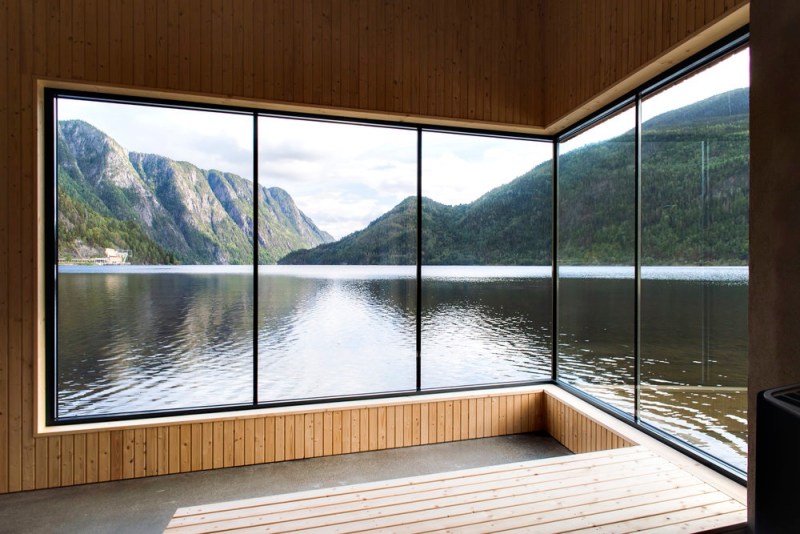 Time to book
Want us to stop talking and help you book this stunning spot? Let's go over a few details first. You don't need to worry about what time of year it is, as it's available to stay in all year round. They will go over everything you'll need to have an amazing experience, so you don't have to wonder about what to bring. And, even better, the prices are on the site, so there's no surprise there. We love that.
So, if you happen to be in Dalen, Norway, and would like your own chance to test out the sauna, rent the whole building here.
We get that not everyone could afford a trip to Norway. But if you already have one planned, or happen to win the lottery and need a way to spend a few bucks, please make sure the Soria Moria Sauna ends up as a destination point. Just promise that you'll take all of the pictures and post them where we can jealously scroll through them.
Editors' Recommendations