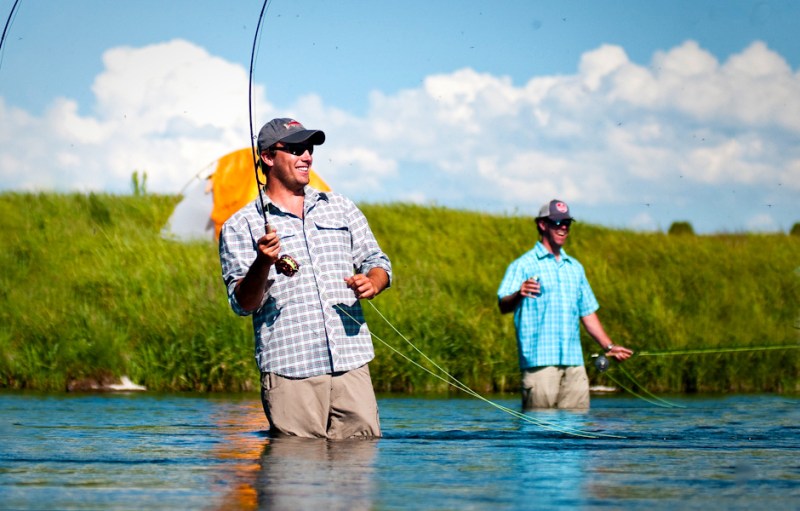 If you're lucky enough to live near a river, lake, or shore with good fishing, you're lucky enough. One of the great summer hobbies every man should take up at least once is learning to fish. If you've ever picked up the works of famed author and fisherman Norman Maclean, then you know that the noblest art of fishing, and hardest to master, is that of fly-fishing. If you find yourself knee deep in a Rocky Mountain stream or paddling out into the Chesapeake to search for the perfect fish story (and to make sure it's not about the "one that got away") make sure you've got the right rod, reel and flies for the job.
For the budding fly-fisherman, selecting the correct gear can be daunting, and even after more than a few trips to a local fly shop, we've found that confusing advice and jargon just don't get better with time. The team at Redington Fly Fishing have solved this problem with their Topo Kit ($220), helping novice fisherman and experts alike build the perfect lightweight fly-fishing set-up and begin to dial their gear in. It features a four piece, nine foot rod, a 4/5/6 weight reel (pre-spooled with high quality RIO tippet), and a small box of six common flies – just enough gear to get you started, but not overwhelmed. The included zipper case makes the Topo Kit the perfect addition to sit within reach of your regular camping gear or in your trunk for those long weekend and after work river sessions. Combined with a pair of Redington's Palix River Waders, you're ready for a few hours of battling trout or bass.
We can't all cast like famed fisherman Lefty Kreh, or wax poetic about growing up fishing the pristine streams and rivers of Montana like Mr. Maclean. However, even if you've never picked up a rod, this summer it's time to team up with Redington and learn to outsmart the fish and hook your own river monster.
Editors' Recommendations