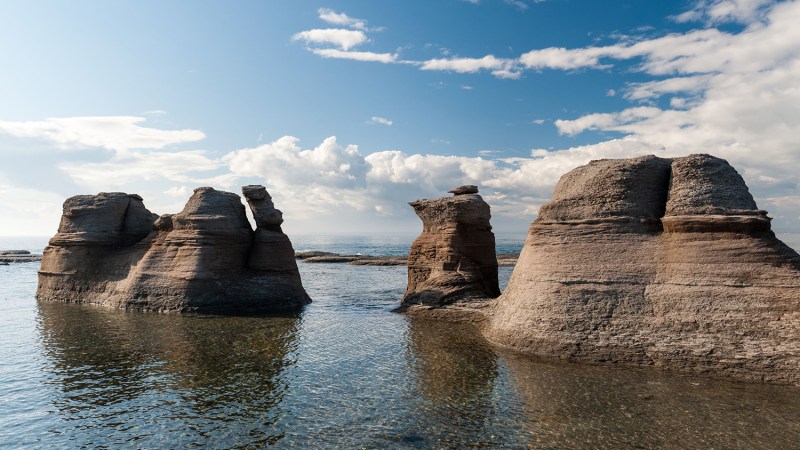 Adventurous hikers could spend a lifetime exploring Canada and barely scratch the surface of the country's thousands upon thousands of miles of marked trails. Among its most beautiful and unique parks is Quebec's Mingan Archipelago National Park Reserve. With the fall season fast approaching, now is the time to start planning a solo camping trip.
Unlike the iconic Jasper, Banff, and Prince Edward Island National Parks, the Mingan Archipelago is somewhat lesser known; the tiny preserve only occupies 58 square miles along the northern shore of the St. Lawrence River. The park was "born" nearly 500 million years ago beneath a surprisingly warm, tropical sea that once blanketed much of the region. Fast-forward some millennia and all of the calcium carbonate, dead organisms, and other minerals deposited on the seafloor have slowly turned to solid rock under their own weight. Today, all of this makes for a fantastic landscape that feels unlike any other national park in Canada.
The reserve only covers the islands within the archipelago, but that doesn't make the water that surrounds them any less interesting to explore. First-time visitors to Mingan should start with an official water tour from one of the marine providers at Havre-St.-Pierre or Longue-Pointe-de-Mingan. These half-day tours typically span a few islands and feature professional narration from Parks Canada guides along the way. In addition to the otherworldly landscape, including million-year-old monoliths and rugged cliffs, tour-goers can spot whales and seals. The park is home to a variety of bird life as well, including puffins, terns, razorbills, and guillemots.
Once you have the lay of the land — assuming you're seeking more independent exploration — hire a taxi boat from either of the terminals mentioned above. The right captain will take you to just about any island you like, where you'll be able to enjoy the pure, blissful peace of Canada's great outdoors. Most islands offer marked hiking trails that range from easy to moderate, from a quarter of a mile to more than six miles long.
The easiest time to go is between June and early September, when most tours and transportation providers operate. However, it's still possible to hitch a ride around the park in early fall. Those willing to brave the cooler weather and slightly more complicated logistics will be rewarded with islands all to themselves. It's the perfect fall camp for those who appreciate a bit of solitude.