Back in January, we were lucky enough to attend that Sundance Film Festival Premier of Meru, an account of Jimmy Chin, Conrad Anker, and Renan Ozturk's struggles and ultimate summit of Meru Peak in India. Meru was released this past weekend across the country, and it is without a doubt the year's best documentary. To call it simply inspiring or humbling is a vast understatement of Anker, Chin, and Ozturk's talents as alpinists, and also their commitment to one another while enduring some of the harshest mountains and weather known to man. That Jimmy and Renan were able to capture this footage and tell their story over the course of three years in preparation for the stratospheric first ascent is almost inconceivable. Whether you're a seasoned climber, or just admire adventurers pushing the limits of human strength and endurance, this film is a must-see for everyone.
The famed Shark's Fin route up India's Meru Peak has stood unclimbed for decades. Countless legions of world class climbers have been turned around by this massive wall of ice and granite, and notable author Jon Krakauer even mused that it "may defeat everybody for all time". Given it's nightmarish reputation, American alpinist Conrad Anker saw it as the natural progression of his mountaineering career, and a fitting way to pay tribute to his mentors and friends who helped him along the way.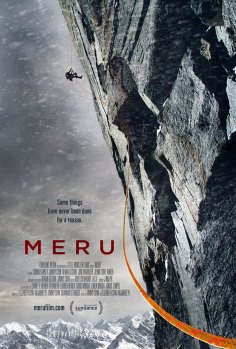 Anker's resumé includes multiple first ascents around the world, including significant expeditions in the Himalaya, Antarctica, and Patagonia. However, his eye was forever on Meru's Shark Fin following the tragic death of his mentor and legendary climber and guide, Mugs Stump, in 1992. His single-minded focus on this passion project brought National Geographic photographer and professional climber Jimmy Chin, and young phenom Renan Ozturk on board in 2008, with a goal of sending the over 5,000 vertical feet of ice fields and big wall climbing in a weeklong, siege style climb.
The documentary focuses on their ordeal on the wall and off it, and details the struggles the men dealt with during that ill-fated first attempt, as well as their drive to come back together and conquer this unthinkable peak. First plagued by days of snow – more than ten feet fell in the Garwhal range of the Himalaya early on the climb – the expedition was turned around just one hundred meters short of the summit. The following three years saw each man go their own way with different climbing, skiing, and cinematography projects. However, Meru's siren song brought the three climbers back to India once again in 2011. The personal struggles – Ozturk made a miraculous recovery from a head injury and broken neck only months before – only magnify their accomplishment. Following the riveting Dawn Wall project that Tommy Caldwell and Kevin Jorgeson worked through earlier this year in Yosemite, it is easy to understand the visceral, emotional response climbers feel when approaching such a momentous climb. To be able to share that experience as Chin has, and balance such high altitude ordeal with telling the story behind each climber's motivation adds a depth that few film makers can hope to reach.
Photos Courtesy of Renan Ozturk and Jimmy Chin