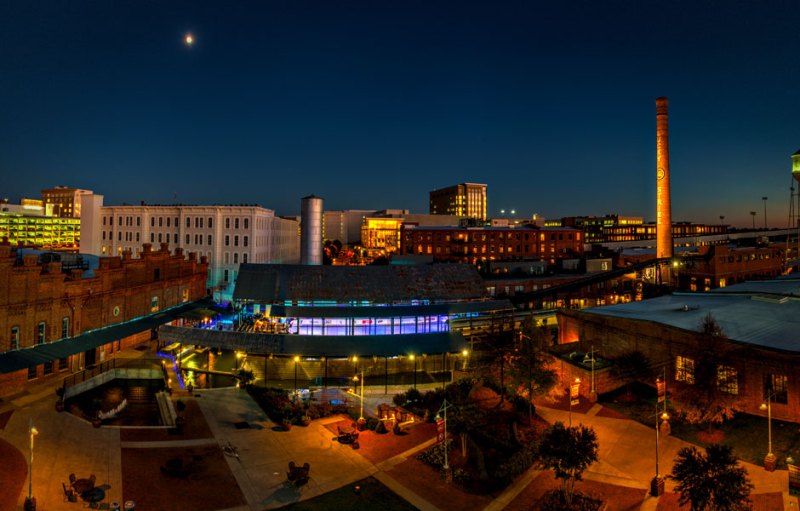 Durham, North Carolina may seem like the little brother to cities like Raleigh and Charlotte in the Tar Heel state. But, it's a young and trendy city on the rise with its booming startup presence, hipster vibes, and damn good beer. Here, we'll take a trip down Tobacco Road and highlight some of the hottest places to drink, eat, see, and stay in the Bull City.
Drink:
Ponysaurus
What do you get when a pony and a dinosaur have a baby? You get a Ponysaurus. As quirky and clever the name may be, there is no doubt that Ponysaurus has the best pint in a city known for its competitive brewery scene. Established in 2013, Ponysaurus is set on the outskirts of downtown and features a nicely built taproom that gives off a great urban ambience with its exposed ductwork and beams. You can enjoy any one of their 13 brews at the bar, or you can venture outside to the upstairs deck and take in great views of the city under the stars and string lights. If you're feeling hungry after some foamy goodness, there is always a food truck on site to cure that. Better yet, Ponysaurus has some great bar snacks for only a $1 per scoop. Beer and bar snacks are like music to our ears, and if you crave the two, you'll love the Ponysaurus Brewing Company.
Eat:
Dame's Chicken & Waffles
Let's all take a moment to applaud whoever it was that thought a Southern staple like fried chicken and sweet and fluffy waffles were a match made in heaven. While Damion "Dame" Moore didn't invent the dish, he sure does know how to keep 'em coming through his doors each and every day. Dame's Chicken & Waffles in downtown Durham has a decadent recipe of their own that has proven to be "almost" famous by their standards. It's a nice, old school joint that focuses on the best ingredients and great service to make for an unforgettable dining experience. Their menu features an array of chicken and waffles dishes that offer different takes on the classic dish ranging from rich and sweet to savory and spicy. The go-to menu item, you ask? Dame's personal favorite is the "The Carolina Cockerel". Three perfectly golden fried chicken wings paired with a blueberry waffle and a peach and apricot "schmear" makes this a can't-miss in one of the tastiest towns in the South.
See: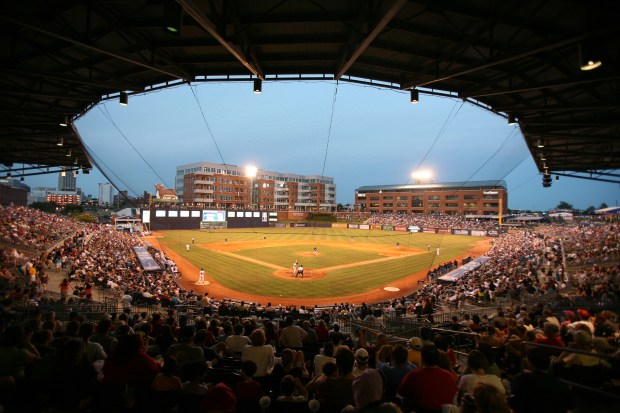 Durham Bulls
Remember that great baseball flick from the late 80's that starred Academy Award winners Kevin Costner and Susan Sarandon? Here's a hint, the movie took place in Durham. Bull Durham was one of those great sports films that really put the team and the city on the map. In 2014, the Durham Bulls' Athletic Park underwent a major $19 million renovation and it is now one of the premier ballparks in all of minor league baseball. For the complete trifecta, you can grab a suite with your friends, a couple of mustard-covered Bright Leaf hot dogs, and a craft beer from Bull Durham Beer Company located in the ballpark. Baseball, beer, and dogs – now that's the holy trinity of America's pastime. Spring training is well underway, and the first pitch is right around corner. So grab your tickets while you can because the Bulls are the hottest ticket in town on a mid-summer night.
Stay:
The Durham Hotel
So you grabbed a bite to eat at the almost famous Dame's, cheered on the Durham Bulls, and capped your night off with a couple of legendary brews at Ponysaurus. The only question that remains is – Where are you going stay? If you plan on making a trip up to Durham, book your stay at The Durham Hotel. Standing 6 stories tall, The Durham Hotel is located in the heart of downtown and features a mid-century modern design. But, before you call it a night, take an elevator up to explore the scenic rooftop bar. The unbeatable views of the city provide the perfect backdrop to reminisce on the night. While you're up there, don't be shy. Grab yourself a drink menu and try any of their specialty cocktails. "The Durham" and "The Green Room" are exceptionally, smooth handcrafted greatness from a shaker. If you're planning an extended stay, they have all of the essential amenities to make you feel right at home. There's a fitness center, plenty of dining options from James Beard Award-winning chef Andrea Reusing, bicycle rentals, and rooftop yoga. After all of that, why would you want to stay anywhere other than The Durham Hotel?
Photo Credit: Trinity Commons
Editors' Recommendations