As you wind down through the hills from Sanctuary Olonana towards the Maasai Mara National Reserve in Africa, you will catch a glimpse of all kinds of wildlife. Zebra, giraffes, impala, and baboons, sure, but you'll also see cattle. And accompanying the cattle are men wrapped in bright red blankets and holding staffs. These are the Maasai.
The Maasai are a semi-nomadic, indigenous African community that spans from Northern Tanzania to Kenya. To them, cattle is everything. A gift from the god, Enkai, cattle is used in everything from their diet, which is made up of milk, curdled milk, and blood (they rarely eat beef), to their housing (enkaji), which is a mix of grass, mud, and dung. A man's worthiness for marriage —  the Maasai are polygamous — is determined largely by the number of cattle that he owns.
At no time do the Maasai leave the cattle unattended in the pasture. Men always wear red because they believe the bright color will frighten off the lions that prey on animals in the area. From the time they can walk, the Maasai men monitor their herd. At puberty, boys undergo a series of tests to become Maasai warriors.
Because of the Maasai tribe's proximity to some of Africa's most visited game parks (Maasai Mara, Serengeti, and Tarangire), they are also one of the most well-known African natives. Unlike many other, far more private indigenous groups, the Maasai are also known to welcome visitors to their villages to learn about their customs and way of life. Travel companies like Abercrombie and Kent and Sanctuary Retreats work with the Maasai to invite travelers to participate in ritual dances and shop at the markets where the tribe's women sell locally made beaded jewelry and wood carvings made by the men while tending cattle.
When visiting the Maasai, respect is the name of the game. Let them take the lead when it comes to interactions and you'll be sure to learn and enjoy all the time you spend with these happy and resourceful people.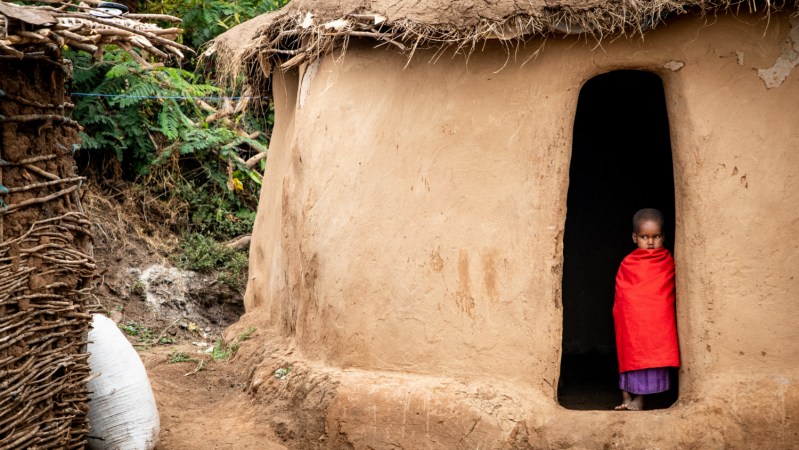 Maasai villages, called bomas, are circular in structure with a handful mud homes on the perimeter. The center is kept empty and livestock is brought in at night in order to protect the cattle from lions and thieves. The fence itself is constructed of thorned acacia branches and each gate into the village represents a family.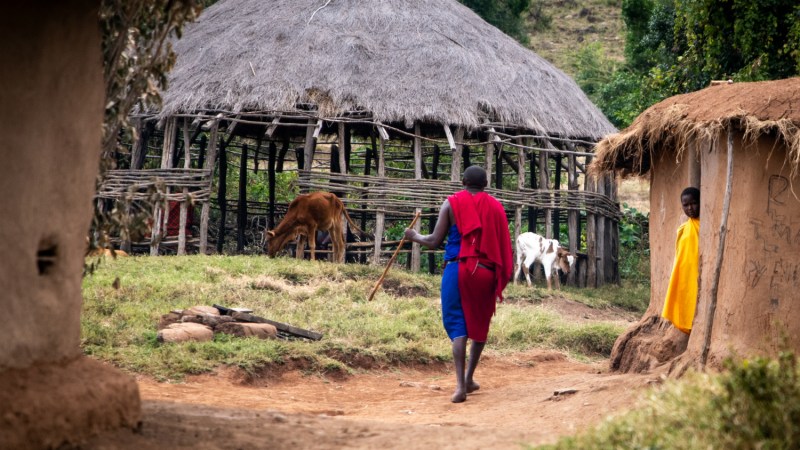 To the Maasai, nothing is more important than cattle. Most affairs and conflicts are resolved using cattle as trade and a man's number of wives is determined by the number of cattle that he owns. Often 10 cattle equal one wife.
The Massai homeland between Kenya and Tanzania.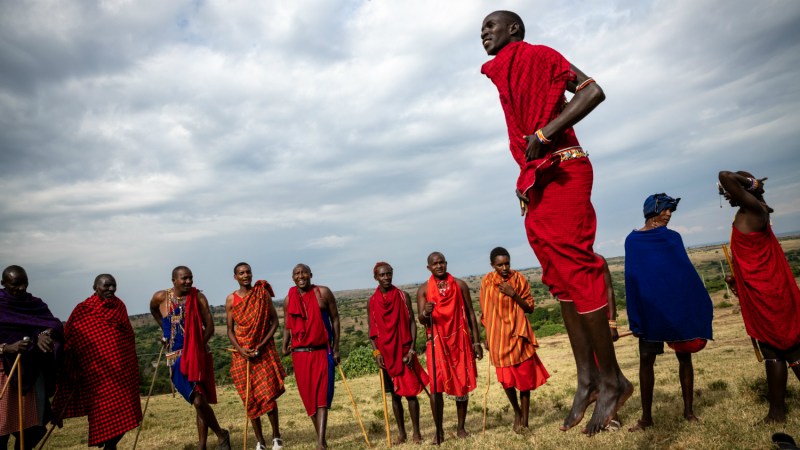 Maasai warriors participate in an adumu, or as it is known by western visitors, the Maasai jumping dance. The men get into a circle and begin a call-and-answer chant. Each male enters the circle where he jumps as high as he can. The higher he can jump, the more attractive that he is to the opposite sex.
Often, tourists visiting Maasai villages are encouraged to participate in the adumu.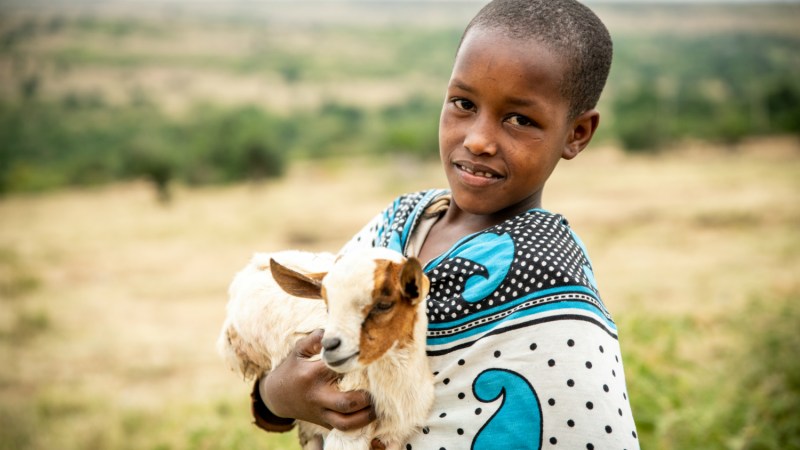 Maasai begin looking after livestock when they are toddlers.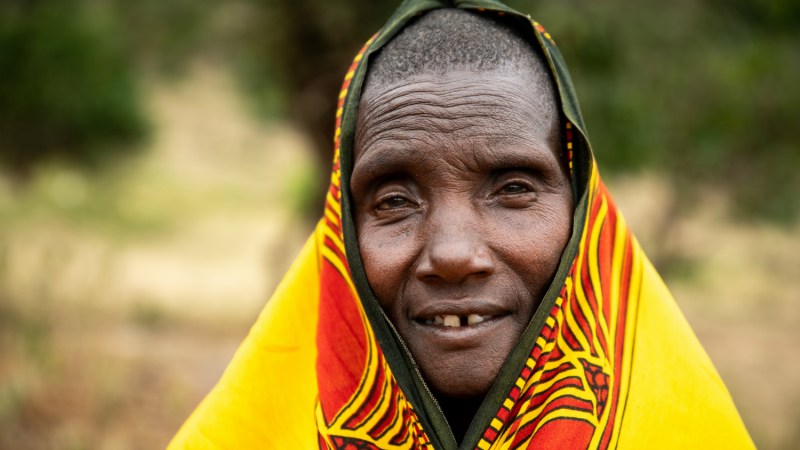 When a Maasai boy reaches the age of five, his lower front two teeth are removed. If the child gets lockjaw, an antidote can be administered through the gap.
A curious Maasai boy peaks around a corner.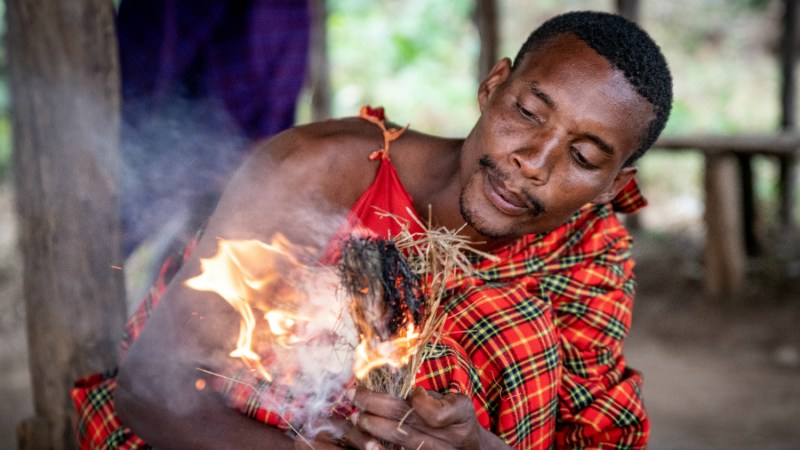 When guests visit a Maasai village, among other activities, the Maasai warriors demonstrate how they make fire.
Maasai elders are responsible for all tribal politics and ceremonies.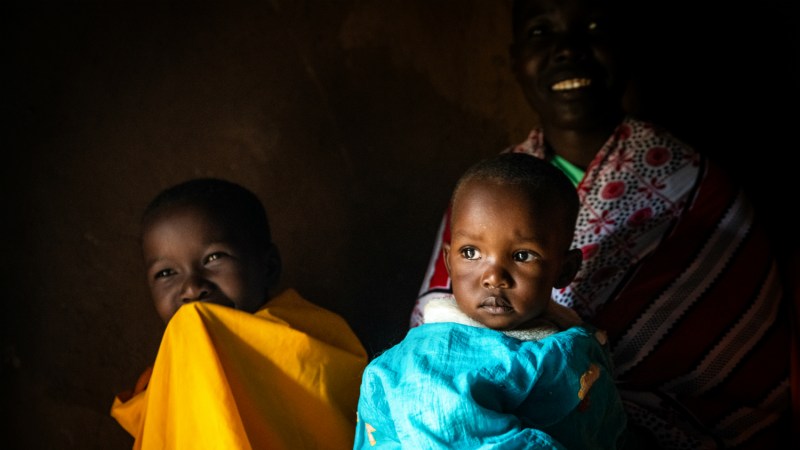 Massai children sit with their grandmother.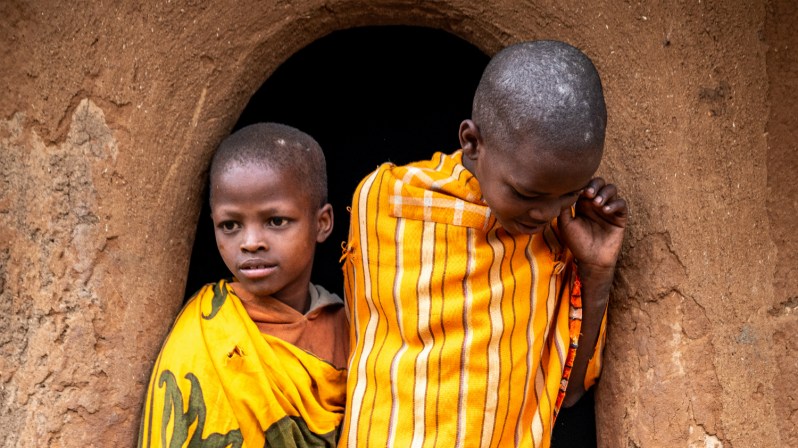 Maasai homes are loaf-shaped, typically made up of two rooms and built by the women of the village our of soil, grass, and twigs. The roof consists of grass and cow dung, which is said to absorb moisture. Fires burn inside the homes and the smoke escapes from a small hole on a wall near the entrance.
Maasai are a largely semi-nomadic community and this goes into consideration when building their homes. Despite the Maasai being one of the tallest groups of people in the world, the ceilings are often too low for the man to stand.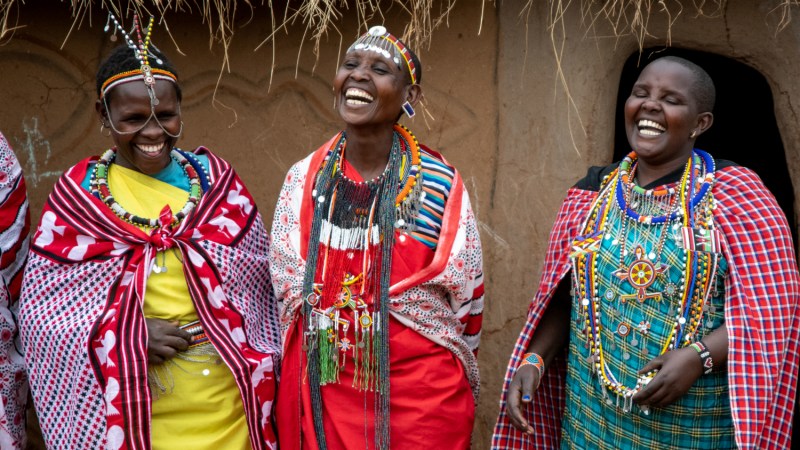 Maasai women not only build homes and take care of the Maasai children, they milk cows, walk sometimes miles to and from the watering hole, and gather firewood daily.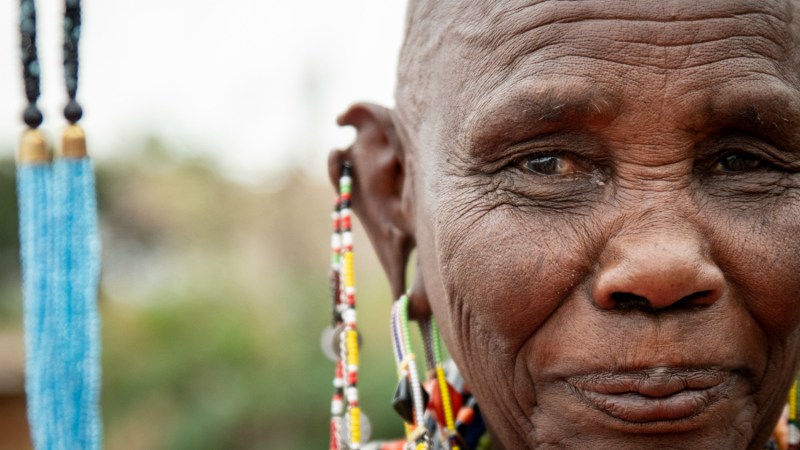 Maasai women make traditional beaded jewelry worn by tribe members and sold to tourists visiting the village.
Maasai women are promised in marriage long before they reach childbearing age. Shortly before a Maasai woman is married, her head is shaved.
Female circumcision has been a part of Maasai culture for centuries. While the Maasai remain steadfast to the traditions of old, this ritual is thankfully fading away. It is now illegal in Kenya to perform such procedures and, through education, more and more families are eliminating the antiquated and cruel process.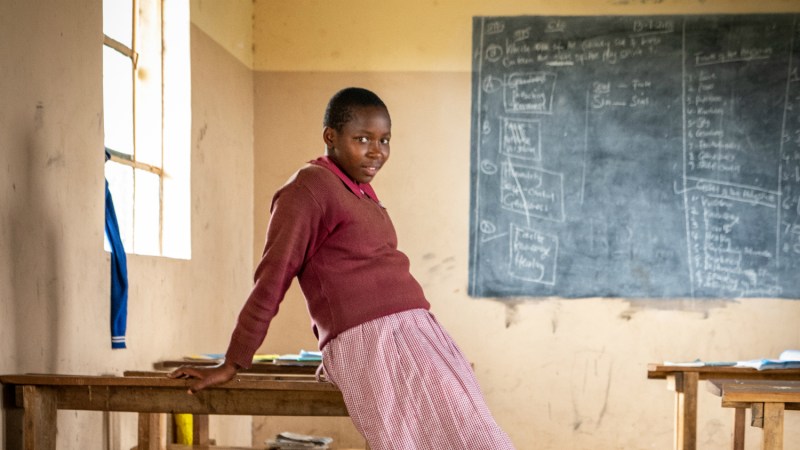 According to Maasai Girls Education Fund, a generation ago, only 20 percent of Maasai women attended any kind of schooling. That number is up to 48 percent, but 10 ten percent go on to secondary school.
Maasai school historically has taken place under a tree. Thanks to donations from Abercrombie and Kent Philanthropy (AKP), the travel company's nonprofit arm, a school has been built for local Maasai children so that they may have a brighter future while still keeping their culture intact.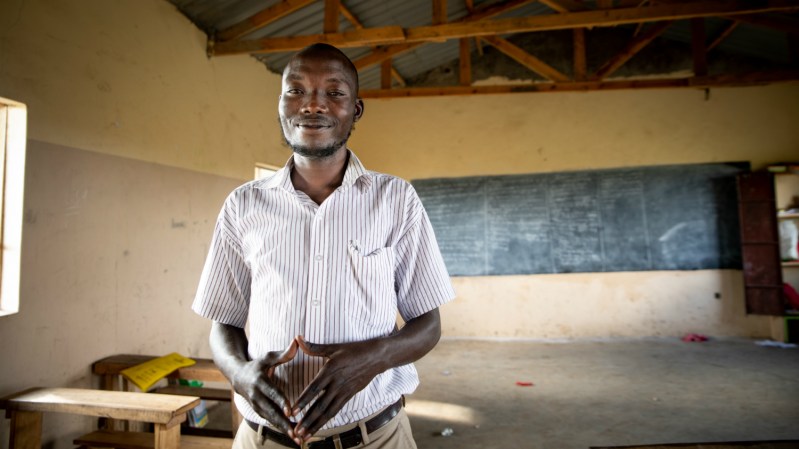 The Enkereri School structure began in the year 2005 with one iron sheet structure and 30 kids but in 2015 they started getting permanent structures and school enrolment of kids started increasing. Abercrombie and Kent Philanthropy helped by building the first formal school building, followed by an additional classroom and the administration block, kitchen and dining hall. The school moved from being just a "village school" to achieving formal registration by Government, which also saw them receive a full-time certified principal and additional Government teachers.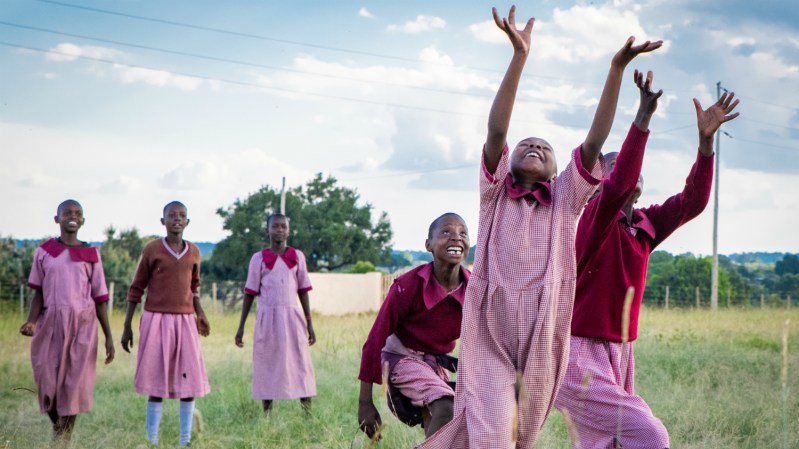 The school now has eight permanent structures. Enrollment has also risen from 30 kids to 265. Enkereri has become a point of village pride.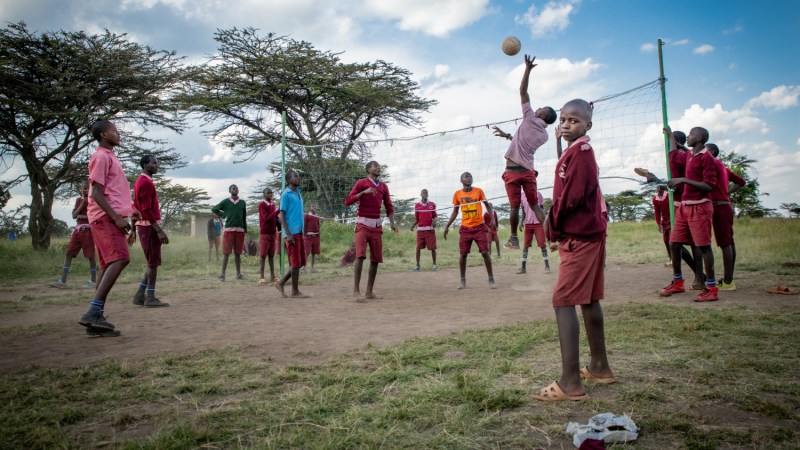 In 2018, 265 kids attend the school daily, covering a distance of 10 kilometers (over 6 miles) to and from their homes.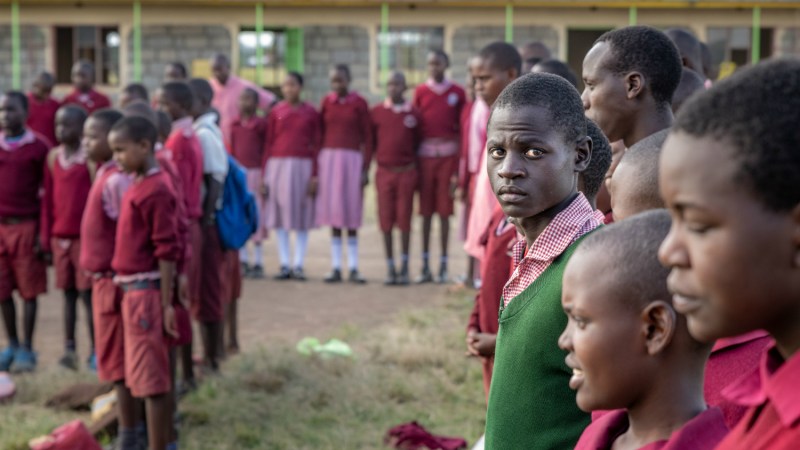 About 100 kids sleep at school due to long distance and to get a conducive learning environment. It is customary in Kenya for the seventh- and eighth-grade students, in particular, to sleep at the school to best prepare for national exams.
Students learn about conservation efforts through social studies and visits to the neighboring Maasai Mara National Reserve. AKP has conducted annual "rhino watch" excursions into the Reserve. A&K guides provide the children both an exposure to the Reserve and wildlife, as well as an introduction to guiding.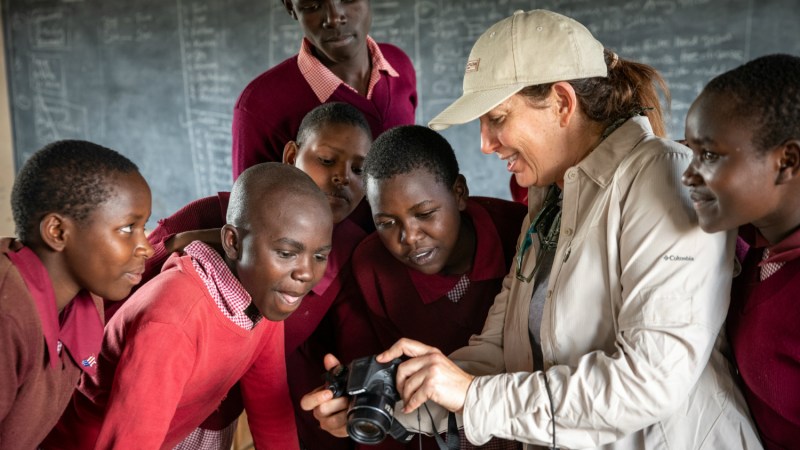 Students are most excited to learn about the environment and geography. AKP introduced "eReaders" (like Amazon Kindles), which work primarily like a lending library. The most popular books are about Kenyan history and former U.S president Barack Obama.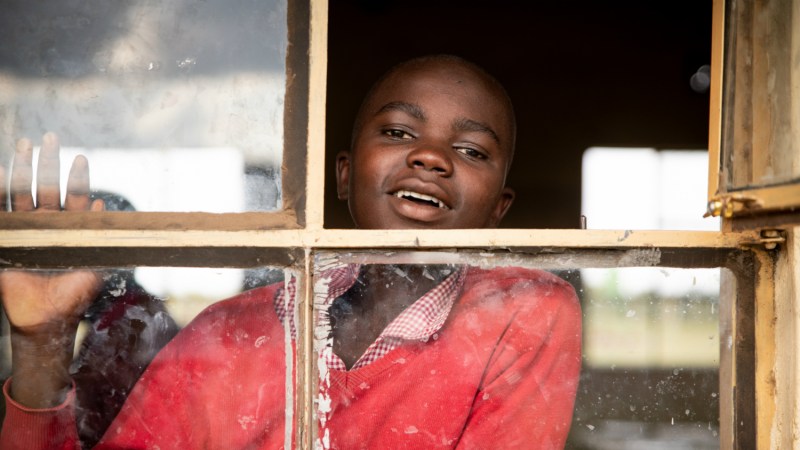 A student at The Enkereri School.
Editors' Recommendations