Chalkboards, stodgy university logos, and faded faculty headshots — all hardly the stuff of a chic boutique hotel.
But Graduate Hotels is wringing a healthy dose of nostalgia from the phrase "back to school." Located in some of the country's most university-centric small cities, the brand's boutique hotels are unlike any in the United States. With a focus on local cuisine and beverage and what makes each university unique, the brand elevates collegiate nostalgia to an art form.
The world's largest and most recognized hotel brands — Starwood, Hilton, Marriott — understand that guests want their lodging with plenty of local flavor. But, there's often a limpness and a disconnect in their execution. Mass-produced, black and white photos of Don Ho on the bedroom walls in Honolulu; a painted triptych of Elvis in the hotel lobby in Memphis; or a Texas Longhorn-inspired cocktail lounge in a hotel outside Houston. These are all enough to show that someone took the time to execute the finer details, but not the passion. The decor often feels researched and shopped from a catalog entitled "Essential Vaguely Local Hotel Artifacts." Graduate Hotels, on the other hand, is altogether different. The brand pulls clever inspiration for their hotels from the heart of some of the country's most notable college towns. From Ann Arbor to Athens to Tempe, the rooms, the lobbies, the restaurants all feel distinctly, undeniably local.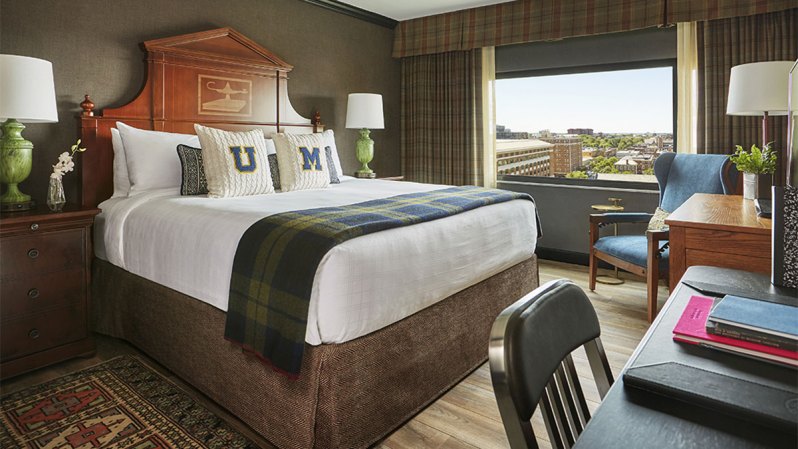 The devil is in the — albeit quirky — details. Graduate Ann Arbor, for example, is home to the Allen Rumsey Super Club — a nod to the city's founders that's bedecked in tartan carpeting, green pleather club chairs, and a one-of-a-kind retro/industrial neon chandelier perched above it all. Many dishes are prepared table-side and Fish Fry Fridays and an old school Lazy Susan (relishes, pickles, breads and spreads, and Great Lakes catches) are traditional house specialties.
Over every bed at Graduate Charlottesville hangs a wahoo — a fish that can allegedly drink more than its body weight in water. It's a not-so-subtle tip of the cap to the students' legendary drinking capacity.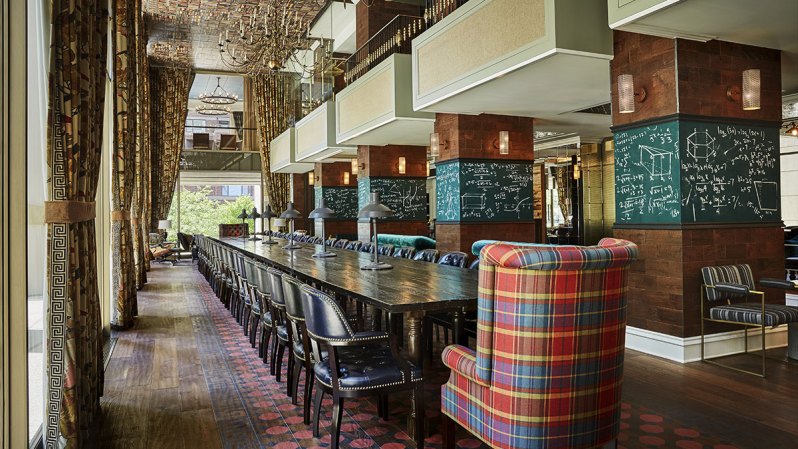 Chalkboards at Georgia's Graduate Athens are covered in scientific formulas for sweet tea — the state's most popular beverage. You won't find that level of detail anywhere near a Holiday Inn.
The micro-hotel chain is currently in Ann Arbor, Michigan; Oxford, Mississippi; Charlottesville, Virginia; Tempe, Arizona; Lincoln, Nebraska; Madison, Wisconsin; and Athens, Georgia. By 2019, new locations are set to open in Berkeley, California; Richmond, Virginia; Minneapolis, Minnesota; Seattle, Washington; Bloomington, Illinois; and Roosevelt Island, New York.
Editors' Recommendations