The tiny Pacific Coast town of Manuel Antonio (and its sister town of Quepos) are fast becoming one of the hottest destinations in Costa Rica for American travelers. The area's mix of expat-friendly creature comforts, a legit tico (traditional Costa Rican) vibe, and the country's most beautiful and biodiverse national park make it the ideal place for travelers looking to get off the beaten path. Here are three of the best hotels in Manuel Antonio.
Hotel La Mariposa
Hotel La Mariposa isn't the flashiest or the most luxurious boutique hotel in Manuel Antonio. But it strikes the perfect balance of old world charm, an exclusive, upscale vibe (without the snootiness), and out-of-this-world views. The property opened its doors in 1973 as the first real hotel in Manuel Antonio — just months after the adjacent Manuel Antonio National Park was inaugurated. With literally any piece of land to choose from, the owners built the hotel on the area's highest vantage point. Fast forward more than four decades, and it still offers the area's most breathtaking views. Grab an Imperial or a bespoke rum cocktail from their specialty drink menu and while away an afternoon on the panoramic restaurant terrace.
Good to know: Even the Partial Ocean View rooms offer stunning vistas. But, for a few more colones, you can score a full Ocean View room with sweeping views of the entire national park and the Pacific Coast.
Hotel Vela Bar
The traditional look of most Costa Rican boutique hotels — dark mahogany, Spanish tile flooring, and copious use of bamboo — can feel impossibly charming or painfully dated. While it may not look the part from the outside, the decor at Hotel Vela Bar is decidedly different. Large, floor-to-ceiling glass balcony sliders, bold, ocean-inspired wall prints, laminate wood flooring, and luxurious stone bathrooms create a feel that's beyond contemporary relative to most hotels in Manuel Antonio. Add to that: in-room espresso makers, free, hot breakfast, and a five-minute walk to the national park and one of the most beautiful beaches in all of Costa Rica, and you'll never want to leave.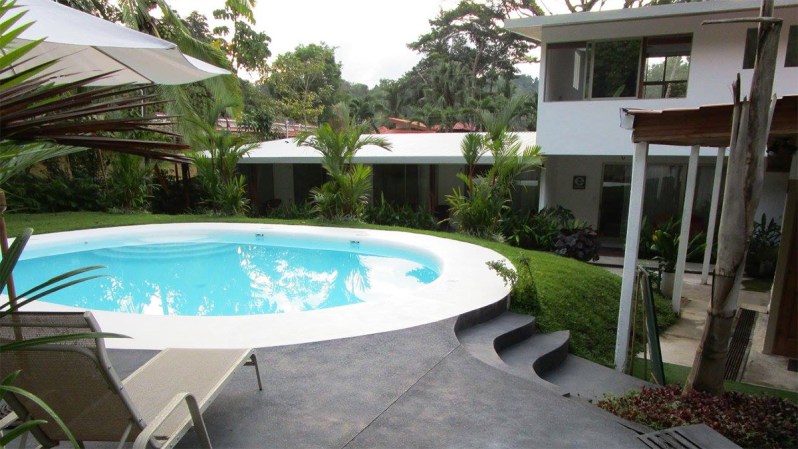 Good to know: With a bit of good luck and timing, this is one of the best lodging values in Manuel Antonio.
Hotel La Colina
This tiny boutique hotel is situated a hundred feet off the main strip in Manuel Antonio. But, thanks to a clever design that puts the entire property up and into a lush, tree-lined hillside, it feels worlds away. The higher rooms offer the best vantage point of both the national park and the ocean; but, every room is surrounded by greenery that's home to howler monkeys, iguanas, and toucans. The cascading, bi-level pool and adjacent steakhouse/pizzeria provide a relaxing respite that feels miles away from anywhere.
Good to know: The bar is a well-known haunt among expats and locals who belly up nightly for happy hour and stay for the live music that plays on select nights each week.
Editors' Recommendations