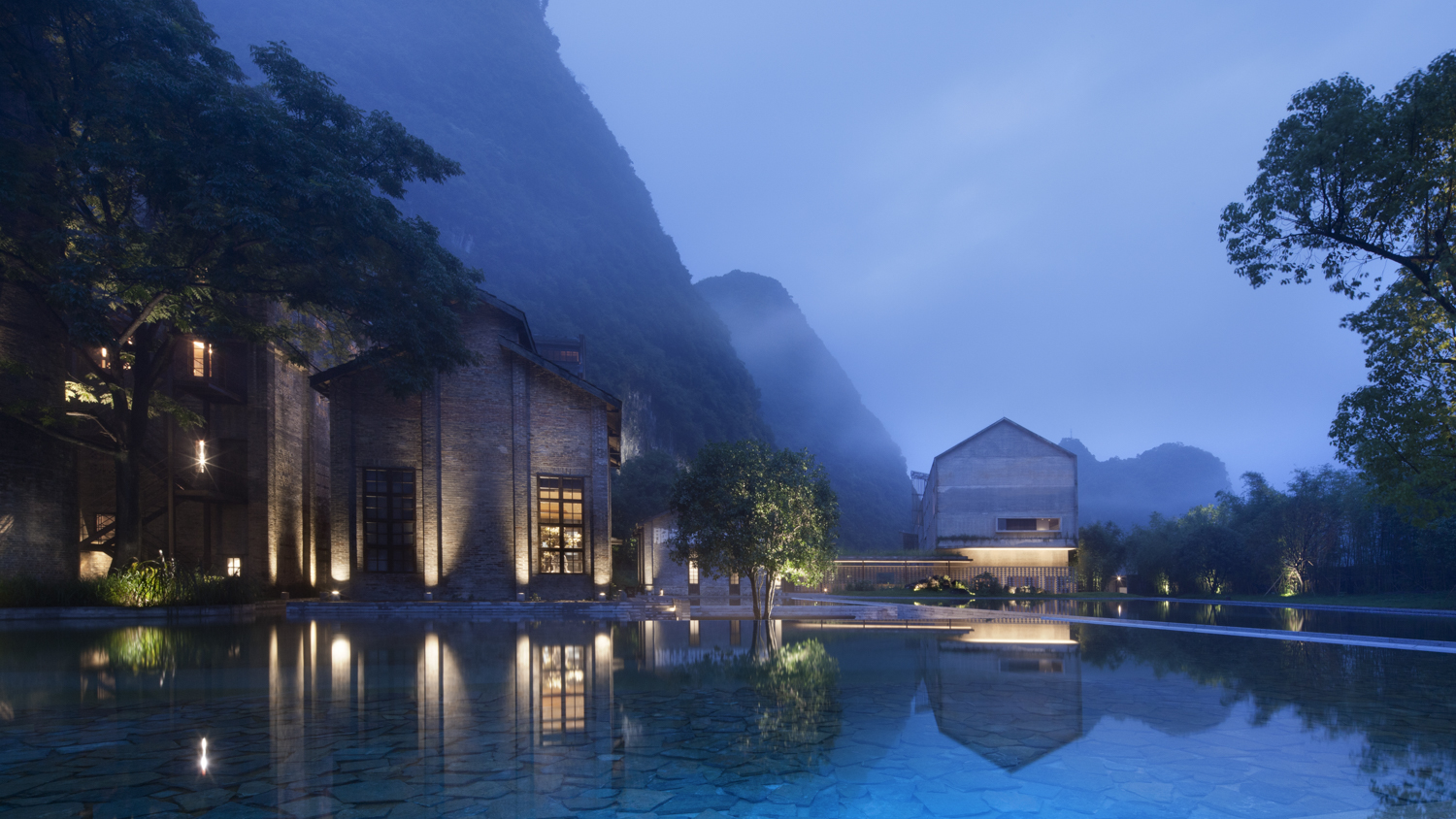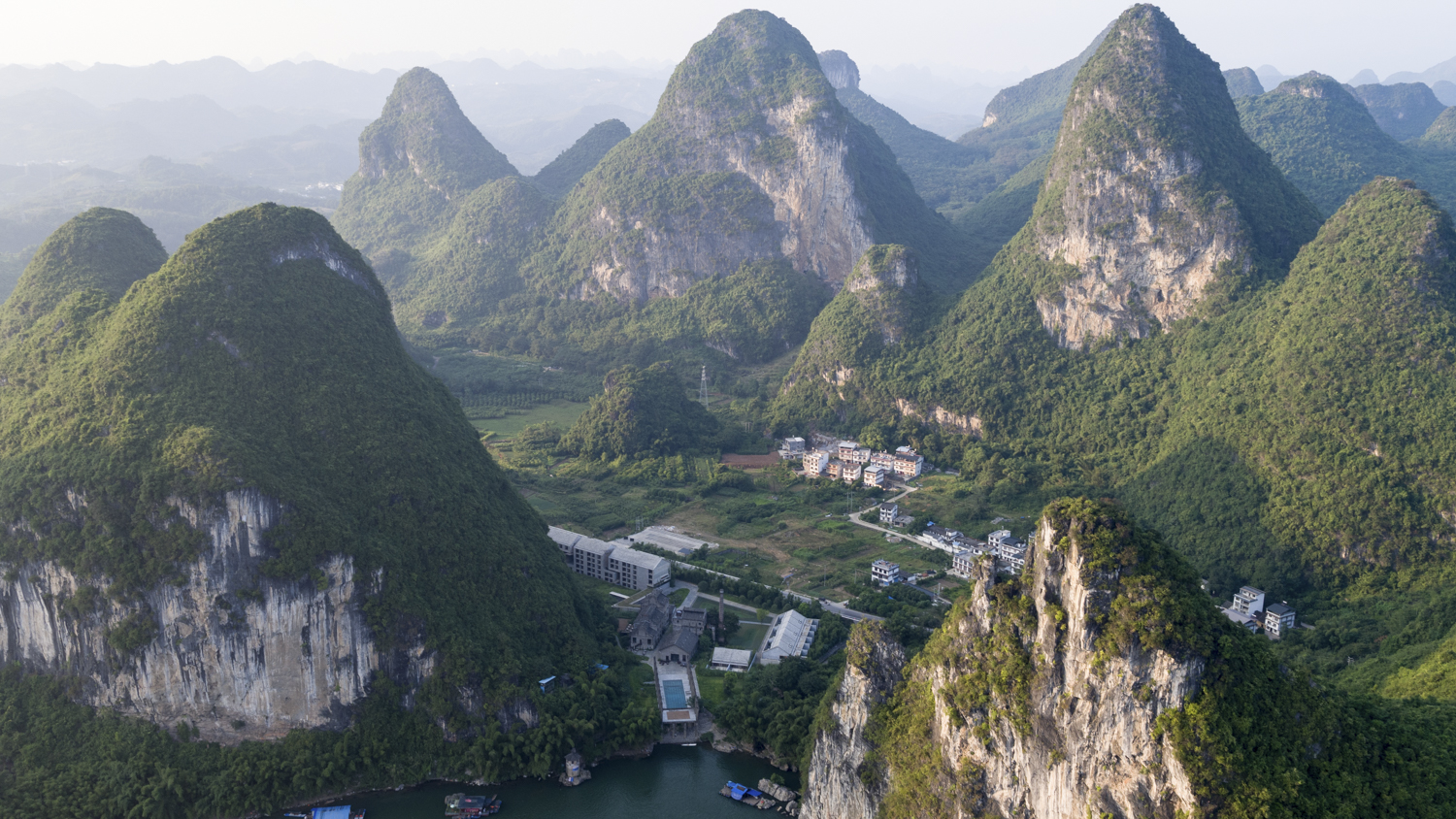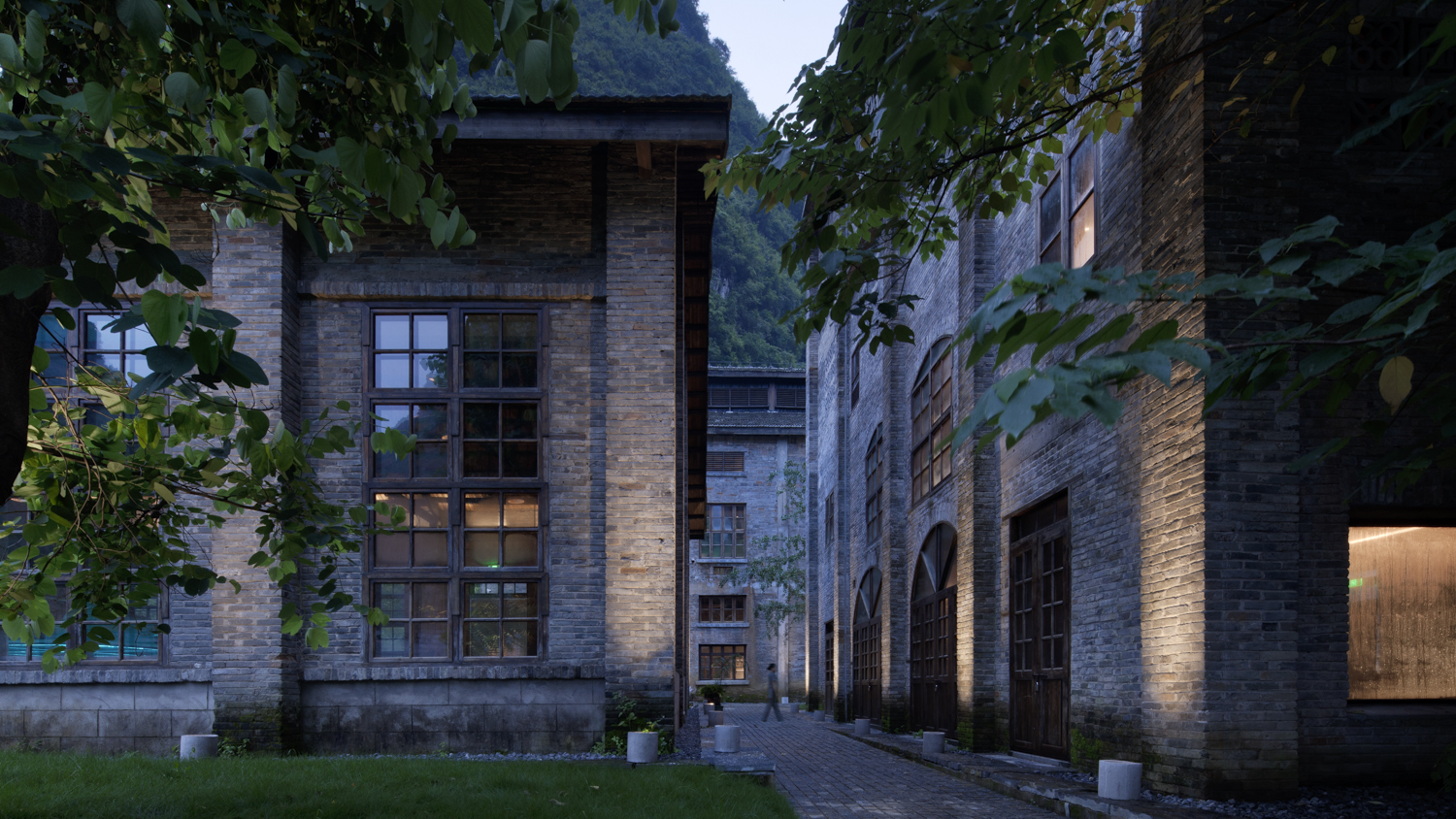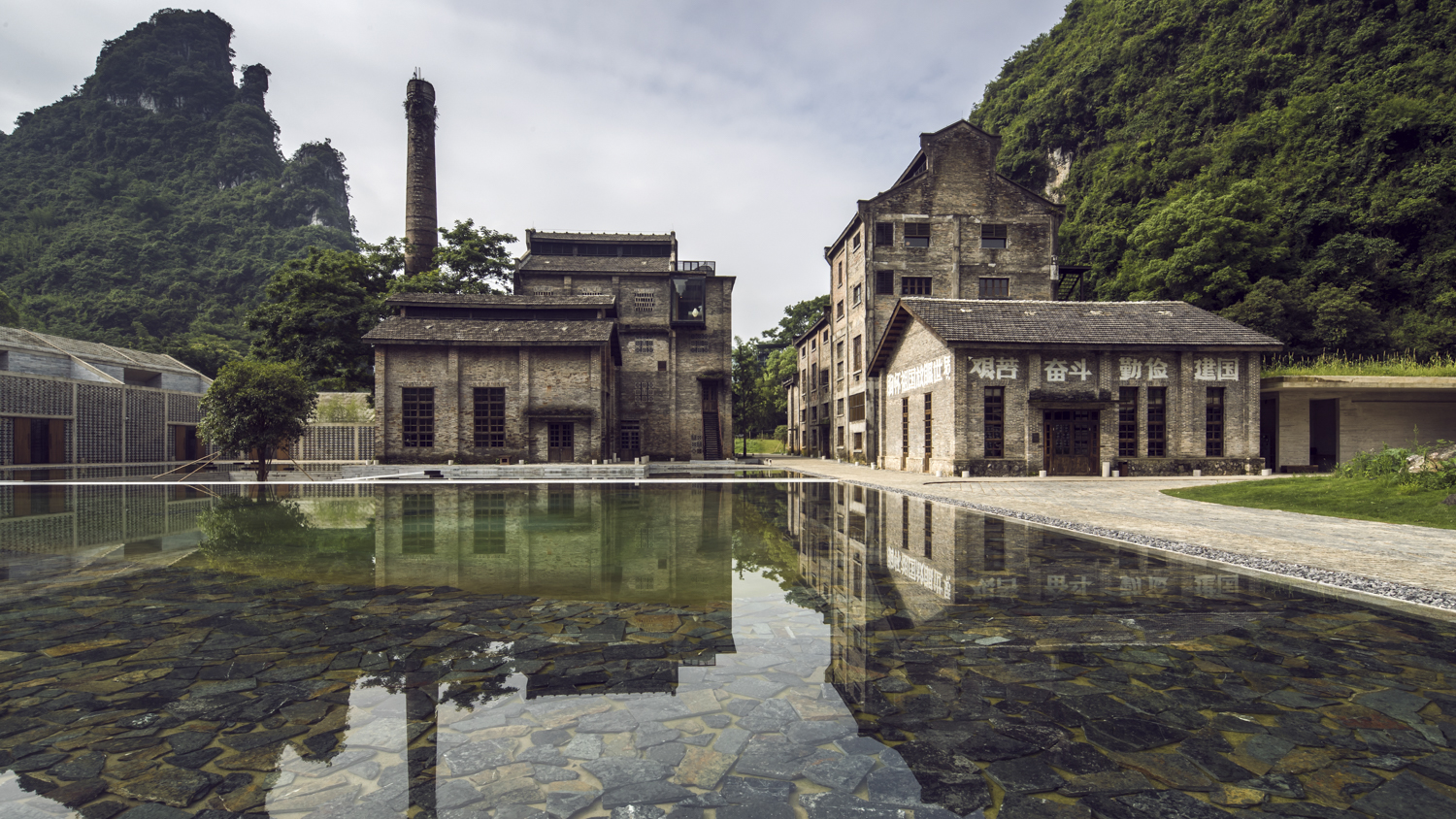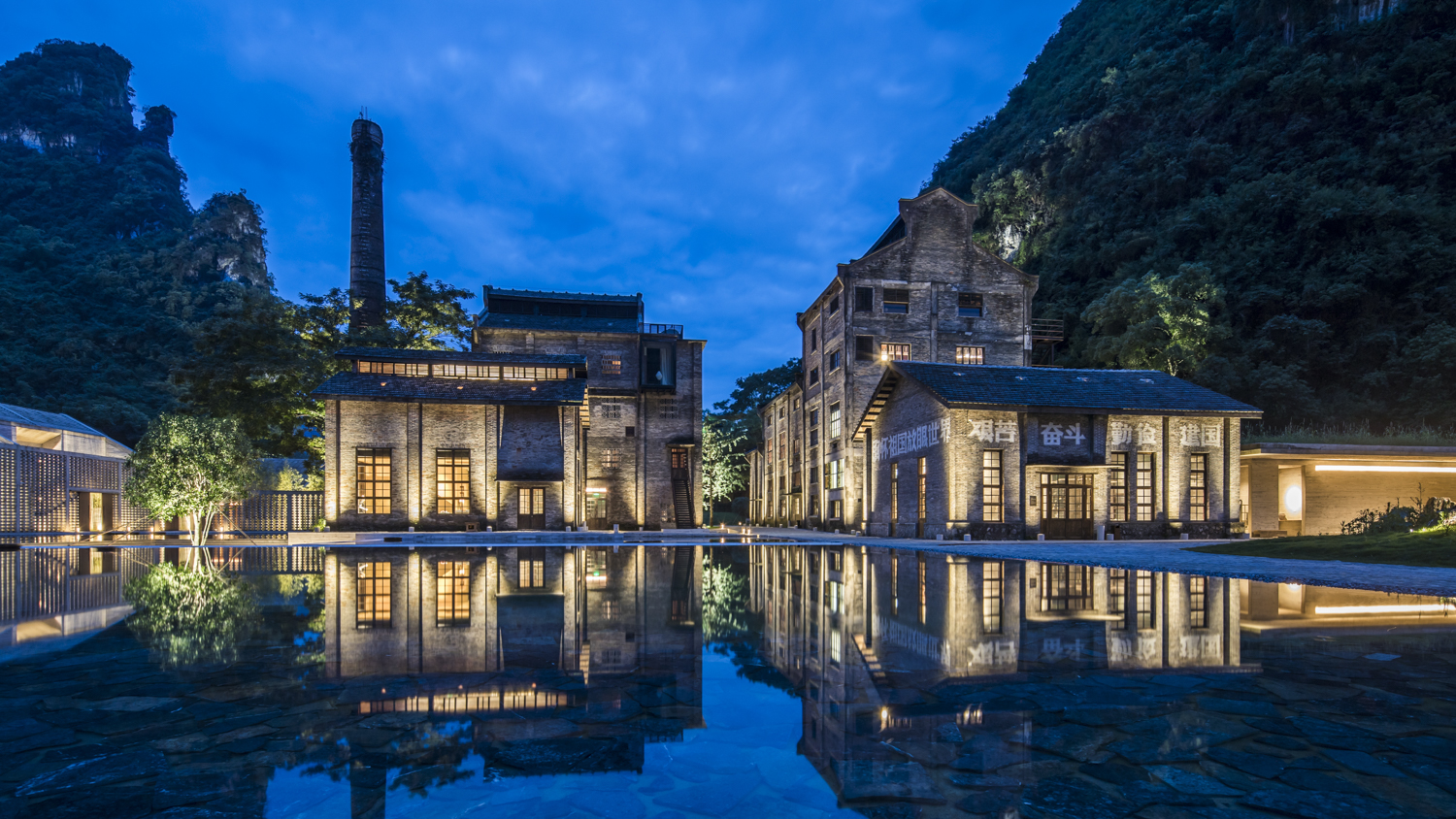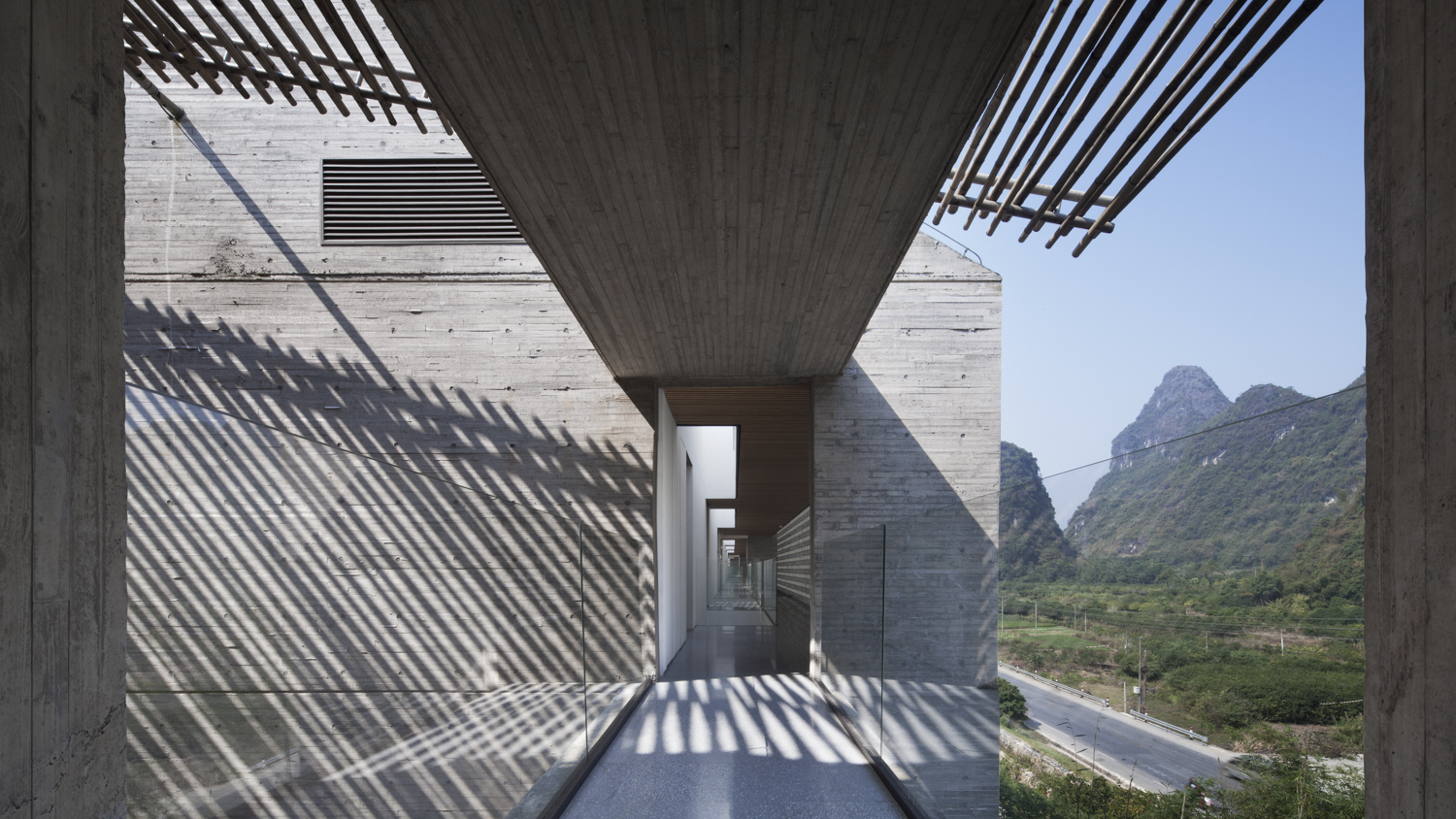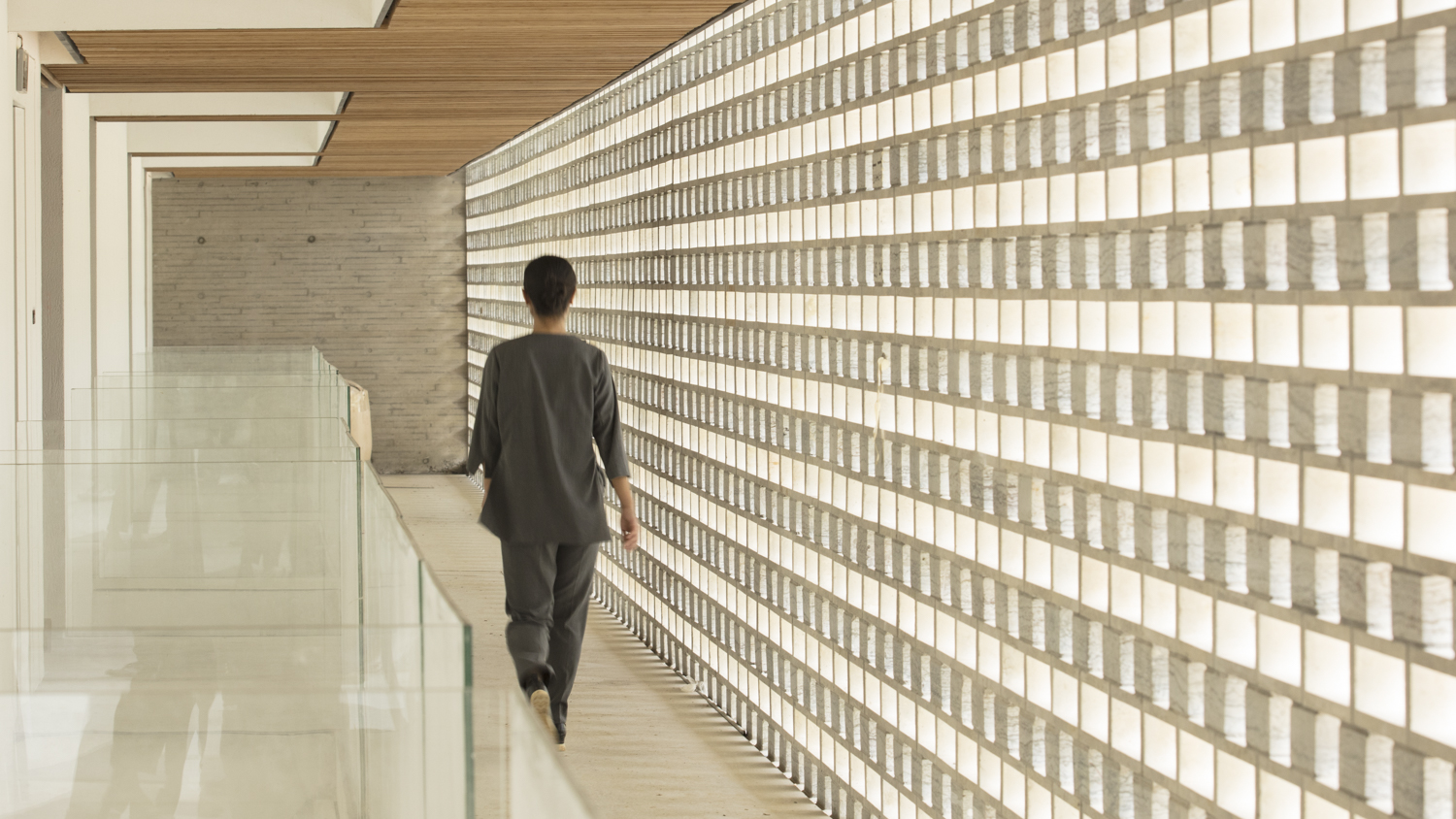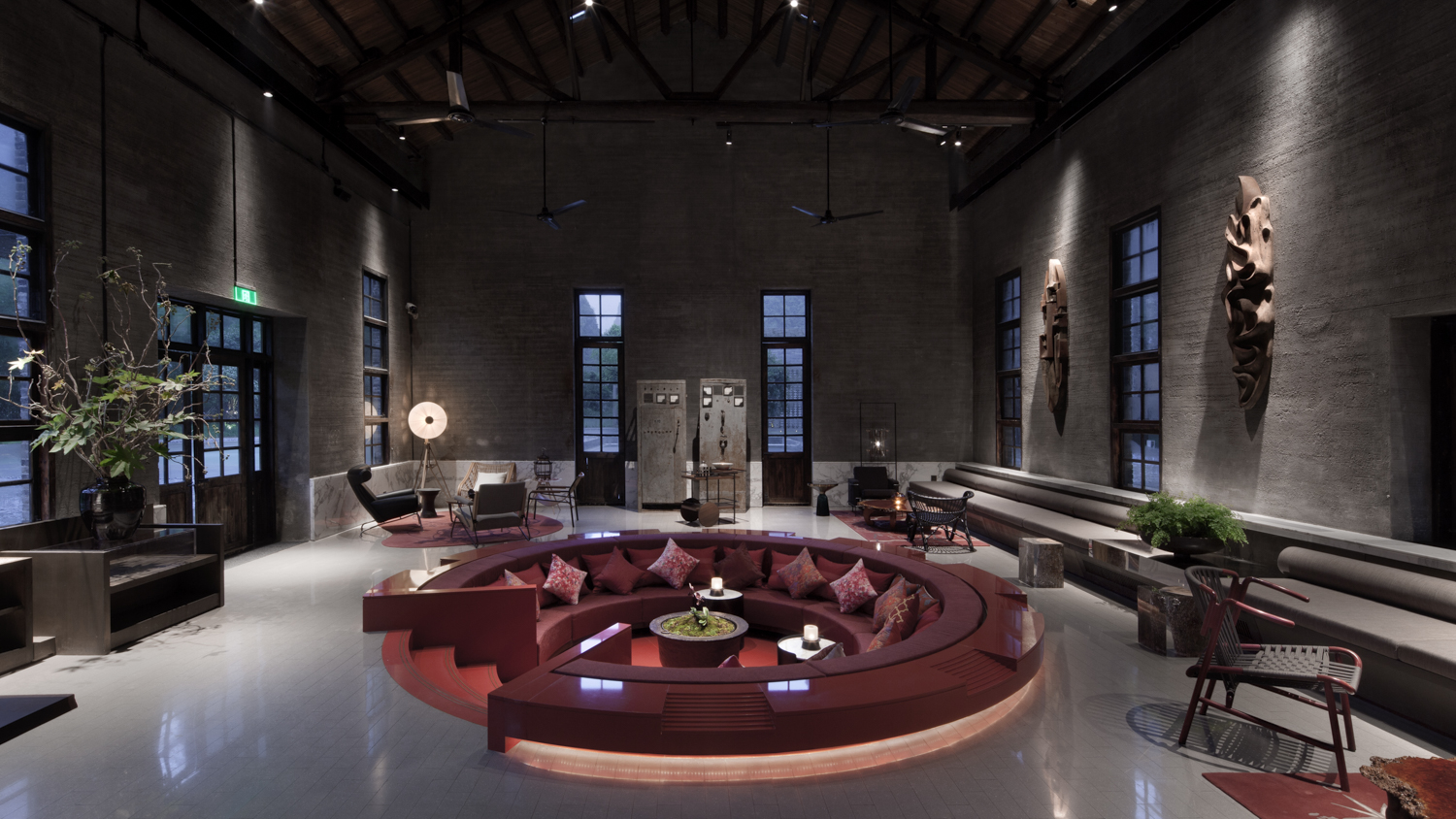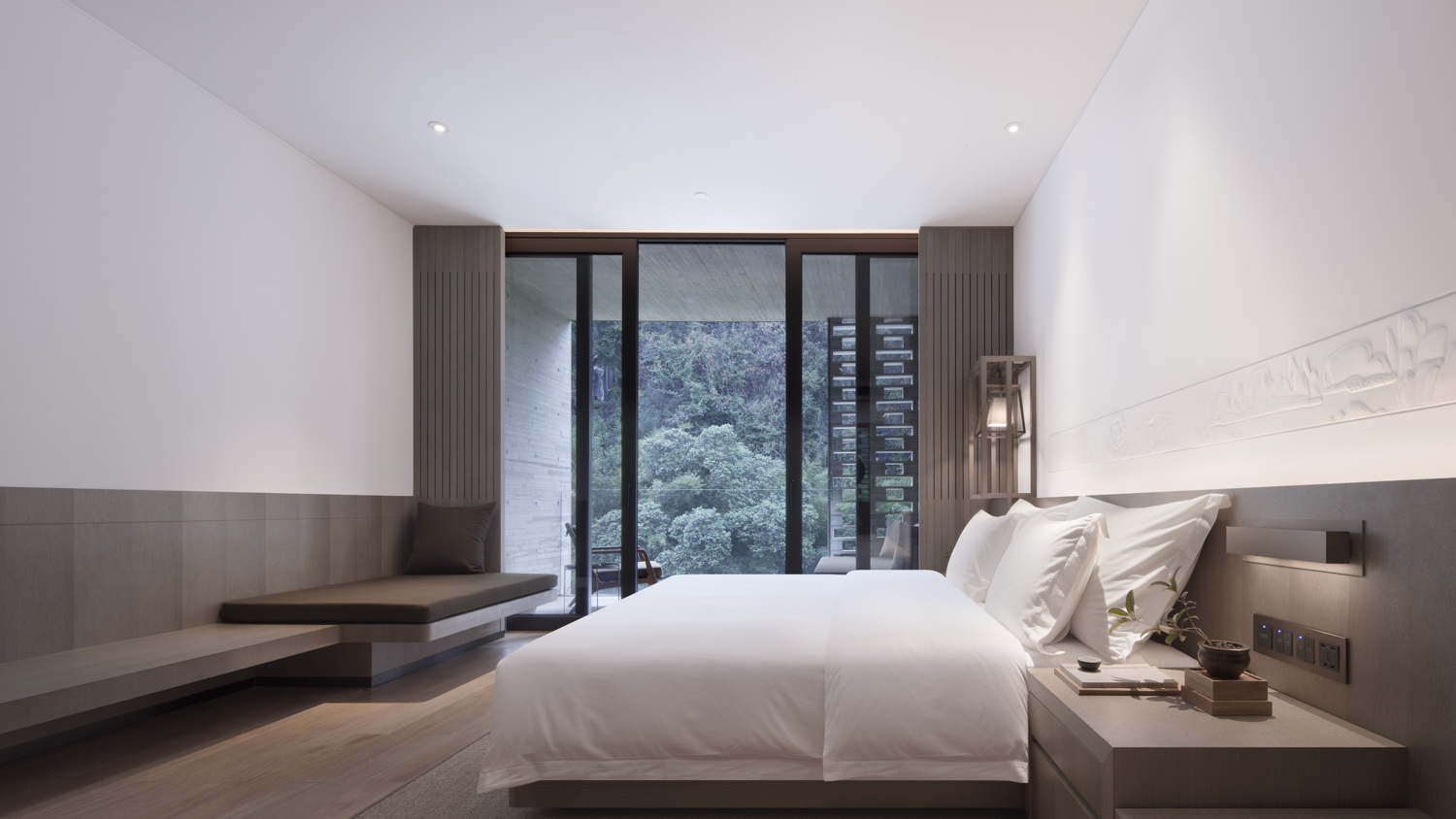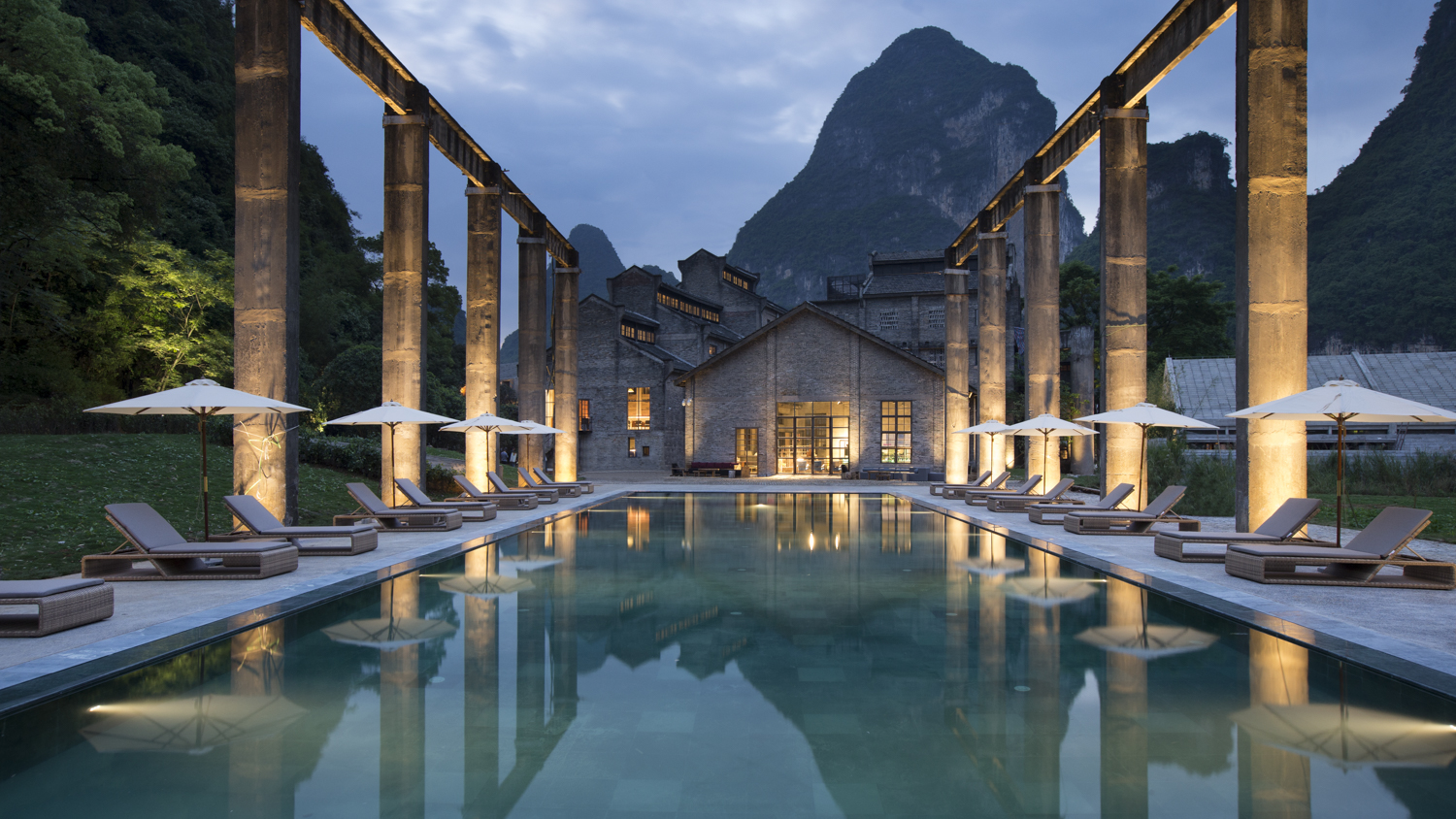 It's hard to find a more picturesque Chinese valley than the one that surrounds the towns Yangshuo and Guilin. Situated on the Li River with mountains on three sides, the town is a popular tourist spot with plenty of accommodations to choose from. But one spot outshines them all: Alila Yangshuo.
Created by architectural firm Vector Architects, Alila Yangshuo is a boutique hotel housed in a former sugar mill. Originally built in the 1960s and long since abandoned, the old sugar mill has been transformed by the refurbishing of the old structures and the addition of two new gabled buildings. Designed to reflect the existing industrial style of the buildings already on site, the hotel complex has a gritty exterior that belies the luxury experience within.
Arranged around a reflecting pond, the hotel complex embraces its past, showcasing raw concrete, brick, and steel. During the day, the gray buildings contrast sharply against the lush green mountain side, while at night, the warms lights of the interior create a welcoming glow that shines brightly in the reflecting pond water.
The original structures (the mill, some storage buildings, and a concrete loading dock) were repurposed for hotel amenities including the reception area, cafe, library, gallery, spa, bar, restaurant, and pool. On either side of the old mill building are the two gabled structures that house the guest rooms. These luxurious interiors were designed by Ju Bin of Horizontal Space Design.
The key focus in the design of the hotel was to create a connection between old and new. The rough exterior is the reflection to the past. Inside, the guest rooms are outfitted with a slightly Japanese influence, a common style in contemporary Asian interiors. Deep wood flooring and accents throughout the room are contrasted with warm white walls and bedding to create a simple and welcoming space for guests to unwind.
Most rooms feature balconies or patios, making the spaces feel like private oases in the mountains rather than the large resort that it is. From standard rooms to villas to full suites, each guest space was designed to create a sense of serenity and relaxation.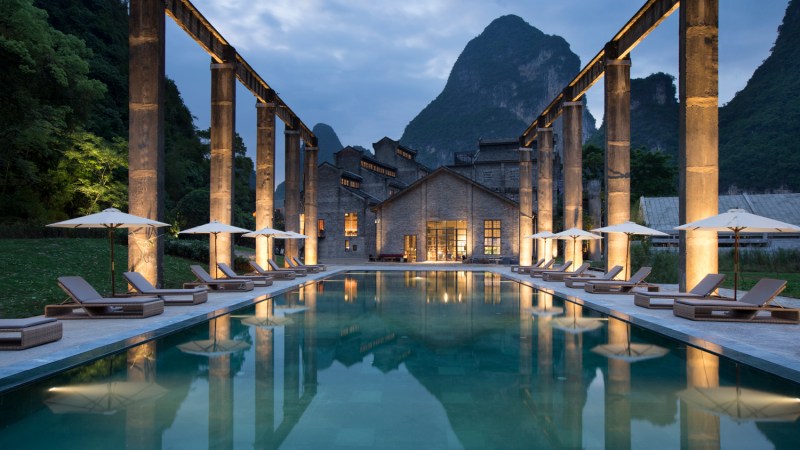 The most stunning feature of Alila Yangshuo, however, is the pool. Situated on the mill's original concrete loading dock, it extends out over a rocky hill toward the river. The pool is as close to the mountain side as you can get without physically being on it,providing a truly one-of-a-kind view for swimmers.
Now booking, Alila Yangshuo is a great stay for anyone looking for a piece of paradise in the mountains of China.
This hotel isn't the only great piece of architecture in China. Check out this 1,640-foot glass bridge if you don't believe us.
Editors' Recommendations