Keep those windows opened and rooftops down—summer's green may be gone, but the afterglow is just as great. There's feast of color that flourishes on foliage this time of year. Dazzling drives abound from coast to coast, but which are the most interesting? Those on this, of course! They afford views of iconic mountain tops, lead back in time, past waterfalls and near some world-class hiking, and all come with roadside attractions that do more than make these fun rides. So grab a sweater, switch on your GPS and let's see where the road can take you this fall.
1—Pine Creek Gorge, Pennsylvania
Roads: PA 414 to 44
Time to go: Sept 26-Oct 18
Pennsylvania Fall Foliage Hotline: 1-800-VISIT-PA
Billed as the Grand Canyon of Pennsylvania, these small, slow going roads are empty of through traffic peak out over hills and offer sweeping views of Tioga State Forest's rusty reds, golden yellows and earthy amber oranges. Go from east to west rim and stop along the look outs.
Tip: Get out of the car at Wellsboro Junction and try the 62-mile Pine Creek Rail Trail, a 2% grade bike trail regarded to be one of the most scenic in the country.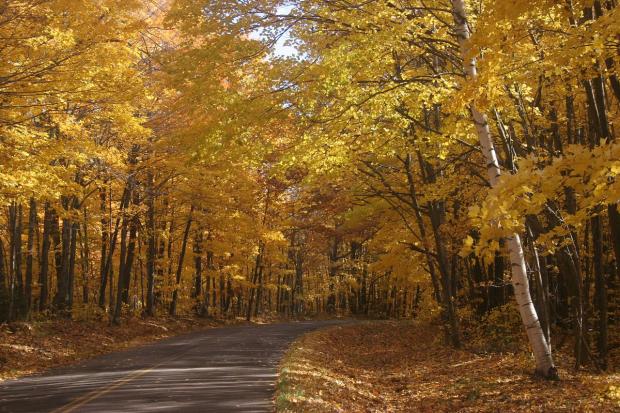 2—Ottawa National Forest, Michigan
Road: CR 513, Black River Road
Time to go: September 15-October 7
Michigan Fall Foliage Hotline: 1-888-784-7328
In the part of Michigan attached to Wisconsin, try not to blaze through the 14 miles of unadulterated crimson and orange speckled with beautiful waterfalls so you can soak it all in.
Tip: Take a pit-stop to hike the half-mile to Rainbow falls, the most photogenic of them all.
3—Mount Rainer National Park, Washington
Roads: SR 410, Chinook Pass
Time to go: September 15-October 15
Washington Fall Foliage Hotline: 1-800-354-4595
Snake along roads of vermillion and flaxen foliage of Aspen and Maple trees, among open meadows, with Mount Rainer in the background.
Tip: Tipsoo Lake has a mirrored surface that often times reflects Mount Rainier, and makes the best photo op. Naches Peak loop is also a great three-mile stretch for your legs.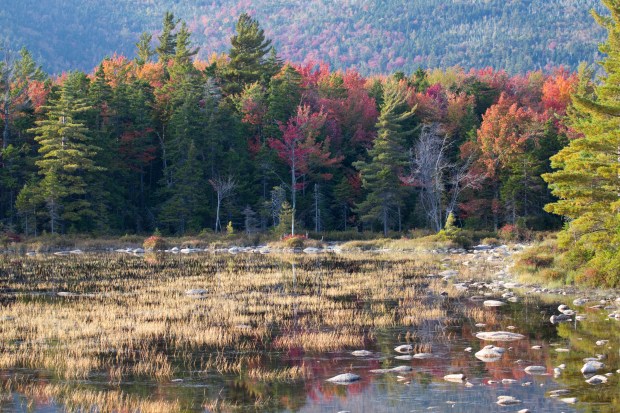 4—White Mountain National Forest, New Hampshire
Roads: NH 112, Kancamagus Scenic Byway
Time to go: September 10-October 1
New Hampshire Fall Foliage Hotline: 1-800-258-3608
This 34.5-mile stretch of blacktop that bends through the north of New Hampshire is so loved that locals refer to it simply as "The Kanc". Between the scenic stops and waterfalls, maples, beech, and birch trees beam with brilliant hues of maroon and golds.
Tip: There's no gas station on this road, so fill'er up. Also, make a pit stop at Loon Mountain Ski Resort for a cool bike tour and history buffs will appreciate Russell-Colbath Homestead, a restored 19th century farmhouse.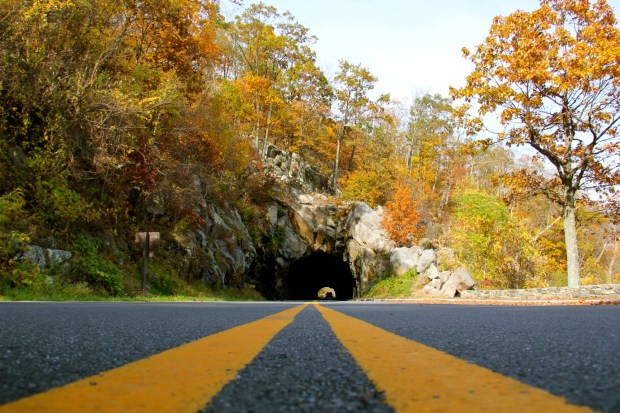 5—Shenandoah National Park, Virginia
Roads: US 340, US 211, US33, US 250, Skyline Drive
Time to go: October 10-November 1
Virginia Fall Foliage Hotline: 1-800-424-LOVE
Hickories, oaks and maples unfurl in a forest of bronze, magenta, russet and gold along this 105-mile joyride through the Blue Ridge Mountains that has no speed limit over 35mph.
Tip: You're driving parallel to the Appalachian trail, so get out and tag it. We suggest stopping near Big Meadows to see the 70-foot tall Dark Hollow Waterfalls or if you're up for it, the steep 3,300-feet incline hike to the top Bearfence Mountain with spectacular 360 degree views. Otherwise, keep an eye out for Mary's Rock Tunnel bored 670 feet through a granite rock right in the middle of the road.
Photo Credit: Pine Creek Gorge Credit Flickr User Nicholas A. Tonelli, Black River Road Credit Flickr User Joseph O'Brien, The Knac New Hampshire Credit Flickr User Tony Hisgett, Skyline Drive Credit Flickr User Daveynin, Chinook Pass Credit Flickr User JD Hascup
Editors' Recommendations