As the world of smart technology begins to take over everything from the sprinklers in people's yards to the navigation programmed into a next generation automobile, the industry of sports has perhaps seen the lion's share of innovation. Be it a smart fitness band capable of monitoring someone's heart rate, calories burned, and number of daily steps, or a baseball bat that helps players adjust their swing, smart tech has fully embraced the world of fitness. Using this momentum to its advantage, a Beijing-based company called SpeedX recently took to Kickstarter to help fund its Leopard and Leopard Pro bicycles — the world's first smart road bike — and much to the company's delight, the campaign made a giant splash.
Related: Priority Bicycles makes cycling simpler by listening to its customers
After just seven days into SpeedX's Leopard and Leopard Pro campaign, the company has raised nearly $1.1 million from 596 different backers. Considering the lowest amount offered to become a backer sat at $1,199 upon the Kickstarter's launch, it's apparent road bikers aren't shy about adopting and supporting new technology. Though the campaign still has just over three weeks left, SpeedX has already blown past its initial goal of raising just $50k.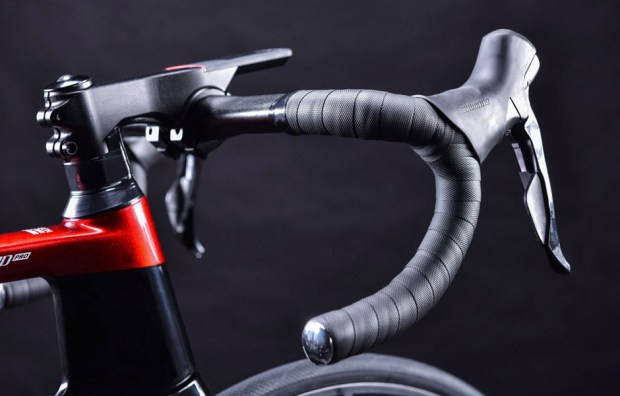 But what about the bikes themselves? As mentioned above, the Leopard and Leopard Pro are the world's first smart bikes, outfit with built-in technology capable of measuring and displaying a cyclist's performance information in real-time. What this means is that during a ride, speed, time rode, distance traveled, altitude, temperature, and cycling cadence data will all be instantly viewable via an integrated 2.4-inch computer display. Moreover, the bike also features data-driven route suggestions and GPS navigation that riders are even able to use while on the road.
"SpeedX's Leopard and Leopard Pro offer an all-in-one solution for any serious cyclist, using smart technology to measure and display cyclist performance data in real-time, all contained in a sleek, aerodynamic frame," reads a published SpeedX press release.
In addition to the monitoring tech, both bikes also feature a built-in coaching system dubbed XCoach which offers professional training courses as well as global ranking tables. Boasting what SpeedX calls the X-Carbon T1000 bike frame, the Leopard and Leopard Pro weigh a fraction of typical bikes, measuring in at 18.5 and 17.4 pounds respectively. Moreover, with an internal brake system and cable routing, the bike's aerodynamic characteristics are literally off the charts.
"At SpeedX, we're creating technology that focuses on enhancing the pure cycling experience," says SpeedX CEO and founder Tony Li. "The Leopard provides real-time data with the aesthetics of an elegant, stylish model, available at a reasonable price."
Concerning the price, SpeedX currently offers the Leopard at a price of $1,299 (while supplies last on Kickstarter, that is) and the Leopard Pro at just $2,299. Though these prices may be a bit tough to swallow even for seasoned road bikers, they are the first bikes to incorporate military-grade hardware with a built-in smart computer system geared towards bringing out the budding Tour de France winner in all of us. Even Li mentions that it's "perfect for intense training and competition, or even just a Sunday spin with friends." What isn't to like?