One of the biggest downfalls of taking a trip abroad or a flight cross country is your inability to groom properly. Nowadays, however, grooming brands have been downsizing their goodies in bottles that are flight-approved, so you can stay cleaned and conditioned in the air and on the road. The Rugged & Dapper Travel Set features the company's four best-selling products, which are now TSA approved for your convenience.
The set contains Rugged & Dapper's Age & Damage Defense Facial Moisturizer (2 oz), Daily Power Scrub Facial Cleanser (2 oz), Dual Purpose Body Wash + Shampoo (1.5 oz) and a Moisture Fix Lip Balm (0.15 oz).
I have been using this kit of products for the last few months and I have definitely noticed an improvement in my skin and hair. Now that I have the option to bring these companions on the road, it only makes the experience that much sweeter.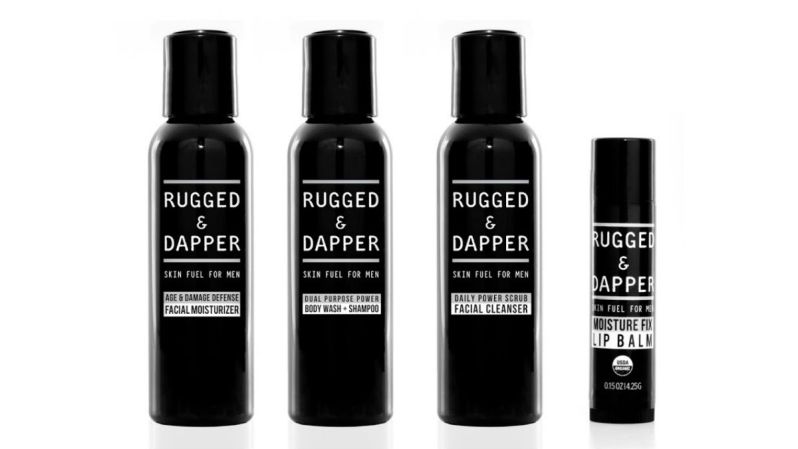 First off, the Daily Power Scrub Facial Cleanser is an energizing toner and exfoliator that rids your pores of gunk, grime, and oils on both the surface level and underneath. Contrary to many facial scrubs, Rugged & Dapper's cleanser is light enough to be used every day, day and night, because it doesn't strip the moisture from your skin. Instead, it pours in vital botanicals and minerals like lavender, tea tree oil, and jojoba beads that regenerate your skin and reduce the appearance of pores.
The Age & Defense Facial Moisturizer is the perfect follow-up, acting as both a hydrating moisturizer and soothing aftershave lotion. Packed with effective nutrient-rich ingredients, such as aloe vera, jojoba oil, and vitamin B5, among others, this creamy substance has a great viscosity that's easy to apply and dries quickly. The peptides provide a nice boost in collagen and elastin production, too, which aids in the repair and prevention of wrinkles in order to keep your face looking dapper every day.
Now on to the 2-in-1 punch Body Wash and Shampoo. This dual-purpose formula is teeming with refreshing ingredients such as olive, borage, oregano, tea tree, and rosehip oils that are strong enough to tackle dirtiness from your scalp to your toes. It also puts off a pleasing, masculine scent that is apparent all day long. Unfortunately, there isn't the Hydration Remedy Conditioner for you to follow with, but you can say goodbye to those cheap hotel shampoos and bring your favorite cleaning essentials and scents with you on the go.
Last but not least, Rugged & Dapper has an amazing Moisture Fix Lip Balm that will keep your lips feeling refreshed. It can be difficult to keep your lips soft and moist when on the road because of changing climates and altitudes, but this lip balm provides fast-acting relief for dry or chapped lips and a pleasant minty finish.
The Rugged & Dapper Travel Set is set to release August 10 and will be available for just $19.95 on the brand's website.