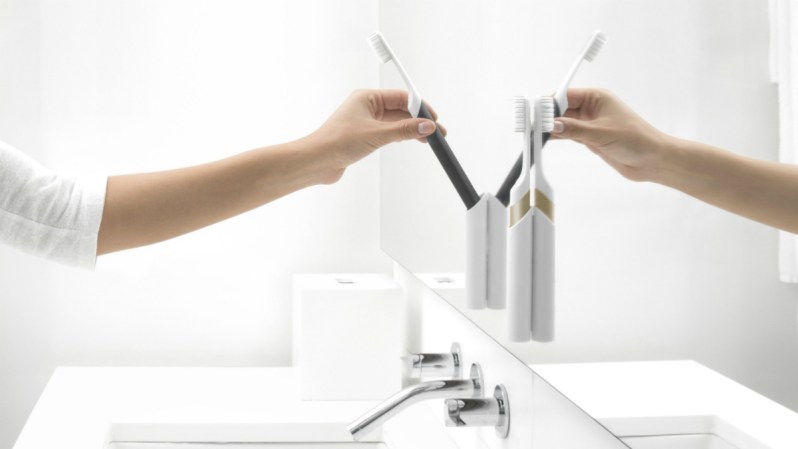 Purchasing a new toothbrush every three months might not be at the top of everyone's to-do list. Many of us don't know how often we should replace our toothbrushes or we just don't care. Plus, the number of options on the market right now is daunting. What's better, manual or electronic? Pink or blue? Luckily for us, Quip is here to change all that.
Quip "was founded with the belief that good design offered more effective solutions to personal care than gimmicks and technology," says the brand's website. "Working from the ground up, we address oral health through beautiful, simple, and affordable products."
What is Quip? The idea began when a visit to the dentist taught the creators that most conventional bristles on toothbrushes weren't good for our teeth or equipped to adequately clean them. Founder Simon Enever, a designer by trade, gathered some dentists to consult on what would be a well-designed toothbrush.
The resolution they came up with was the Quip electric toothbrush.
The concept is simple: Make an affordable one-time purchase of a base, then stock up on new head refills. If you opt for a subscription, head refills will come to your door every three months (as well as regular-sized or travel-sized toothpaste, if you add that on). There is also a manual option if that's what you prefer.
Quips small size sets it apart from other full-sized electric toothbrushes. Perfect for home, travel, or even at the office, Quip's holder can be used to cover the bristles when on the go and its ability to stick (and re-stick) to any hard surface means you'll never end up leaving it on the countertop again.
It also has a convenient timing feature. Once you turn on your Quip toothbrush, it will help you focus on one-quarter of your mouth for a full 30seconds before haptically buzzing in your hand, indicating that it's time to move onto another quarter. Complete this four times and your brushing is done for the morning (or night).
So there you have it — a well designed, simple toothbrush that actually cleans your teeth! What a novel concept.
Now you know what type of toothbrush to get, complete the set by choosing one of the best toothpastes to brush with.
Editors' Recommendations