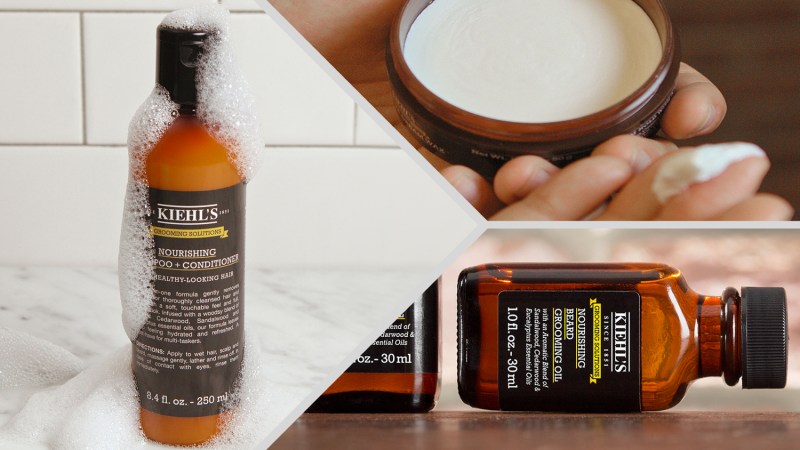 It's not terribly surprising that Kiehl's is taking a deep dive into grooming. After all, the brand's president Chris Salgardo literally wrote the book on the subject (see: MANMADE: The Essential Skincare & Grooming Reference for Every Man). To help dude's step up their game, Kiehl's is introducing a six-piece range it's calling Grooming Solutions. While not comprehensive, it has enough in there to help you look and smell pretty damn good.
Within the natural-leaning formulas are two key sustainably harvested ingredients—Amazonian Pracaxi oil, a seed extract that contains nourishing fatty acids, and Moroccan Lava Clay, which lends a matte finish for the Texturizing Clay. Then there are natural essential oils like sandalwood, cedarwood and eucalyptus that impart the line with a refreshing and masculine scent.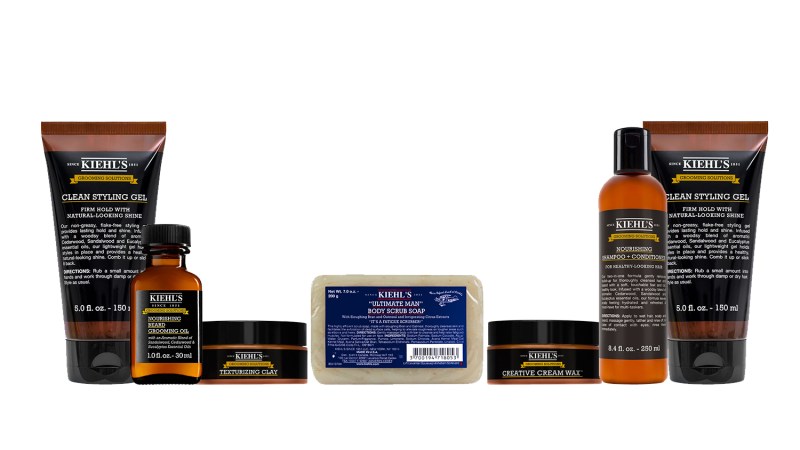 First, the line helps you clean up nice with an Exfoliating Body Soap ($15) that's packed with jojoba seed powder and pumice to slough off the rough bits but also contains that aforementioned Pracaxi oil to prevent skin from drying out. Also, helping streamline your shower regimen is the multitasking Nourishing Shampoo + Conditioner ($30). The twofer washes away dirt and styling product build-up while also conditioning hair and works just as well on facial hair.
Then there are the finishing touches—a trio of hair stylers and a beard oil. Unlike ladies, Kiehl's knows that many dudes do not crave glossy hair and so the Texturizing Clay ($18) offers a matte finish with flexible hold that's perfect when hair is longer or you want a tousled finish. Another matte option is the Creative Cream Wax ($18), which seems to get its name from its ability to be easily re-molded as you see fit throughout the day. And it can also be repurposed as a moustache wax. For those that prefer a slicker style, the Clean Styling Gel ($18) offers shine and hold sans the usual flakiness of gels. And finally, if you're bravely holding onto your face sweater despite sweltering conditions, the Nourishing Beard Grooming Oil ($27) can help tame and smooth it without leaving behind an unwelcome greasy feeling.
Editors' Recommendations