Fall is quickly approaching. It's time to turn over your closet and your medicine cabinet too. So while you're replacing your seersucker shorts with a slick leather jacket, think about updating your haircut and elevating your shaving regime as well. We'll get you started by looking to the Big Apple, always ahead of the curve when it comes to style trends. NYC based, Lorraine Leninger Carlin, Creative Director of Truman's Gentlemen's Groomers tells us about their new line of skincare and shaving supplies while forecasting the latest fall grooming trends coming out of Gotham.
What about grooming and styling guys in NYC is different from other places?
New York is the fashion capital of the world. People are exposed to all the latest looks and want to look polished from head to toe. Guys are finding that a great haircut and great grooming can be just as essential as a sharp outfit. That goes for casual and off-duty looks as well.
How will New Yorker's be wearing their hair this fall? Which cut do you think will be most popular cut?
Men's style is leaning towards more polished looks, so I think that classic haircuts will be making a comeback this fall.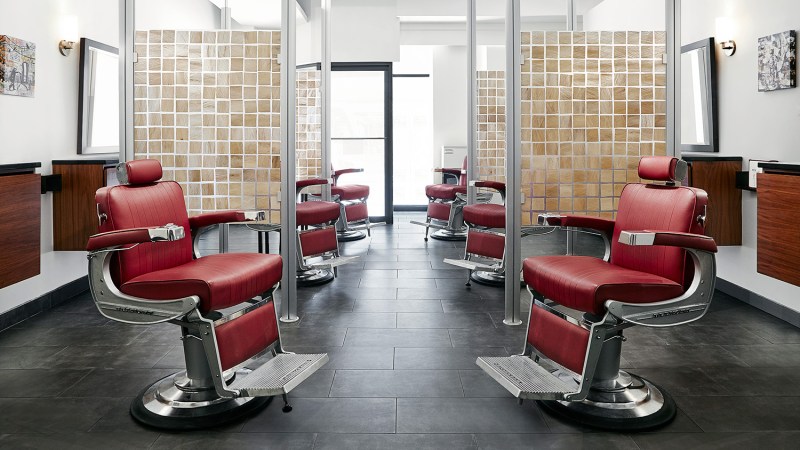 Has it become more acceptable for guys working on Wall Street and in more corporate jobs like banking and finance to grow a beard? Is there a way to groom a beard that makes it more refined for the office?
The younger guys are trying to push through the old ways and make it acceptable by maintaining their beards with their barber/stylist. They are keeping the beard length short and the neck and cheeks clean shaven. We find this can be easily done using Truman's Shave Cream. Finish with Truman's After Shave Balm to avoid any bumps or ingrown hairs."
Sadly, it will soon get colder here in NYC. Should men switch up their skincare products or grooming routine with the change of seasons?
Yes, keeping your skin moisturized during the winter months is critical! Start by adding Truman's Facial Moisturizer, but don't forget the little things, like avoiding chapped lips. Using Truman's Lip Balm daily will hydrate while healing dry cracked lips.
You come in contact with a lot of dirt and grime living in a big city. Tell us about Truman's remedies for clean hair and skin.
New York City certainly presents challenges in terms of grooming. When it comes to skincare, we find prevention is the best move. Wash your face daily with Truman's Facial Cleanser. And use our face scrub two or three times a week to remove deep down dirt and without drying out your skin. For hair, wash every other day with Truman's Moisturizing Shampoo. It seals in moisture without making your hair feel weighed down and heavy.
Do you have any advice for guys that want to color their hair?
Yes, leave it to the professional! Do not try anything you see on TV. It's not that easy! A stylist can formulate for your specific needs and keep it looking natural without too much upkeep. Be sure to use a color safe, sulfate free shampoo. Truman's Moisturizing Shampoo will help keep your color looking its best until your next appointment.
Winter is coming, along with fly away static hair, flakey dandruff, and the dreaded hat head. Do you have products or solutions that can help?
We suggest using our moisturizing shampoo every other day to help with dry scalp through the winter months. Drying your hair before leaving the house, can help with dry scalp issues, too. "