Luxury luggage brand Rimowa, known for its high-priced, high-end, hard-sided clamshell suitcases, has teamed up with Australian grooming goods producer Aesop to create one of the best collabs we've seen hit the travel industry since Away partnered with Dwyane Wade for a stunning luggage line. For the Aesop x Rimowa Köln Travel Kit, the designers and engineers at Rimowa created a custom-built aluminum case in the brand's signature style, with a wooden inlay for added wow-factor and additional protection for the quality grooming goods stored within.
Aesop said of the collaboration with Rimowa, "Since 1898, Rimowa has been dedicated to expert travel solutions. Now defined by streamlined, lightweight, aluminum surfaces, their cases offer superior stability crafted to last. Köln represents a meeting of like minds — a collaboration to be enjoyed for years to come."
Inside the handsome travel case is where the real stars of the party are (no offense to Rimowa's outstanding outer design appearance). Aesop has provided a slew of miniature grooming products that can handle anything your trip throws at you. From shampoo and conditioner to skincare to oral care, Aesop has covered all the basics when it comes to travel grooming goodies, while Rimowa has all those goodies covered quite literally.
What's Inside the Aesop x Rimowa Köln Travel Kit?
Here's the full list of included products: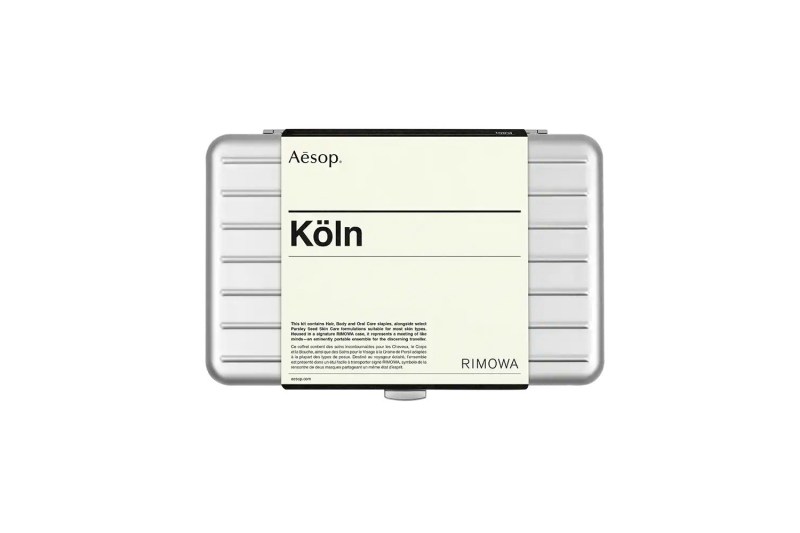 The Aesop x Rimowa Köln Travel Kit is available online starting October 26 and will retail for an estimated $500. But, before you run out and drop half a grand on this kit, understand that this is not a lightweight dopp kit that you can toss in your bag and go — it weighs over 3 pounds fully-loaded. And, if you're thinking about bringing this kit through security, think again. The aluminum violates the TSA's rules on liquids going through security in clear, quart-sized, zip-lock bags, so this kit is really only useful in a checked-bag scenario.
Finally (and sadly), this kit is only available for our European brothers. Americans will just have to pine over this travel beauty until the two brands come to their senses and bring the Aesop x Rimowa Köln Travel Kit stateside. Since our fellow Americans can't quite get their hands on this yet, we suggest outfitting your own kit with these great travel grooming products.
Editors' Recommendations