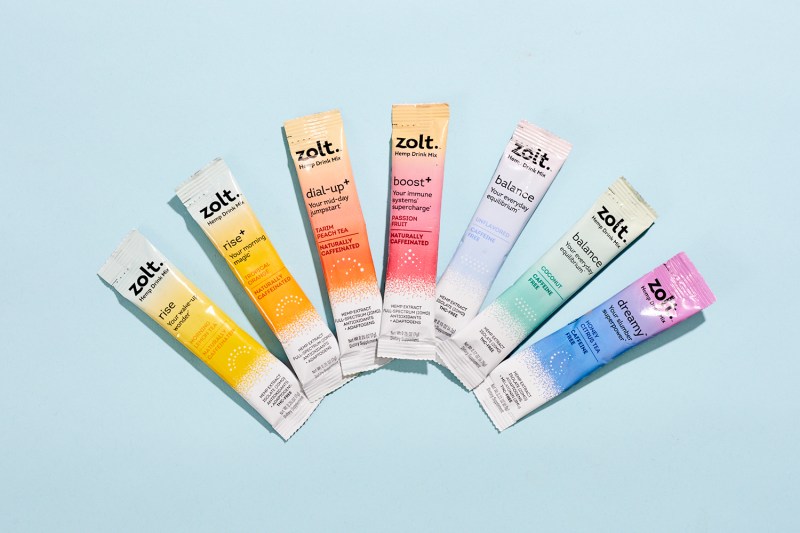 There are quite a few hemp and CBD supplements on the market now — everything from topicals to gummies to concentrates. However, none offer the grab-and-go convenience, the holistic blend of quality ingredients that work with your body, and the downright great flavors that Zolt's line of hemp drink mixes does. Prepare for your day, and live it fully with one of 7 custom-formulated blends. For a limited time, Zolt is offering new customers a 25% discount on their variety pack, which contains 14 mixie sticks — two of each kind — so you can find out which works best for your body and your lifestyle. When checking out, use the promo code MANUAL25 to take advantage of a sweet deal.
How Can Zolt Products Fit Into My Life?
Full-spectrum hemp extract or its derivative, CBD isolate, are the main active ingredients in Zolt's products. Taken singularly, either can help relieve pain, reduce anxiety, or improve skin health. There's even some evidence that they can have benefit your heart and may even help alleviate some symptoms associated with cancer. However, in many of Zolt's products, hemp extract or CBD isolate is combined with antioxidants and adaptogens, which further the impact of hemp's beneficial effects. These easy-to-use drink mixes, with their integrated wellness-enhancement properties, can help you meet and seize the day like you never have before.
CBD Can Boost Physical Performance
CBD has benefits for everyone, whether you're just looking for an overall improvement in well-being or you're trying to physically perform at your absolute best. For athletics, there are some powerful reasons why it could up your game:
Anti-Inflammation
CBD has been shown to help reduce inflammation in your muscles, which is especially helpful in avoiding and recovering from stiffness and soreness after a tough workout. Zolt products can help minimize this inflammation and help you recover more quickly.
Pain Management
If you're still in pain from yesterday's workout, it's harder to get motivated for today's. Pain isn't necessarily a bad thing; it can mean that you're putting forth maximum effort in your workout. With a balanced combination of CBD and adaptogens, however, Zolt products can help with long-term pain management when taken consistently. This can help you spend more time on the field (or court, or track, or bike seat, etc.).
Stress Management
Training for a big race or prepping for an important game? It's easy to let stress take over your mind, making you less focused on preparing yourself to compete. CBD has been shown to help keep you centered and relaxed so that you're able to perform at your best.
Sleep Aid
With increased training and physical activity comes the need for increased quantities of rest and sleep. Zolt products, specifically the "Dreamy" formulation with added melatonin, help you effectively turn off at the end of a day and ensure that you get a full, restful night's sleep so that you're ready to win the next day.
Save 25% off the Zolt Variety Pack and feel extra relaxed knowing you're getting a great deal.
Editors' Recommendations