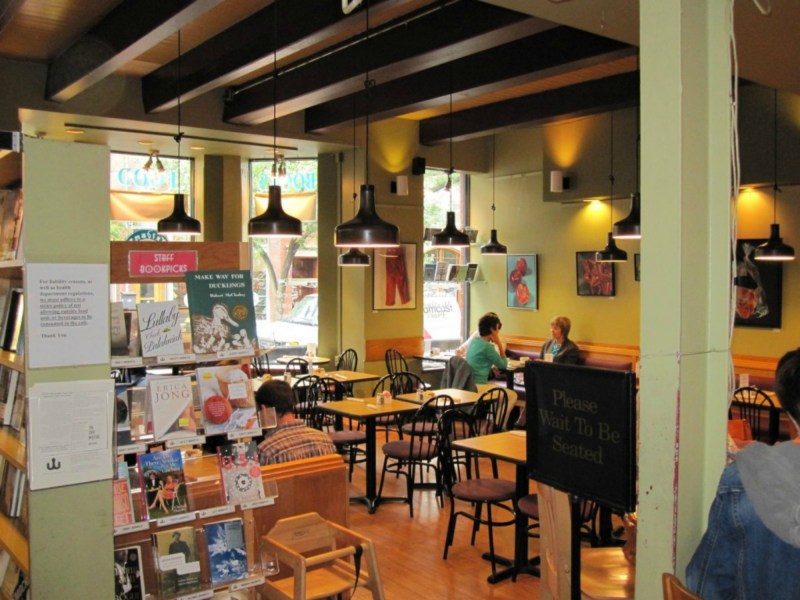 We realize that you may or may not choose to spend your Friday nights browsing bookshelves for a good read. But what if you could have a beer, chat with friends, and check out your favorite authors at the same time? Not your typical brick and mortar store, Boston's Trident Booksellers is also a café and bar, serving a full menu throughout the day and late into the night.
In a market where bookstores are dropping like flies, Trident has recently expanded to include a spacious second floor. Events and Marketing Coordinator Courtney Flynn explains, "We have more space for the café, more book shelves, and an area for events and meetings. It's a bit quieter and mellow up there."
We might credit part of the store's success to the enthused booksellers, experts when it comes to today's hottest new writers. We might also give a tip of the hat to the cooks running the kitchen, whipping up Tibetan Momos, Fried Catfish Sandwiches, and Cashew Chili on an hourly basis. Trident also brings in plenty of cooking events and readings, depending on whether you want to learn a new kitchen skill, listen to excerpts from indie press authors, or both.
Though the place is generally filled with chatter and white noise, it is also a perfect spot to spend a few hours alone working, reading, or people-watching on Newbury Street. Flynn tells us, "I think the store is a place that people can spend a whole day, it's like an event – they can work, read, eat, and hang out with friends. It's relaxed, so there's no feeling that you need to be rushed out. It's a place to spend as much or as little time as you want." Books and beer? Count us in.
Editors' Recommendations