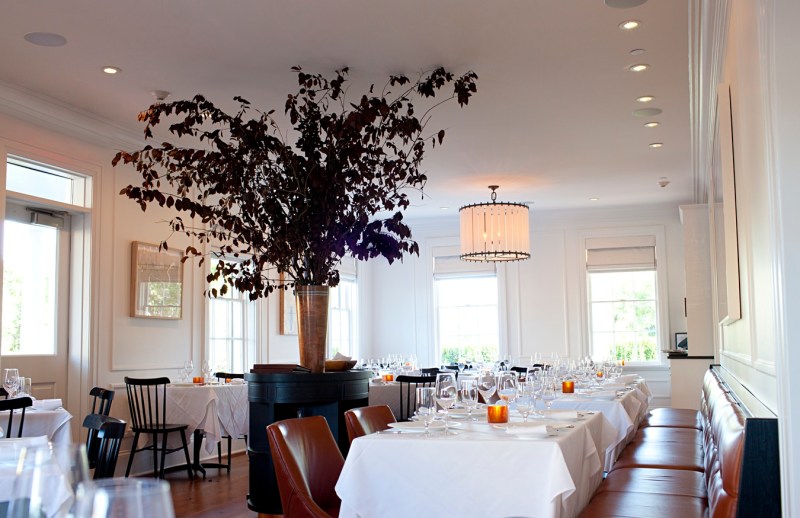 The name Tom Colicchio conjures up a lot of images: decorated chef, television personality, author, and business impresario. Now, you can add innkeeper to that list. Mr. Colicchio is taking his hard-earned gastronomic gravitas to the eastern end of Long Island where he will be running the property of the Topping Rose House. The restaurant, which Colicchio will oversee with his chef de cuisine Ty Kotz, is already open for business and will be joined by the hotel and the rest of the "inn" during the Spring of 2013.
The Manual caught up with Mr. Colicchio recently to discuss his new venture, side dishes, Long Island seasons, and the avoidance of being pigeonholed.
THE MANUAL: Was there anything in particular about the Topping Rose House as a building and a property that appealed to you when you were approached with the idea?
TOM COLICCHIO: Yeah, what really appealed to me was not the idea of running a restaurant, but of running an inn. It's one thing to just run a forty-seven seat restaurant, but this is running an entire property, which was new and very appealing to me.
TM: A lot has been made of your decision to focus on the entrée sides at the Topping Rose House rather than the meats or actual "main" portions. In Hamptons Magazine you were quoted saying that that focus is simply where "you are in food" at the moment. How did that come about and why?
TC: I think that, at least I've noticed that, when I go out for dinner I choose my dishes not on the protein, but on the side dishes that come with it. There are flavor combinations that are created that make up a dish, whether its mushrooms or vegetables or greens that are just sometimes more interesting than the protein. So, when it came time to write the menu, I thought why not lead with some of those ingredients.
TM: Is there anything about the décor and space of the restaurant that you were trying to achieve specifically?
TC: No, we wanted to keep a lot of the original details that were there. What was actually interesting was that the old construction, which was built in the 1800's, the town wanted us to keep as it was and just restore it. However, the new construction that's not finished yet—there's five cottages and one, what we like to call a "studio"—the town did not want to match the original construction in any way. So, for the interior, we kind of took the same idea. We wanted to work with the original details that were there and restore them, but to modernize it by hanging modern artwork, using modern table settings, and by using these color saturation rugs that we strip down and then apply color to, which create these very vivid colors: bright greens and blues and pinks. We wanted to modernize it but still hearken back to the time that the place was built.
TM: When the hotel opens, if someone were to stay for one night, what would you recommend off the menu for both dinner and then brunch the next morning? Is there anything that excites you particularly?
TC: That's hard. It's always tough to choose between dishes or what is your "favorite" or "most exciting." I would say right now—it was a beet risotto when we first opened up, with beets right from our garden, but now we're doing it with carrot. We're taking small carrots that we're also growing in our garden and quickly roasting them and in the bowl, we have a risotto that we pour table side that has carrot tops mixed in and also carrot juice.
Brunch menu, that's kind of hard to say. Probably the fall vegetable, poached egg dish.
TM: Where do most of the ingredients, produce, and meats come from? How do you source your food?
TC: Everything with the exception of some of the meats is local. In some cases, the farms are down the street; our eggs are coming from Browder's on the North Fork. We get a lot of our produce from both of the Forks. The problem with the meat is that there are a few places raising out there, but none of it is USDA approved so you can't serve it in the restaurant since there are no USDA slaughterhouses nearby. But all of our meat is hormone and antibiotic free.
TM: Can you explain your decision for making Ty Kotz the chef de cuisine? Was there something you admired about him?
TC: Interestingly enough, when I usually open a restaurant I'll promote from within. But when word got out that I was doing something out in the Hamptons, Dan Kluger, a friend of mine who runs ABC Kitchen, called me and said, "Tom, I've got a guy who're pretty freakin' great who's doing farm for me." And then I got a call from Floyd Cardoz saying the same thing and so I said let me meet this guy. So we met and he seemed like the right fit. Ty was living in Brooklyn at the time and he had a young daughter and was interested in getting out of the city. Also, right away it just felt like he would fit in really well. He had a real interest in farming and seemed like he would be able to think on his feet. I got the sense that he was a real, mature adult. The last thing you want is to have people driving two hours to get to your restaurant only to find out that the chef didn't show up.
TM: I know you've never had a pasta section on a menu and that you've never really considered yourself an Italian-American chef, so what was the reasoning to add a pasta section to the menu at the Topping Rose House?
TC: I grew up working in more French style kitchens and then moving to foods that are more contemporary it was never really my main focus, even though there are things that I do where there is clearly some Italian influence. I think if you look at the way that produce is used in my dishes, it is much more in line with Italian cooking than with the French tradition. However, whenever I've done pasta, it's always been appetizers and just in the spirit of trying to change things up a little I thought I'd do a whole section. Even though I wanted the menu to feel less formal so that I could include more Italian-style dishes, I didn't want to make things that were so overtly Italian either. Like on our first menu we did burrata but instead of tomato, we did it with zucchini, like a zucchini stew, and it worked really well. Now you wouldn't eat that and think, "this is really Italian," but then when you look at it closer you say, "well, I guess, why wouldn't it be Italian?" I don't like to pigeonhole myself. On our first menu there was a dish that was very Thai influenced—a spicy bluefin dish with watermelon and cilantro—so I wanted to keep things open.
TM: Long Island natives really know that the best seasons are the spring and the summer. What can we expect from the menu when the weather starts to turn?
TC: There's still plenty to look forward to this fall and winter! We're getting these great beans from this farm that's right down the street and green vegetables that we've harvested and dried ourselves as well as some other greens. For a while, all that was growing on Eastern Long Island were potatoes and cauliflower. There's also great shellfish—Peconic Bay scallops just started. I think now is a great time to go. Especially when the inn is open, the idea of being able to go to the restaurant and have some heartier fare and then a brandy or something and going to sit by the fireplace is a nice way to go too.
There's two ways of looking at the Eastern end of Long Island. It's either, "we're going to the beach," or "we're going to the country." So, for the fall and winter we can just say, let's go to the country.
Photos courtesy of Mark Jordan.
Editors' Recommendations