Homesick Southerners have a boozy LA refuge: Sassafras Saloon. Located in an unassuming area of Hollywood, Sassafras is a genuine Southern home so meticulously recreated, you almost wonder where the humidity and mosquitoes are. Spanish moss hangs from the ceiling of the indoor "porch," swaying above its brick and plaster walls, wicker furniture and potted ferns. The area is framed in by the outside of an elegantly aged aristocratic townhouse. Just inside the bar's front door is the formal parlor: dark wood walls, fireplace, and plush armchairs. The causal living room is opposite the saloon-like bar, wallpapered and, bless its heart, full of enough quaint charm to make you feel right at home. A second floor stage hosts local bands who play everything from jazz to blues to swing, providing an appropriate soundtrack. It seems like we all wandered into someone's (definitely haunted) house and are partying it up in their absence.

It's another win from the 1933 Group, responsible for other gorgeously themed bars tucked away across the city. Bigfoot Lodge, The Thirsty Crow, and Oldfield's Liquor Room to name a few. Each bar has its own personality and each one its own devoted attendees.
Supernatural and alcoholic, Sassafras has spirits covered. Cocktails are their game and they play it well. The menu has a Southern bent and the drinks are artfully crafted in the mixologist way, but without the long wait times. The Saint is not to be missed: bourbon, Pamplemousse Rose, Lillet, ginger, and lemon juice. Or go for the Pimms, done the Sassafras way, with the addition of strawberry and cucumber. Beer drinkers, never fear– they have a selection for you as well.
No need to go hungry either. Following the trend, their food menu is all inspired by classic Southern cuisine, but with a Southern California twist. You've got your crab cakes, a Shrimp Po Boy, but the Short Rib Sliders really take the cake, smothered in a Coca-Cola glaze. The food is shockingly reasonably priced, but skews more to the size of appetizers than entrees. When available, the Fried Green Tomatoes are an absolute must.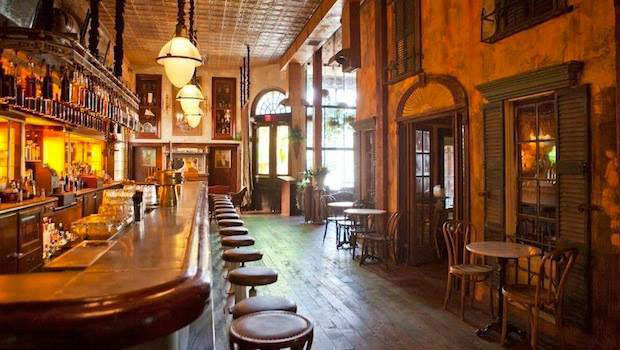 Between the live bands belting jaunty tunes and the inevitable throng of those seeking a bit of charm from their bar, it can be on the loud side. Sassafras is clearly invoking some form of witchcraft since parking is rarely too much of a hassle: they've got a reasonably-priced valet and street parking typically abounds.
Sassafras is absolutely perfect for anything from a night out with friends to a solo drink to celebrating something special. No matter the reason you go, y'all will definitely be back.
Editors' Recommendations