We know you've probably already made your New Year's resolutions, but in case you are late in the game we're here to provide you with a little guidance. Nothing says sophistication like a guy who is willing to try diverse foods and order even the most exotic dish on a menu. So this year, we at The Manual think it's a good idea to (if you haven't already) start eating some of the more adventurous cuts available on the market.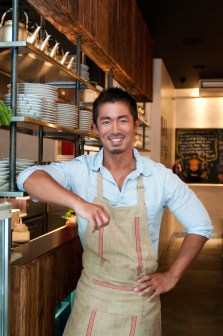 Using the menu at Takashi—a New York restaurant that specializes in offal-centric (internal organ) based dishes—as a guide, we want to walk you through just a few cuts of meat that can be categorized as "off the beaten path." Takashi takes its name from its head chef, Takashi Inoue, who is a native of Osaka, Japan, but whose family is originally from Korea.
All of Chef Takashi's food blends the bold flavors of Korean barbecue with the elegance and finesse of Japanese cuisine. Chef Takashi takes nothing but the utmost care with his restaurant (featuring tabletop grills imported from Japan and walls designed with kid-friendly drawings of all the different cuts of meat) and deeply considers the preparation and presentation of each of his dishes. He knows the full value and flavor of each of the "exotic" cuts of meat he features on his menu.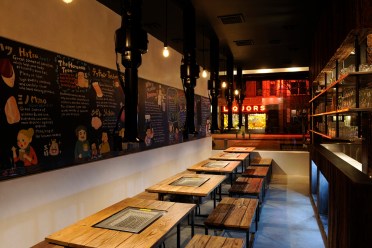 If you can't make it to Takashi's, see if your butcher or any of your local restaurants have any of the following pieces of meat available in shop or on menu. You may just end up becoming a favorite customer.
For an easy transition from traditional meats, you might want to start off by ordering or asking your butcher for beef belly. Now, pork belly has become superfluous on many menus, and for good reason; but beef belly is not as common. It is thin and flavorful and, once grilled, almost melts in your mouth.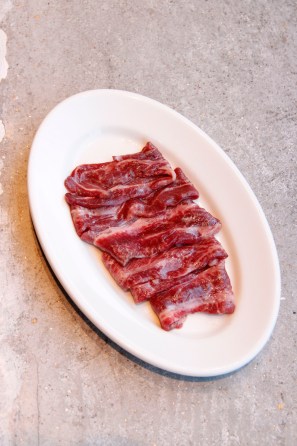 If you want to keep things on the lighter and simpler side, then cheek could be in your future. That may sound odd, but trust us, well grilled pieces of cheek will remind you very much of bacon. And ordering them will make you seem bold.
Perhaps the most popular and widely used cut of offal is liver. You don't need a tabletop barbecue to make liver delicious—though, it does add with flavor. All you need is a frying pan, garlic, and plenty of salt and pepper to cook yourself an excellent but "exotic" piece of meat. Liver tends to be a bit rich (see: any kind of liver paté) but, due to the variety of presentations it lends itself to, ordering it at Takashi or any other restaurant usually comes without regret.
For a thicker, more steak-like experience you might want to try tongue. Tongue is traditionally tougher and chewier to eat, but when thinly sliced, prepared properly, marinated, and grilled, it can provide you with a mini-steak that is absolutely delicious.
Finally, we have Chef Takshi's favorite piece of offal: the large intestine. Ordering that off a menu might be harder for you to stomach (c'mon, that one was just sitting there!), but it is worth taking the risk. This is a fattier, richer cut of meat to try, but when you have the endorsement of a world-renown chef; it's hard to argue with giving it at least one shot.
Those are only five of the adventurous cuts of meats offered at Takashi, but this should give you a good start on your way to ordering more exotically. Feel free to peruse the menu at Takashi to see the full extent of the dishes and cuts of meat they offer. Maybe one day you'll be brave enough to order the testicargot (cow balls escargot style with garlic shiso butter). Take it from us, it's delicious.
Takashi Inoue portrait courtesy Shannon Sturgis.

Editors' Recommendations