As the holiday seasons approach, we're confronted with a million different things we should buy. As we choose how we're going to spend our money on gifts, what we're going to make for Thanksgiving, and where we stand on the whole red cup debate, it's nice to know there are ways we can give back as we dine this month.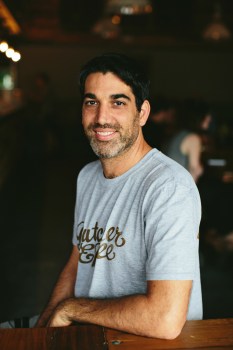 Michael Shemtov, the owner of Butcher & Bee in Charleston, South Carolina, decided he wanted to do something fun and different this year. He met with Matt Brown, one of the owners of Bunk in Portland, Oregon, to talk about how they could do something together while being on opposite coasts. They wanted it to be a fun event that would also involve giving back.
What started out as a cool happening between the two of them, soon expanded to include others. Shemtov said, "From this starting point, we decided to grow it into a bigger event, one that would involve more sandwich shops, and give more people a chance to try some of the best sandwiches from across the country.  B&B reached out to some of our favorite shops representing different styles and parts of the country, and organized a four week, five way swap." And thus, the Sandwich Swap was born.
The idea is pretty simple: five of the best sandwich shops in the country will share their signature sandwiches with each other. Each restaurant will spend one week preparing a sandwich from the other shop with $1 from each sandwich purchased benefiting Share Our Strength's No Kid Hungry campaign. The idea is to not only share great food and give to a good cause, but to promote awesome sandwich shops across the nation for hungry travelers and locals. 
If you're lucky enough to live near one of the participating restaurants, you still have a few weeks left to get in, grab a sandwich, and spend some money for a good cause. Don't worry if you're missing out this round, though, Shemtov says there are more events in the works, "We hope to have another round, perhaps as early as the spring, and we can see it as an annual or biannual event.  We'd love to include more shops and really promote the sandwich makers that are contributing to the national conversation about great sandwiches."
Where To Nab A Sandwich
Butcher & Bee: Charleston, SC
BBQ Pulled Squash Sandwich: Butternut Squash, Butcher & Bee BBQ Sauce, Smoked Slaw, Cilantro Vinaigrette, B&B Pickles on a Hoagie Roll.
No. 7 Sub: New York, NY
Zucchini Parm Sub: Breaded and Fried Zucchini, Onion Puree, Pickled Jalapenos, Fontina Cheese, BBQ Potato Chips on an Italian Roll.
Bunk: Portland, OR
Oregon Albacore Tuna Melt: Oregon Wild Troll-caught Albacore Tuna, Cheddar, Mayo, Dijon, Pickles on Ciabatta
Noble Sandwich Co: Austin, TX
Seared Beef Tongue Sandwich: Beef Tongue in a Corned Beef Brine, Red Pepper Relish, Smoked Green Onions and Fresh Garlic Mayo
Zingerman's: Ann Arbor, MI
Jon & Amy's Double Dip: Zingerman's corned beef & pastrami, Switzerland Swiss & Wisconsin Muenster Cheeses, Hot & Regular Mustards on House-Baked Pumpernickel & Rye breads
Editors' Recommendations