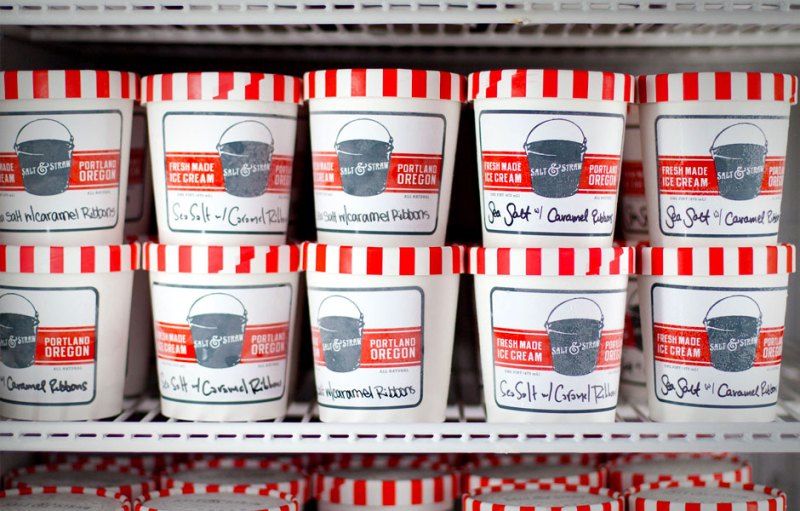 This is not your grandmother's ice cream shop: Salt and Straw is ice cream for champions. It was started in 2011 by cousins Kim and Tyler Malek, in Portland, both leaving lives in the fast lane to create new flavors that turned ice cream on its soft, frozen head.
Salt and Straw ice cream is made in small batches with some permanent flavors and other rotating options, often making use of unusual (at least for ice cream) seasonal ingredients. Whenever possible, the Maleks try to buy their ingredients locally. The classic flavors have a bit of a twist to them: "Salted, Malted, Chocolate Chip Cookie Dough" has salty housemade cookie dough coupled with matly fudge. Or the "Sea Salt with Caramel Ribbons:" Fleur de Sel from Guatemala and housemade Salt and Straw caramel, a recipe  that was developed with Mark Bitterman, the writer of a James Beard award winning cookbook, Salted.
It's the beautifully strange flavors that make Salt and Straw what it is: take for example, Black Olive Brittle and Goat Cheese… ice cream. Not unusual enough for you? Go ahead and order the Dill Pickle Sorbet. Malek has taken pickle juice and added dill and fennel to bring out the sweeter side of pickles for this one-of-a-kind sorbet. Hell, there's even one with fish sauce and caramel– it's all insane and it all works. These are the vibrant, boundary-bending combinations of a deliciously mad genius.
Los Angeles now has several Salt and Straw locations to choose from: Larchmont, Studio City, Venice Beach, and shortly another location in the Arts District. The stores are as charming as the ice cream: a modern take on a vintage ice cream shop. Lines are often long, but move swiftly, so don't let them discourage you. This ice cream is not to be missed.
Don't live in Portland or Los Angeles? No problem– Salt and Straw delivers! And if you're a massive ice cream foodie, consider joining their Pint Club. For $65 a month, you receive five pints of seasonal flavors sent in a cooler straight to your door. It's guaranteed you will have the best, most unusual flavors on the block.
Editors' Recommendations