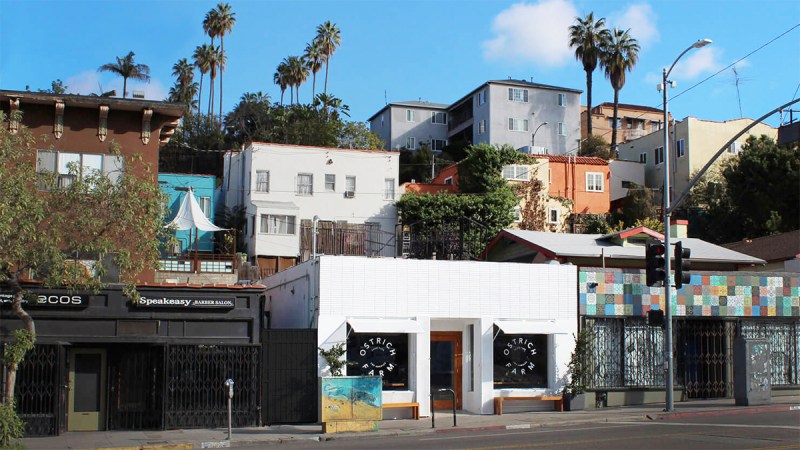 Nestled in the hip, bustling neighborhood of Echo Park is Ostrich Farm. It has no ostriches and isn't a farm– though there's a garden out back– instead, it's one of the best restaurants around. Husband and wife team Jaime Turrey and Brooke Fruchtman created a relaxing, chic but cozy atmosphere to drink creative cocktails and eat local, wood-fired, inventive American food.
You may remember Turrey from his famed Monsieur Egg cart where some of the ideas for Ostrich Farm seemed to get their start. He sought out local eggs, local butter, and made delicious spins on breakfast sandwiches, using flaky croissants and things like crab cakes or salmon.
Now he's using local ingredients, some grown just outside in the restaurant's kitchen, to serve up an ever-changing seasonal menu. Things like a grilled watermelon salad with feta and garden mint; or an herb biscuit scrambled egg sandwich with sun-dried tomatoes, leeks, and goat cheese; lamb and veal meatballs with spicy romesco and mint yogurt; or a flatbread with grilled figs, burrata, prosciutto, and arugula pesto. The handcrafted cocktails are no slouch either, offering tibbles like the Hellfire Club: Mezcal, fresh lime and grapefruit juices, Aperol and habanero, garnished with a flower from the kitchen garden. Or Parts and Labor, a gin, vermouth, Aperol, and orange blossom water concoction that's the perfect aperitif.
We were dying to talk to this culinary maverick and Jamie Turrey was kind enough to spare some time.
What made you want to make the change from Monsieur Egg to a brick and mortar restaurant?
I always saw Monsieur Egg as a testing ground for a brick and mortar and had been looking for a spot at the same time. It also didn't hurt that my wife had had enough of our house turning into a commercial kitchen every few days.
What's your culinary background?
Nothing glamorous. I made my bones starting out as a busboy at one of San Francisco's venerable restaurants and just fell into it. More than anything I think I was in awe of the cook. He was exacting and intense and loud and I loved it. I basically worked my way up through every position until I claimed my spot on the grill. After that, we moved to LA where I ran a culinary program for homeless women before opening Ostrich Farm.
It's said you create your menus daily, based on the freshest ingredients you can find. How challenging is that? Where do you find inspiration?
We have menu items that change every season, but within that there are hyper-seasonal specials that come in and out daily. We have a garden behind the restaurant that we pull vegetables and all of our herbs from, so inspiration is easy to come by.
What's your average routine for the day?
It's like groundhog day…I get up around 6; call and place my bread order; drop my boy off at school; shop for food and deliver it to the restaurant; set up office at the minibar; work until 2-ish having meetings with my kitchen team, greeting brunch customers, and setting up for the night ahead. Then depending on the day, I either head home to be with my family or head home to shower and get back to work in the kitchen. It's a grind!
Why did you choose Echo Park? Any reason for the reference to the railway?
This was the first neighborhood we were drawn to when we moved down from San Francisco about 15 years ago, maybe in part because it reminded us of that city—hilly, walkable, diverse. There was really never the thought of going anywhere else.
As for the name, we absolutely love our neighborhood and named the restaurant after the Ostrich Farm Railway, which very briefly traveled up what is now Sunset Blvd. It's just a nod to a little-known piece of the neighborhood's history.
Any surprising lessons you learned in opening your first restaurant?
The good: I love how we've become a real gathering place for the neighborhood. I see the same people leaving for work every day, picking their kids up from school, and then they walk over to dine and relax with us.
The tough: Being a restaurant owner, or in any service industry I'm sure, is relentless. It just never stops, holidays, weekends, birthdays—the restaurant is open seven nights a week so even if I'm not there…I am.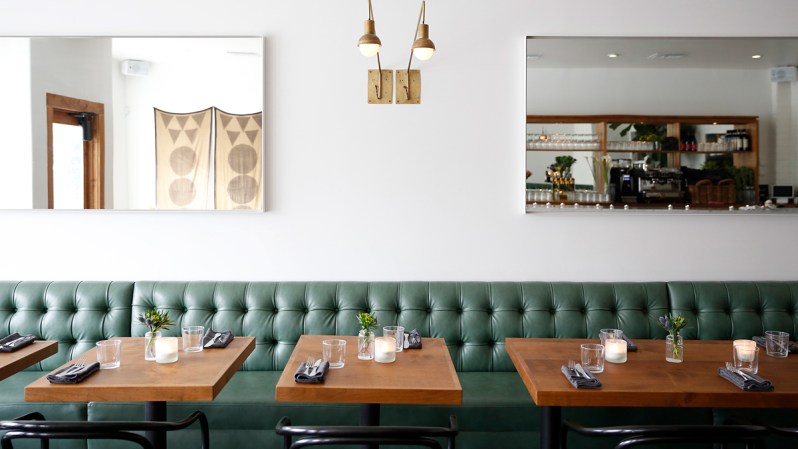 The design of the restaurant feels like you're going to a dinner party at a really cool friend's place. Casual and welcoming but still elegant and exciting enough to still feel special. Was that the feeling you and your wife wanted to create?
I'm glad that's how it feels. We're a neighborhood restaurant and wanted to keep everything approachable, and talked a lot about a sort of high- and low- aesthetic to help maintain that sense of ease. And quite a few items came from our house (out of necessity) so perhaps that's partly why you feel you're at someone's home!
Favorite menu item you've created so far?
The one item my wife will never let me take off the menu is the grilled Caesar, so that's her favorite. We grill romaine and radicchio so it has a nice smoky quality, then make a strong dressing with generous amounts of garlic, lemon, and anchovy. It's simple but just different enough to make it interesting.
Turrey is a proof passion, guts, and hard work pay off. Lucky for us, he put all that toward creating our new favorite go-to for brunch, drinks, and dinner. They accept reservations for parties between four and six people, but otherwise it's a walk-in restaurant. Thanks to the great bar, vibrant neighborhood, and friendly, attentive staff, you'll enjoy the wait. Then again, they also deliver.