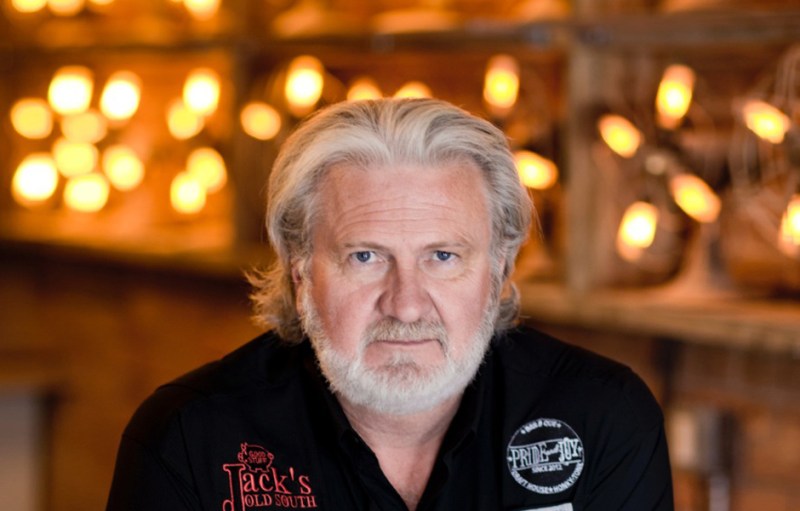 Memorial Day Weekend is just a week away. Came up fast, right? If you're feeling behind with your holiday barbecue plans, don't worry. We took some time to speak with Myron Mixon, the "winningest man in barbecue" and the host of TLC's BBQ Pitmasters, about the keys to a good Memorial Day barbecue. Myron shared some simple tips and pointers from his latest book, Everyday Barbecue, that you should most definitely pay attention to.
What are typically some of the common mistakes that a person at home might make with their barbecue?
Most of the time people aren't managing the fire correctly. And what I mean by that is they aren't paying attention to temperature while they're cooking. Instead, they're worrying about whether or not their wine is getting warm. For burgers and steaks you want to do a hotter sear where the temperature is higher. For larger meats such as chicken or ribs or pork butts, you want to do lower temperatures that don't fluctuate.
So it's a matter of being more patient?
Yeah, and a lot of times people aren't paying attention to doneness. Like for chicken, things need to be cooked not just by length of time, but by internal temperature. For a chicken breast you need to make sure the meat is at 165 degrees. And it's 180 or 185 degrees for dark meat.
In your book, Everyday Barbecue, you explain that barbecue can be done simply. What are the best, most fundamental ways to make great barbecue at home that someone might overlook?
People think there are a lot of complex ingredients involved in barbecue—you know, like what they see on TV. But barbecue is all about simple ingredients and foods. It's all about getting the meat done right. If you want to marinate, you use a little apple juice, salt and sugar. For a rub, all you need is salt, pepper, sugar, garlic powder, onion powder and maybe some cumin or chili powder. And for a finish, all you need is a basic barbecue sauce: ketchup, honey, brown sugar, and a little vinegar out of your cabinet. You don't need to order any special ingredients.
How have you managed to develop so many recipes in your book, yet keep things so simple?
When I'm coming up with recipes, a lot of the time its just about changing little things. Instead of using dark brown sugar, I'll use maple sugar. A small change like that can alter the entire flavor profile. You don't need any radical swings with ingredients. No need to tear everything down, just tinker.
If you were planning a Memorial Day barbecue, what dishes would you have to include?
Well, first of all, if it's a holiday, I'd want to have something I can get done in a couple of hours. I wouldn't want to be over the pit all day long while everyone else is in the pool. You want to enjoy the day like everyone else. You want something that will cook fast. But for me, personally, you've got to do burgers and you've got to do dogs. You may want to spice it up a little, but there's nothing more American than burgers and dogs.
How about sides?
You gotta do a potato salad and you've gotta do your coleslaw. I've got a simple coleslaw recipe that I use all the time.
Any desserts too?
I have a recipe for a grilled apple crisp in my book and that's really all you need. It's just flour, brown sugar, granulated sugar, butter, pecans, oats and apples all done over the grill.
With all the BBQ festivals that happen across the country these days, which are the ones worth traveling for?
 Right off the bat there's one in Washington D.C. that's right on Pennsylvania Avenue called the National Barbecue Battle. It's a huge event with a lot to do. There are big name vendors like Safeway that have big giveaways. I mean, it's pretty cool that you're cooking barbecue on Pennsylvania Avenue.
Photo courtesy of Alex Martinez.
Editors' Recommendations