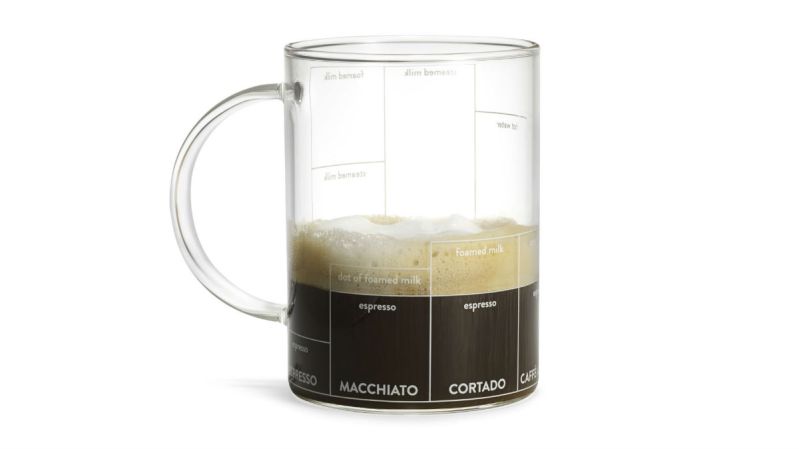 Do you love a good macchiato, but have literally no idea what witchcraft it takes to make one? Well, do we have the mug for you. We present — in all its glassy, soon-to-be-caffeinated glory — the Multi-ccino.
Created by designer Josh Corn and sold at the Museum of Modern Art Design Store, the Multi-ccino solves both the issue of actually knowing what goes into a coffee drink and hee issue of smelling like a coffee shop all day long if you decide to venture out to get your fix.
The mug offers up seven different coffee-based drinks, including an espresso, a macchiato, a cortado, and the hot drink of 2017, a flat white (you may not have ever had or wanted to have a flat white, but at the very least, now you'll know what all the fuss is about).
The mug is made of borosilicate glass and can hold 16 ounces, according to the site. Borosilicate glass, for those that have never thought about it and probably never will again, is a type of glass that is extremely heat resistant — it can handle temperature fluctuations without cracking — which uses boric oxide in its composition. It was first created German glassmaker Otto Schott in the late 19th century. The more you know, right?
Members of the MoMa (you can get an individual membership for $85, $82 of which is tax deductible) can snag the mug for $14.40, but it'll cost everyone else $16. The price tag isn't bad when you consider how much you will save by not going to Starbucks (or the hipster coffee place down the street where the baristas all have handlebar mustaches).
You can buy the mug here and, if you're interested in finding out more about Josh Corn's other work (including Blup, the Bubble Notifier), you can visit his site here.
If you get the mug and realize you need something to actually make the espresso for the drinks, check out this portable espresso maker or any of the machines on this list.
Editors' Recommendations