There are few dining experiences like the Garden Dinners at Milton's Cuisine & Cocktails in Milton, Georgia. Milton's itself is unique—the restaurant fills out a 150-year-old restored farmhouse. But what makes these Garden Dinners so special is the fact that they take place right in the middle of "Milton's Acre"—the restaurant's onsite garden, which is the source of a majority of the ingredients that go into each and every dish on the Milton's menu. They truly live up to their motto as a 'seed to fork' dining experience.
Milton, Georgia is located about thirty miles north of Atlanta and has a population of approximately 32,000. For the past two years, Milton's Garden Dinners have provided a way for both the tight-knit locals and out-of-towners to pair fine dining with a laid back, down-home good time.
The Garden Dinners are about to begin their third season, so we at The Manual decided to talk to Milton's Executive Chef, Derek Dollar, about his favorite dinners so far, the experience of fine dining in a garden, and what he's looking forward to during the upcoming season.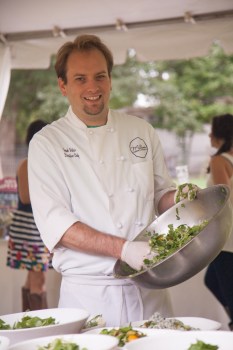 How did you end up cooking Milton's?
I came onboard in 2011. I had previously worked in Alpharetta, but then I moved down to Decatur where I worked at a restaurant and that didn't work out. I knew someone at Milton's and he told me to come up and work. So I started as sous chef and then eventually became executive chef.
How long has the garden been a part of Milton's?
The garden is in its sixth year. It was much smaller when it first started, but it's expanded almost every year. It was originally a quarter of an acre, and then a half-acre and now we're over a full acre.
It began as an herb garden but now it's much more than that. Peter Kohm, who is in the agricultural business, helped us with the planning and designing. We told him we wanted to do an organic farm that would not only sustain the restaurant but also be a good place for guests to come and to have an entire experience.
Peter still does work in the garden. He's been a huge help for us in navigating the entire garden process.
When and why did you begin the Garden Dinners?
We started them two years ago—this will be the third year. We're very community oriented. Alpharetta is an average-sized city, but over in Milton where we are, it's a tight-knit area: everybody knows everybody. As Milton's was growing, we thought that the Garden Dinners would be a good experience for everyone to enjoy the fruits of everybody's labor. And also have a unique experience where you are sitting next to the vegetables you are eating. Everybody gets to sit next to a stranger and make a new friend.
Related: Atlanta's King + Duke: Cooking from the Hearth
Do you notice a specific type of diner that attends the Garden Dinners?
We get people from all over now, but I would say that the common thread that brings them all together is having a good time. We try to make it as laid back as possible while also giving you a five-star dining experience. Also, our diners all share an awareness of what they're putting into their bodies.
Do you use the Garden Dinners as a way to try out new dishes? Or because of the price per seat do you rely on tried and true dishes?
It's a mixture of both. Every year we get new vegetables in and in the four walls of the restaurant I always try to experiment. For the Garden Dinners, the dishes are all served family style, so it's a different strategy. We use larger cuts of meat—roasts, whole fish—things that are more visually impressive.
When the dishes are laid in front of our Garden Dinner guests, they are usually awestruck. I like to use a lot of bright colors and we use elaborate platters—some that are made from old barn wood—so it is definitely striking.
Can you give me an example of some of these awe inspiring dishes?
We always do a bourbon-smoked beef tenderloin with different colored squash and tri-colored carrots. Things like that that stand out. We're doing yellow pattypan squash this year, which are these bright yellow globes. Tomatoes are huge. We grow twenty-three different types of tomatoes.
I try to visualize a dish first, since people eat with their eyes initially. So I kind of just get inspired by what colors I see while I am walking around in the garden.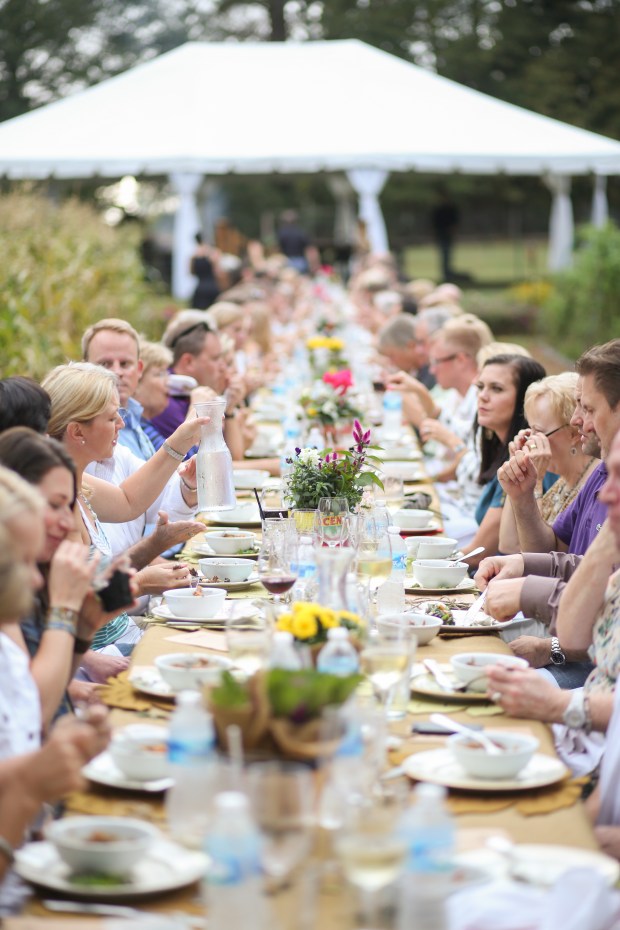 Has there been a particular Garden Dinner that stood out to you? One that you felt the most proud of?
It would have to be the last one from 2014. We refer to that one as the Harvest Dinner. It was the closing of the year and so it kind of felt special. It was a great experience to have. The weather was perfect. We did a roast duck for it and it was incredible. That was definitely the most satisfying experience.
What are you looking forward to for this year's dinners?
I like pork—like a lot of people do—so I'm really excited about doing a honey glazed, bacon wrapped pork loin. Honey symbolizes spring and summer and the bees that pollinate the plants. We'll also have some yellow wax beans and marble potatoes too. That's one I'm really looking forward to right now.
All photos courtesy of Blencoe & Co.
Editors' Recommendations