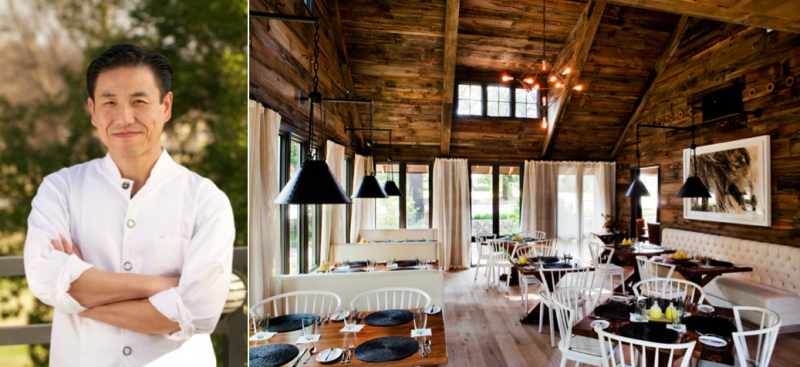 [nggallery id = 136]
Tonight, the sporting world's attention will turn to the city of Memphis as the hometown Grizzlies take on the Los Angeles Clippers in what promises to be the next thrilling entry in their physical NBA Playoff match up. However exciting the game will be, this afternoon, our attention is turned to Memphis, but for a different reason—the local restaurant ACRE.
Located little more than a twenty-minute drive from Beale Street and the FedEx Forum, ACRE is helmed by Chef Wally Joe. Chef Joe was born in Hong Kong and moved to Mississippi as a child. Being the son of Chinese parents with a deep appreciation for fresh food, Wally actually butchered his first chicken at age eight.
"My grandmother showed me how to do that," Chef Joe says. "The thing is that I grew up with farming and livestock and having everything fresh. It wasn't until I got to school and saw what other kids grew up with—McDonald's and Pizza Hut—that I realized I was different."
In Mississippi, Chef Joe's parents ran a grocery and then later opened up their own restaurant, KC's. However, since he grew up in the restaurant business, cooking was "the last thing" that Wally wanted to do. Instead, he studied banking and finance at the University of Mississippi. But, when the four years were up, he decided to assess his options. "I took the LSAT, but I decided that three more years of school was not for me and neither was sitting behind a desk in an office."
Instead, he decided to travel the world and was exposed to new places and cities as well as a variety of freshly prepared dishes and cuisines. The entire experience set off an "epiphany" for Wally. He returned to Mississippi to work at KC's, where business was growing and his parents needed his help. As he worked in his parents' kitchen, Wally's newfound love for the culinary arts flourished and he was off and running as a chef.
In 2002, Chef Joe moved to Memphis and opened his own restaurant, Wally Joe's. After running that restaurant for four years, Wally wanted a new challenge. So, he teamed up with business partners Mary and Frank Staley and opened ACRE in 2011. "It's actually a dream restaurant," Chef Joe says. "It's a former home that has been renovated into a beautiful and relaxed space and its right in the middle of the city. It's just a small, perfect restaurant."
At ACRE, Chef Joe specializes in dishes that utilize only the freshest seasonal ingredients. For most of his time in Memphis, Wally's cooking was seen as "too edgy"; he was ahead of his time, but now the food world has caught up. There are a variety of flavors and cuisines at work on Acre's menu—aside from the Hazelnut Fed Pork Brisket, you wouldn't suspect that it's in the South. But Chef Joe doesn't want to be fenced in by classifications. "I don't need ten ingredients on a plate anymore. I just want the freshest flavors I can get. So whatever that is, I'll use. We buy what we can locally, but some of my favorite fishes are skate and wild striped bass and I want to be able to serve those things when they are fresh."
This month, while you will find regional pork dishes and vegetables on the menu, Chef Joe says that diners can also expect to find soft shell crabs, ("They are really one of the great delicacies of the season"), as well as fresh mushrooms, fava beans, wild salmon from Alaska, spring lamb and all-around bright flavors.
Aside from keeping his menu fresh, Chef Joe wants to continue to build ACRE as a Memphis institution and to become even more of a fixture in the food scene. "One of the most exhilarating parts about opening Acre has been seeing all of my old clientele from Wally Joe's and just re-connecting with the city. I'd been on the sidelines since I moved on from my last restaurant, so I'm just re-introducing myself to the city and to the culinary scene at large."
Editors' Recommendations