Sarah and Dirk Marshall were both working as social workers when their careers took an unexpected, yet very savory, turn.
"Part of her job extended into food for the residential home where she worked," explains Dirk. "She was getting kids into canning and food preparation." When she concocted a habanero curry sauce, she got so many rave reviews that she decided to expand on her new found business. She left her job in 2011, took a couple of business classes, and launched Marshall's Haute Sauce. By 2013, the Portland, Oregon company needed additional help, so Dirk joined her full-time.
Sarah grew some of her own peppers in the beginning, but they eventually teamed up with local farmers to produce larger quantities of the ingredients they need for their sauces, things like red habaneros, garlic, lemongrass, local honey and hand-harvested sea salt.
"We just started connections with farmers," says Dirk. "As social workers, we worked to create communities, but we also created a community through food."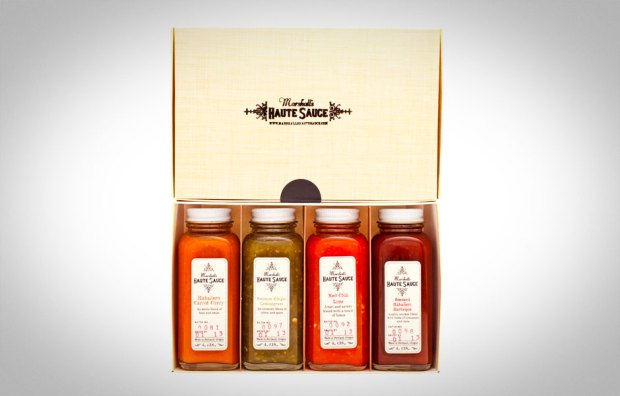 Sarah started by making small batches in a crockpot in their kitchen. Today, they crank out larger production runs in a commercial kitchen. They have a staple of four year-round sauces, but they also produce seasonal and specialty sauces at different intervals.
"For year round, our most popular variety is the Serrano Ginger Lemongrass, but my favroite is the Habanero Carrot Curry, which is also the first sauce Sarah made," says Dirk.
Their Smoked Habanero BBQ won a Scovie Award. "We had a friend who was allergic to corn so she could never have BBQ sauce," he says. "We created a BBQ sauce that is corn free."
All of their sauces are gluten-free and vegetarian. They also don't use any type of binders, additives, or "other strange stuff." They are made of locally grown vegetables, vinegar, spices, and sometimes sugar or local honey. The bottles are sealed and only require refrigeration once they've been opened.
They also love collaborations. They've worked with area chefs to produce some special sauces, and they teamed up recently with a winery. "We took our Cranberry Red Habanero Sauce—we took the essence and idea and incorporated into their Pinot Noir and added cold pressed cranberry juice to make an incredible holiday wine. It's just been available for about two weeks, but we'll get it out before Thanksgiving next year."
The couple offer their sauces for sale through their online shop as well as through a variety of stores and retailers, but they still sell direct to consumers at farmer's markets in Portland. "The first weekend of every month when we are doing a farmer's markets in the summer, we make a small batch of 20 bottles of different sauces. It's a great way to create new things for the locals, but it also fuels our creativity and pushes us forward," says Dirk.
There's always the possibility that some of those limited run batches may lead to their next big sauce.