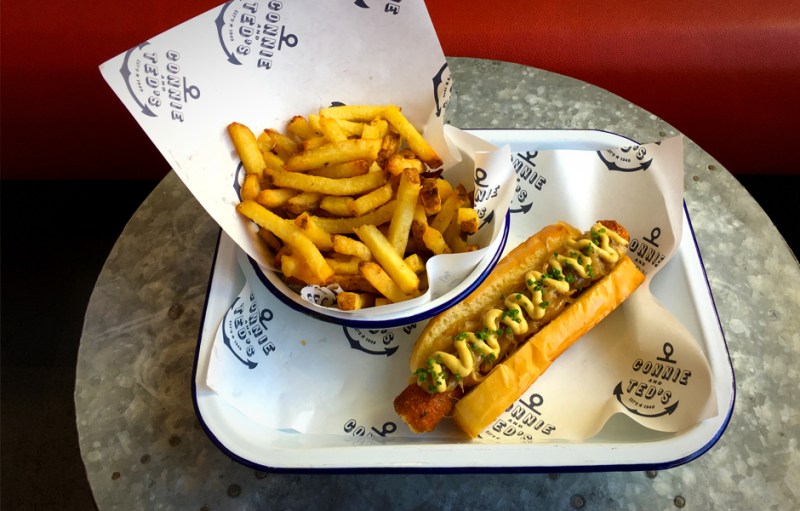 Tailgate season is upon us, which means it's time to brush up on the best recipes for grilling in a parking lot. Usually burgers and hot dogs take center grill when it comes to tailgate food, but it's time to offer a spot to the sausage. Links, patties, ground up– sausage is a versatile, delicious food that can be made from more than just pork. Take some inspiration from these chefs and win the tailgate game. Executive Chef Richard Blankenship of CBD Provisions in Dallas, Texas gives us his recipe for Sausage & Pepper Hoagies for the perfect pre-game meal and San Francisco's La Mar gives us the perfect homemade sausage recipe to wow the team.
Our old favorite, The Cannibal is cooking up some insanely delicious options: Chef Francis Derby offers the Chicken Parm Sausage: tomato conserva (a kind of homemade, crazy flavorful tomato paste), burrata, with fried chicken sausage. Want to get even more adventurous? Try their Bulgogi Sausage ("bulgogi" means "fire meat" in Korean, so you know you're off to a good start here), an homage to LA's Korean influence. It's served with sesame, bean sprouts, and an apple jang sauce.
Seafood and sausage have a long friendship (we're looking at you, Cajun cooking), but Chef Michael Cimarusti over at West Hollywood's Connie and Ted's has taken the partnership in a totally new direction: the seafood is the sausage. Meet his Hokkaido Scallop Sausage: served hotdog style on a house made bun, crisscrossed with house-smoked mustard and onions. Step aside, sad prepackaged hotdogs!
Oceana in New York has created a heart-healthy sausage sandwich. They make halibut and house-smoked salmon sausage and stuff it between two slices of toasted bread, adding horseradish, a fried egg, and Swiss cheese. Sandwiches are the perfect tailgate food, but you're not likely to run into many others around the parking lot that are this good.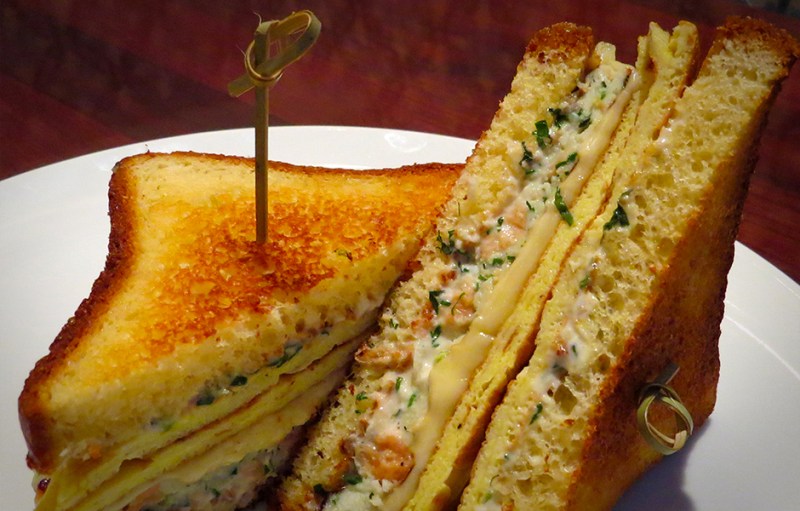 Executive Chef Richard Blankenship offers us his recipe for the perfect, elevated-but-easy-to-make-in-a-parking-lot meal: Sausage & Pepper Hoagies. "When you're tailgating handheld food is perfect and you want something hearty that will help soak up the pre-game beers," Chef Blankenship says, "a sausage hoagie definitely does the job, and is a bit more sophisticated and flavorful than your average dog while just as simple to make."
Sausage & Pepper Hoagies
Ingredients:
4 links of your favorite sausage — smoked kielbasa works great!
4 hoagie buns
1ea green bell pepper
1ea red bell pepper
1 ea yellow onion
½ cup mayo
3tbsp chipotle paste
1tbsp lime juice
½ tsp smoked paprika
Recipe:
Cut the sides off the bell peppers, then cut the onions into thin rings. Season them all with salt & pepper then grill them to get a good char on the outside. Remove from the grill, then allow to cool before dicing.
Once diced, add to a small pot and return to the grill to stew slowly. Add a bit of butter if you're into that sort of thing.
Combine the mayo, chipotle, lime, and smoked paprika to make a sauce for the hoagies.
Finally, grill the sausages and buns. Finish each sandwich with the stewed peppers, onions, and chipotle mayo
House Made Seafood Sausage Recipe from La Mar
Ingredients:
750 grams Salmon Belly
600 grams Alaskan Halibut
50 grams Aji Panca (Peruvian Red Pepper)
150 grams Aceite de Ajo (Garlic Oil)
½ tsp. Ice water
Chicken Stock Powder with Salt and Sugar, to taste
Recipe:
Blend ingredients together and fill in sausage casing.