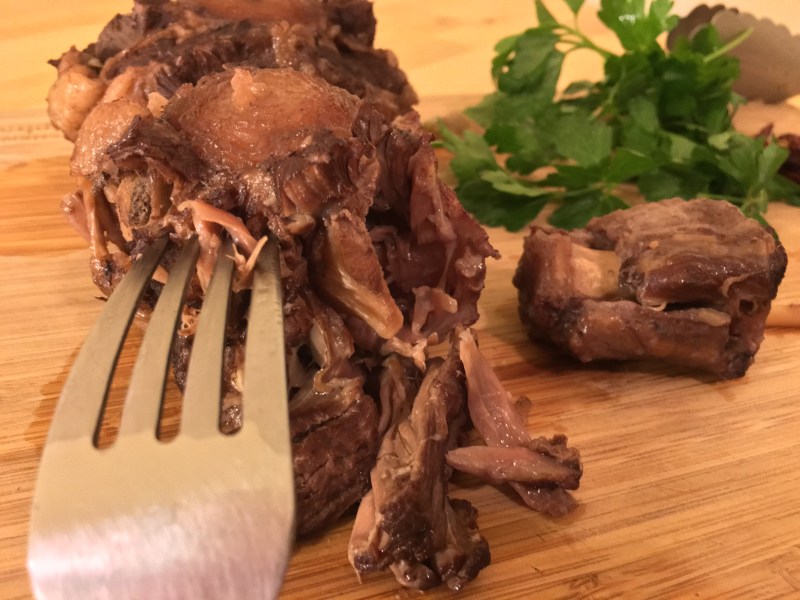 It's not often that you see geoduck and huckleberry on a menu in Boston. Pair the Pacific Northwest ingredients with potato and a Peruvian cheese sauce called huancaina, and your impulse to raise an eyebrow would be understandable. Yet there's a kind of magic to this combination—like gooey duck and huancaina were a match made in heaven, just waiting to find each other. That's the kind of creativity you'll find throughout the menu at newly-opened UNI.
Run by James Beard Award-winning Chef Ken Oringer and chef-partner Tony Messina, UNI—which was once a concept sashimi bar housed within Oringer's French-with-an-Asian-bent flagship restaurant Clio—recently reopened as a "large sushi bar meets Izakaya" in the space formerly occupied by Clio.
The menu (which Messina describes as "sexy") includes both traditional and experimental fare: sashimi, maki, and nigiri feature heavily of course—though never in the way you'd expect. You'll also find appetizers like banana blossom salad with pig head and fermented chile, and hot mains—like duck carnitas—with flavor combinations inspired by both Oringer's and Messina's travels.
Oringer and Messina took some time to talk to The Manual about UNI, their approach to food and flavor, and their advice for home cooks. They even gave us a recipe for, hands down, one of the best dishes you will ever cook in your kitchen: braised kimchi and kalbi oxtail with Korean rice cakes.
Oringer says he closed Clio to focus on UNI because he sees dining out evolving into a more casual affair. All his other restaurants are more casual and higher energy, and he wanted to follow that instinct. "I'm not into sitting for three or more hours, and the way I'm eating is the way I want to approach food."
Both he and Messina say they like to avoid the obvious. Food, Oringer and Messina believe, should be interesting and enjoyable. Of the UNI menu, Oringer says, "[Messina] and I like to play around. All these flavors have their own character, but we like to ask: what could really make this shine?"
Oringer, who has been receiving accolades for his Asian-inspired fare for decades now, says that while cooking is largely intuitive and based upon understanding the basics, he tries to find new and interesting flavor combinations by asking himself what is traditionally served and why that works. "Take lobster poached in butter, for instance. Why is it popular? What makes it good? There's the combination of fattiness and salinity, so you can try to find that with different ingredients. What is the butter doing, and what can replace that?"
And it seems that Messina echoes the sentiment that you need to know the rules before you break them. His advice for home cooks? "Know the basics. You can't build creativity without this. You can't really break rules until you figure out why flavors work."
He says that home cooks should look to cook books to both build their basic knowledge and expand their horizons. "When I'm looking for new ideas, I pick up a book and just flip through it. You learn cultural ideals through these books, so if you can't travel, it's a great way to start understanding different flavors."
Both Oringer and Messina stress wandering around your local Asian market to get started with culinary experimentation. "Go to the condiment aisle," Oringer says, "and pick something that piques your interest but doesn't intimidate you. Taste as you go."
And what better way to explore than to make this braised oxtail? You won't find a dish more playful (and easier to prepare) than the braised oxtail with kalbi, Korean rice cake, kimchi, and kimchi butter. It's a dish that riffs on east-meets-west with eastern flavors and western cooking methods. Braising makes the oxtail fall-off-the-bone tender, and the combination of red wine and kalbi gives the meat a rich, sweet, almost chocolatey taste. Balanced by the lightness of the tteok and the salty-sour flavor and bubbly fermentation effect of the kimchi, this dish will satisfy you without making you feel sluggish.
Messina calls this oxtail and rice cake recipe a flavor bomb. "It goes against everything I'm used to, and it's amazing."
So let's get cooking.
The Best Damn Braised Oxtail You'll Ever Taste

This recipe will make enough to comfortably feed four people (and possibly have leftovers). If you're planning on making this for a date, just halve the ingredients. That being said, we kept the kimchi butter portions as-is for the halved recipe, because it's great the morning after on wheat toast with mashed avocado and a fried egg. Pictures featured are from the halved recipe.
Ingredients:
Braised oxtail
Kalbi
Gremolata
Kimchi
Kimchi butter
Korean rice cake, soaked in water for 2 hours (if previously frozen)
Note: Messina says pre-made rice cakes are fine. He prefers Choripdong rice cakes, which you can find at any H-Mart.
Method:
For the braised oxtail:
3 lbs beef oxtail
2 quarts chicken stock
2 quarts dashi (Japanese stock)
3 tablespoons soy
½ bottle red wine
2 carrots, cut in large chunks
2 celery stalks, cut into large chunks
1 white onion, cut into large chunks
1 stalk lemongrass, cut into ½ inch pieces
1 Thai chile, halved
1 head garlic, halved
1 knob ginger, cut into large chunks
canola oil
salt
Sear the oxtail in a heavy-bottomed pot with canola oil and a little bit of salt. Once browned, remove from pan and add carrots, celery, onion, lemongrass, chile, and ginger. Don't panic if they start getting brown and sticking a little bit. Those brown bits will bring a ton of flavor to the dish.
When caramelized, add red wine to deglaze. Scrape the brown bits so they can mix with the wine. (In the meantime, preheat the oven to 300 degrees.)
Add soy, garlic, chicken stock, and dashi. Bring to a boil. Add oxtail back to pot.
Place parchment paper and foil over the pot and place it in a 300 degree oven for 2½ to 3 hours, or until the meat is fork tender. After removing from the oven, slightly cool the oxtail and strain the braising liquid for later use. Shred the meat from the bone.
For the kalbi:
Equal parts:
Ketchup
Coca-Cola
Sugar
Soy
Brown sugar
1 tablespoon sesame oil
Mix all ingredients together. Note: We combined a quarter cup each of the ketchup, coke, sugar, soy, and brown sugar, because kalbi is is a great marinade, and we wanted leftovers for future recipes. Remember: you don't have to use all of it.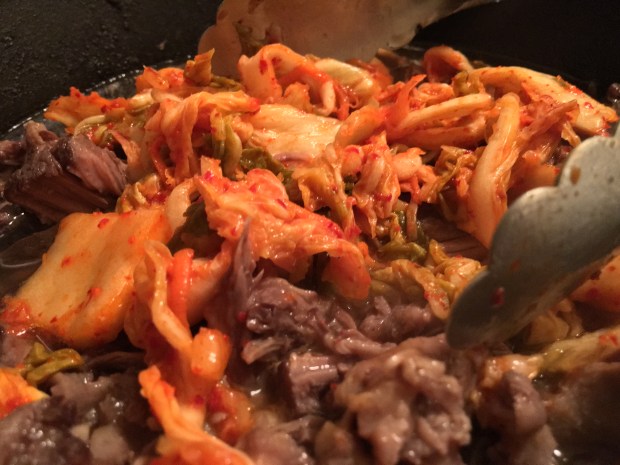 For the kimchi butter:
In a food processor, puree equal amounts of kimchi and softened butter. Note: We combined a stick of butter and ½ cup of kimchi, because you can never have too much kimchi butter.
For the gremolata:
Finely chop equal parts:
Parsley, garlic, and orange zest. Note: we chopped about an ⅛ cup each of the ingredients.
Process:
In a sauté pan, heat up the oxtail meat with enough of the braising liquid to cover the bottom of the pan. Add an equal amount of kimchi to the meat and enough kalbi to glaze the meat. Slowly reduce over medium heat. When the meat is nearly warmed through, place the rice cakes in boiling water. When softened, add the rice cakes to the pan with 2 tablespoons of kimchi butter. (Note: it takes about five minutes for the rice cakes to soften, but make sure you watch closely. Few things are worse than a mushy rice cake.)
Toss until everything is incorporated and glazed.
Place the rice cake and oxtail in a serving bowl. Sprinkle with gremolata. Enjoy. Try not to cry over how flavorful the dish is.