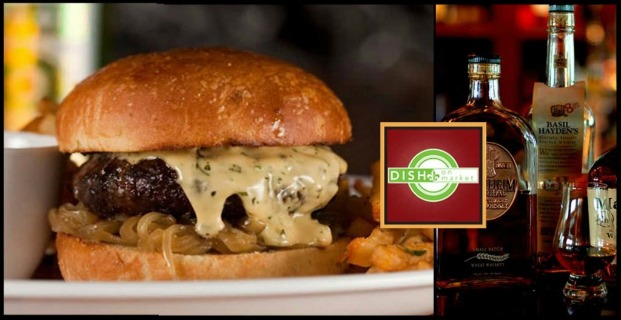 Louisville, Kentucky is known for two things: the Kentucky Derby and the University of Louisville men's basketball team. And with the Cardinals as the number one seed in this year's NCAA tournament, and the Kentucky Derby just around the corner, it's easy to overlook the fact that Louisville is fast becoming known for a third unique quality: it's abundance of burger and bourbon restaurants.
This beautiful marriage of meat and liquor was first ushered into the Louisville city limits by Bourbons Bistro in 2005. The bistro features a list of over 130 bourbons including exclusively featured labels and a selection of rare and hard-to-find varieties as well. Though Bourbons has an impressive full menu full of southern flavor, its burger has gained a reputation as perhaps the best in the city.
Last year, the movement gained steam when brothers Anderson and Marshall Grissom created a $10.00 bourbon and burger special at their restaurant, Dish on Market. This well-loved combination allows a diner their choice of any bourbon on the menu (well, almost any bourbon—let's be realistic here) as well as any of Dish on Market's one dozen varieties of burger; including the Market Street Burger with havarti cheese, jalapeno jelly and tobacco onions.
In 2013, Louisville is set to see this trend explode. Last month, Down One Bourbon Bar opened, featuring their own bourbon menu with over 100 varieties, including their own Down One Single Barrel by Knob Creek. And though they don't have a burger yet, their menu is full of southern charm. Down the street, Sidebar at Whiskey Row is set to open next month with a burger that is a unique mixture of chuck, brisket and short rib—and of course, there will be an emphasis on bourbon as well.
February also saw the opening of burger-innovating gastro pubs Mussel + Burger Bar as well as Game. Mussel + Burger Bar—the creation of the Louisville culinary powerhouse Martinez family—features a menu of twelve mind-blowing burgers, including the Seafood Burger, which is a patty made of crabmeat, shrimp and lobster, dressed with avocado, tomato and crabmeat aioli. Then, there is Game, which is an offshoot of one of Louisville's favorite restaurants, Hammerheads. At Game, you create your own burger by choosing your "game" (ostrich, kangaroo, duck, lamb, elk, venison, antelope, wild boar, salmon, angus), your cheese, and your choice of extra (options include foi gras, pork belly, bacon and caramelized onions).
Needless to say, Louisville natives and visitors alike are excited about what is happening to burgers and bourbon in the Derby City.
Image courtesy of Dish on Market.
Editors' Recommendations