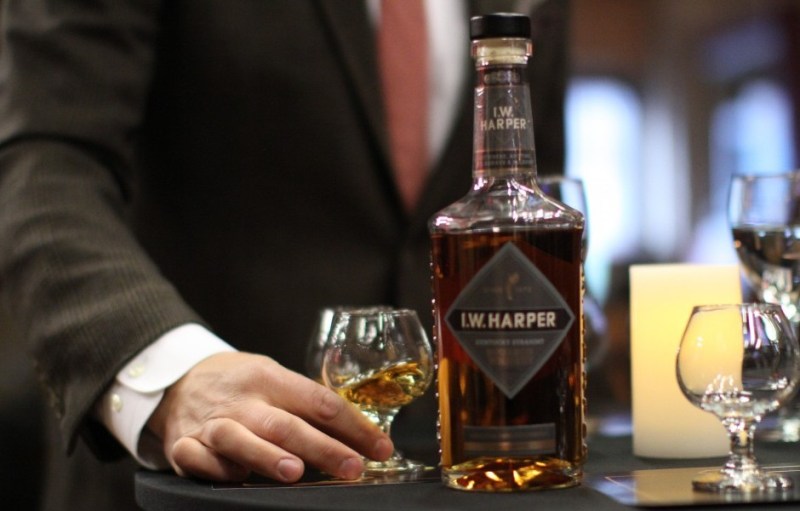 Whiskey is fickle. Sometimes it makes you feel relaxed and in control, other times it gives you an excruciating headache. Sometimes whiskey sticks around in your liquor cabinet for years, and other times it leaves you — as American whiskey brand I.W. Harper did when they ceased U.S. production in the 1990s.
After more than 20 years abroad, I.W. Harper is back and asking our forgiveness. Will we give it? Hell yes we will. That's the thing about good whiskey — you can't stay mad at it for long.
I.W. Harper's roots go back to 1867, when Isaac Wolfe (I.W.) Bernheim left Germany and arrived in the U.S. with just four dollars in his pocket. Within a few years, he and his brother Bernard had started distilling their fine Kentucky whiskey and were racking up the awards — including a Gold Medal at the 1893 Chicago World's Fair.
The Bernheim Brothers continued to thrive, even through Prohibition. Though the manufacture and sale of alcohol was illegal between 1920 and 1933, the government allowed the brothers to continue whiskey production for medicinal reasons *wink*. The I.W. Harper bourbon wasn't one of the medicinal whiskeys, but the brand endured anyway. Go figure.
Related: Drink More Whiskey: Everything You Need to Know
Indeed, I.W. Harper emerged from Prohibition like a resplendent, golden phoenix. People were spellbound by the bourbon's delicious taste and the classy ceramic
decanter (pictured). I.W. Harper was even mentioned by name in the James Bond novel On Her Majesty's Secret Service. With Spectre hitting theaters on November 6, we can't think of a better time to revisit this worldly spirit.
In the 1990s, the winds of opportunity blew east, and I.W. Harper set up shop in Asia to take advantage of the huge market's growing taste for whiskey. For the next 20 years, the American whiskey was only available overseas. Disappointing, perhaps, but what's more American than leaping on lucrative business opportunities?
The important thing is that I.W. Harper is back, and we're willing to accept them with open arms and mouths. They are, after all, offering two tasty whiskeys — Kentucky Straight Bourbon Whiskey (about $35), which has notes of vanilla; and 15-Year Old Kentucky Straight Bourbon Whiskey (about $75), which boasts hints of caramel and dried fruit.
If you've ever wondered what redemption tastes like, try a glass of I.W. Harper neat. You might also try it in the Old Fashioned recipe below; in fact, I.W. Harper might just be the best possible bourbon to use for this classy standby.
Old Fashioned
Ingredients:
1.3 oz. I.W. Harper Kentucky Straight Bourbon Whiskey
Bar spoon of brown sugar
Dash of orange bitters
2 dashes aromatic bitters
1 cherry
1 orange twist
Method:
In an Old Fashioned glass, muddle bitters and sugar. Add bourbon and ice, then stir with a bar spoon. Garnish with a cherry and orange twist.
Editors' Recommendations