One of our favorite restaurants and general hangout spots in Charleston, South Carolina, is Harold's Cabin. Located in the quiet and cozy neighborhood of Hampton Park Terrace, away from the buzzing tourist area, Harold's Cabin is a lovingly restored corner store that used to served the community from the 1920s to the 1950s.
The curated building, which is refreshingly more Asheville lumberjack than Charleston prep, has received lots of buzz partly because of its aforementioned location in an out-of-the-way neighborhood and partly for one if its investors: Mr. Bill Murray. Yes, Bill Murray hangs out there, but no, don't go just because you may see him. The food and drinks are worth the visit alone. A Murray sighting is just icing on the cake.
The menu is heavy on local vegetables, some of which are even grown on the rooftop. But don't worry, there is also a pork loin on that will make you mighty happy and hush puppies that may bring a tear of joy.
The bar is equally appealing thanks to the well-loved lead bartender, Drew Childers. His carefully concocted cocktails have the lounge area pulsing on a nightly basis (and even during the day for those much adored day drinkers).
On our visit, Childers shook up his version of a margarita named for Harold's Cabin's official mascot, the Salty Raccoon. Made with tequila, lime juice, and simple syrup, this drink gets an added herbal kick thanks to a charred sprig of rosemary.
Salty Raccoon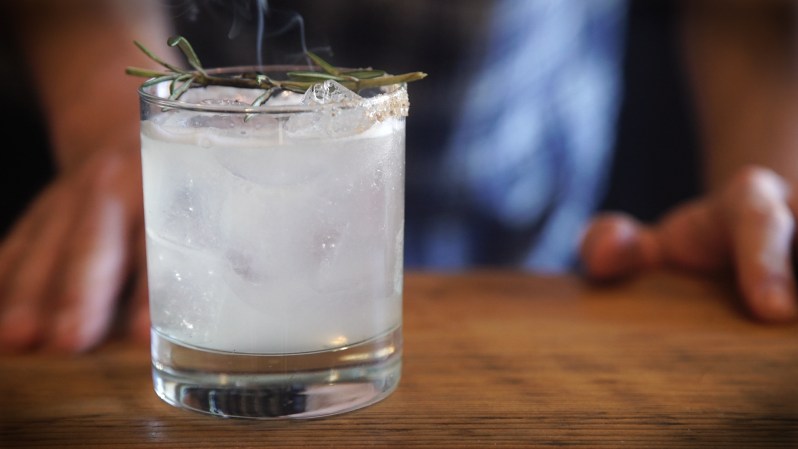 Method: Line half the rim of a rocks glass with smoked sea salt. Add ice and set aside. Mix all ingredients in a shaker with ice. Shake and strain into the ice-filled glass. Char a sprig of rosemary and add as garnish.
*Rosemary simple syrup
2 cups sugar
1 cup water
4-5 sprigs of fresh rosemary
Method: Bring cup of water to a boil. Add sugar and rosemary. Remove from heat and allow to cool. Strain into jar and refrigerate for up to two weeks. 
Article originally published March 17, 2017. Last updated March 20, 2018.
Editors' Recommendations