No, this is not a classic Bill Murray deadpan joke. Trust us on this one.
A known golf-lover since childhood (Murray and all his brothers were all caddies growing up, and all were inducted into the Caddie Hall of Fame) and recognized as an active golfer since his beloved portrayal of Carl Spackler in Caddyshack, Murray recently teamed up with his brothers and Resignation Media (owners of entertainment website The Chive) to bring you William Murray Golf, a line of golf-wear and apparel created with the goal of bringing a little Murray Family fun and irreverence to a traditionally staid and sedate sport.
As Murray's youngest brother Joel explains, ""Growing up caddying helped us learn about strict adherence to rules and subservience. Caddying also helped us learn we had no interest in either."
And it's that indifference to the formalities of the golf world that can be seen in the design elements and styling of William Murray Golf. With a full roster of polos, t-shirts, shorts, hats, and the world's first golf button-down—which Bill loves and employs as his signature course style–Murray's apparel line covers all of golf's sartorial selection with an off-the-cuff mentality and flare. But, just because the clothes are fun and fresh doesn't mean they aren't full-on sports wear.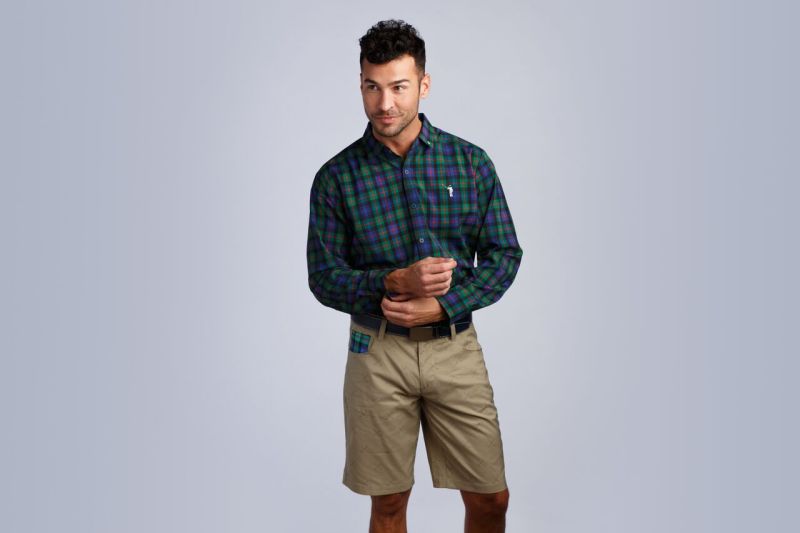 The Murray Tartan button-down—available November 15—is made with the tartan pattern found on the Murray Family Crest and is cut in such a way that it won't affect your golf swing. With moisture-wicking fabric to keep you dry all day on the links, wrinkle-resistance, four-way stretch, and an ultraviolet protection factor of 50+, the Murray Tartan can easily go from the the office to the fairway without looking amiss at either. The rest of the line–shorts, hats, and t-shirts–all feature many of the same design characteristics, such as breathability, sun protection, and that four-way stretch that allows for supreme ease of movement.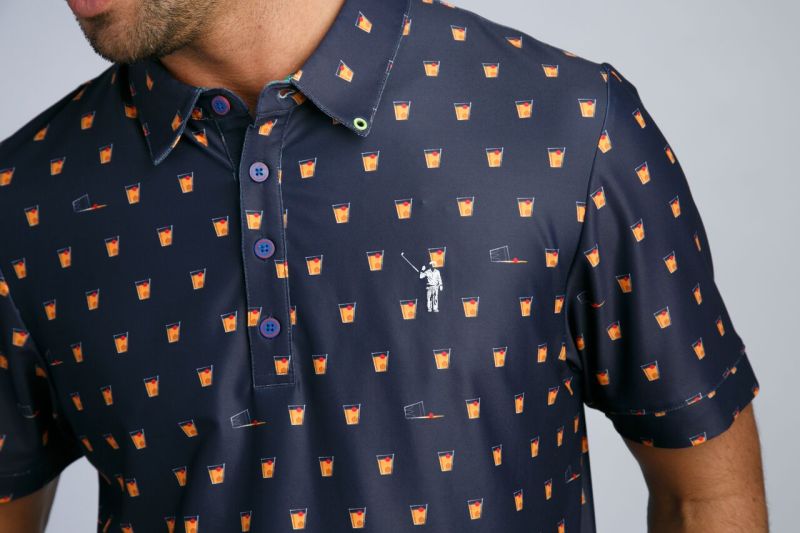 The logo on William Murray Golf clothes is none other than Bill Murray himself, in silhouette and tossing a golf club–taken from his infamous golf-club hucking meme. Other playful design additions include a polo featuring Old Fashioneds, with a few spilled here and there for that true Murray spirit.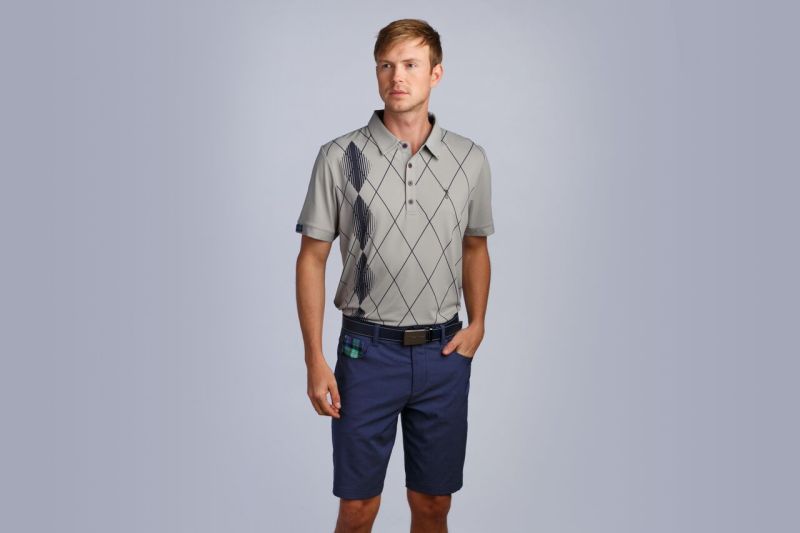 As William Murray Golf mentions on its own website, "Golf can be stuffy and somewhat boring. William Murray Golf is about infusing the game with energy and a little irreverence, while still respecting the game. Who says you have to wear a striped polo and play the traditional 18 holes? A new tradition begins." So snag a button-down, toss in a great cigar, and head out for the green in Bill Murray style. Just try to avoid any gophers.
William Murray Golf apparel is sold exclusively through thechivery.com.