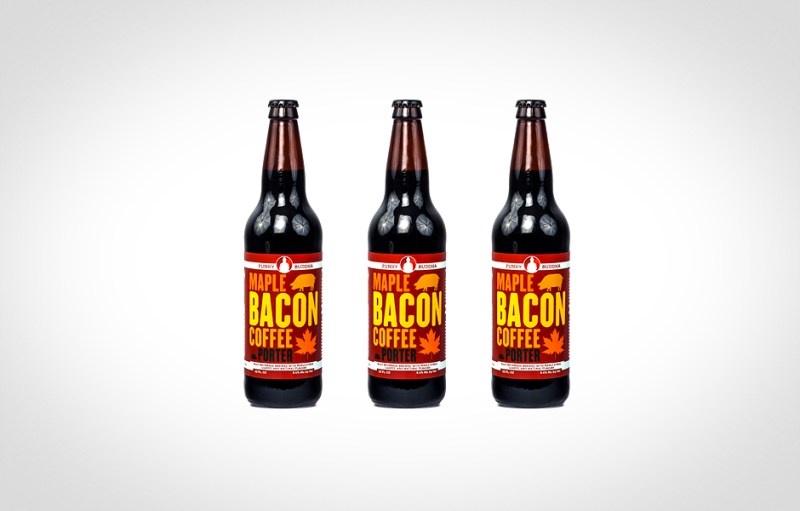 Here at the Manual, we're total advocates of having breakfast any time of the day, in anything. There's the famous Secret Breakfast ice cream, which is made with bourbon, caramelized corn flakes at Humphry Slocombe in San Francisco; hamburgers with bacon and eggs and Funky Buddha Brewery's latest special release, the Maple Bacon Coffee Porter. Here's what the folks over at this Oakland Park, Florida brewery say about it:
"Evoking a complete diner-style breakfast in a glass, Maple Bacon Coffee Porter is a complex beer with a multitude of flavors at play. It pours an opaque ebony brew with a frothy tan head. Aromas of sticky maple syrup, coffee, and cream creep forth from the glass. The mouth feel is luxuriously creamy, with layers of sweet malt, toffee, and roast giving way to waves of smoke, coffee, and salted chocolate. It finishes sticky, rich, and sweet, with the flavor of maple syrup lingering pleasantly on the tongue."
Hints of bacon, coffee and maple in a smooth porter? Sounds amazing to us. It's everything we love about the first meal of the day rolled up in to one delicious beer, so we can enjoy it during happy hour, or while watching the game, or to unwind after a long day at the office. And if you're curious about Funky Buddha Brewery's other special releases, so are we. They include names like Don't Tell Reece Peanut Butter Cup Brown Ale, Chocolate-Covered Cherry Porter, Bonita Applebum, Blueberry Cobbler Ale, Dubbel Dragon and Actchung, Daddy! Berlinerweiss. Now doesn't that sound interesting?
For more information, visit funkybuddhabrewery.com.
Editors' Recommendations