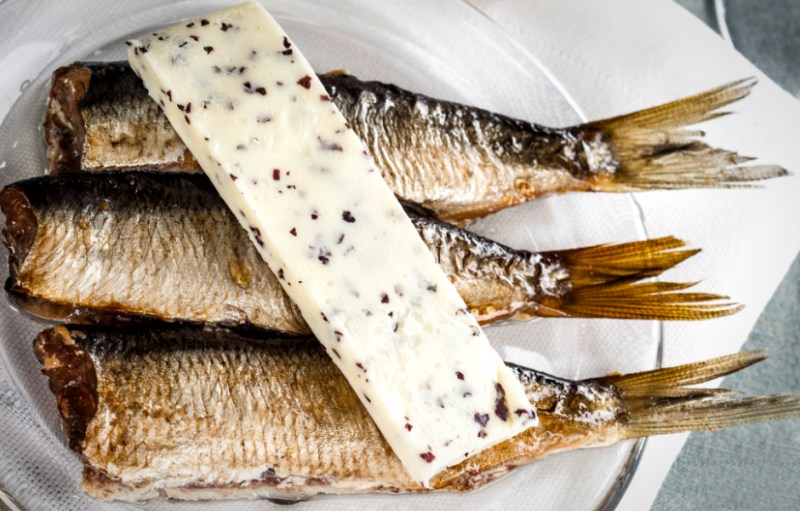 French Louie is one of the newest restaurants to open on Atlantic Avenue in Brooklyn—one of the borough's biggest thoroughfares. The stretch of road that extends from the shadow of the Barclay's Center to the waterfront has become an increasingly boutique and popular part of New York City. And French Louie's "capital F" French cuisine is a welcome addition to the neighborhood.
Chef Ryan Angulo and his business partner Doug Crowell met each other through Craig's List in 2007. These days, it's extremely common to meet your future husband or wife online. But meeting a business partner for a restaurant venture? That's a much rarer occurrence. "It's not really the position I think you want to be in," Chef Angulo told us. "It would be better to open a restaurant with someone you have known and worked with and schemed with for years. That's the position Doug and I are in now, with French Louie. But neither of us knew anyone we would want to work with so we were both just searching online."
Crowell had found a space to open a restaurant on Brooklyn's Court Street and wanted to open a bistro. After looking at "hundreds of resumes" over months and "interviewing 10 chefs and doing tastings with four of them," Crowell did a tasting at Chef Angulo's apartment. "He was in this tiny apartment in Queens and he and his wife really went all out to serve this amazing five or six course meal. It was all food that I loved and could imagine serving," Crowell said. "Ryan just immediately saw what would work in the space and he came up with a menu that I loved. That night I knew he was the guy."
The two opened Buttermilk Channel on Thanksgiving in 2008 and the restaurant fast became one of Brooklyn's prized dining destinations—including such patrons as royal musical couple Jay-Z and Beyonce. After running Buttermilk for a few years and getting a trusted staff in place, the partners began looking for a new challenge. After traveling toParis frequently over the past few years (and being inspired by the bistro Le Comptoir), the two decided to make their own, traditional Parisian bistro in Brooklyn.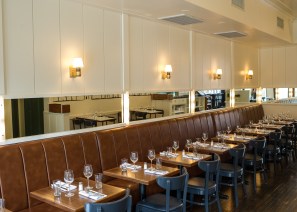 Perhaps the signature dish on French Louie's menu is the smoked sardines with dulse butter, which was a dish Chef Angulo was set on featuring. "It's an idea I had in Paris where I was served smoked herring with butter at a great bistro," Angulo explained. "We get them in fresh. They need to be scaled and cleaned and boned, which is a delicate and time consuming operation. We cure them lightly and smoke them. We go through a lot, they are very popular."
Likewise, Crowell, who has a way with wines, had some requirements of his own. "I was so excited to put together a French wine list.  There was one wine I had to have, the Domaine Faury Saint-Joseph. It's a smoky, savory, northern Rhône syrah. I tasted that wine two years ago and thought, 'I want to open a French restaurant and serve this wine.'"
Elsewhere on the menu, there is the pork and rabbit rillettes with huckleberry mustard, cornichon and ficelle (or on a small baguette). The combination of sweet and savory is pitch perfect in every bite. "I love rillettes and I love rabbit. Adding pork to rabbit makes sense for flavor and to add fat. It's best if you just pick up the whole thing and eat it."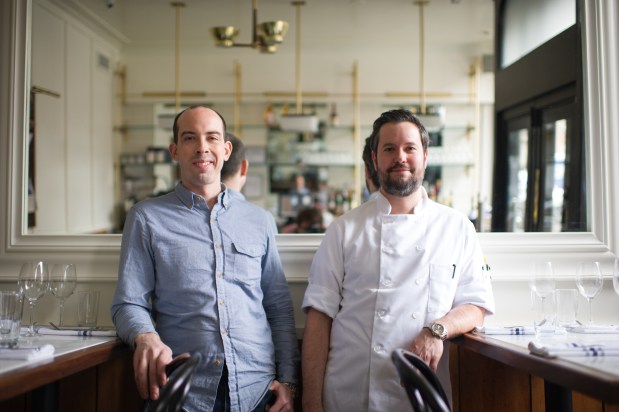 Chef Angulo takes pride in indulging in all the flavors of French cuisine while also playing around within the parameters of the culinary tradition. "It's a beautiful cuisine that has given us so many essential techniques, dishes and traditions. It's been wonderful to be able to look into that vast repertoire and put my own spin on those ideas based on my experience and the ingredients we have available," Angulo explained. "At French Louie I use some traditional French techniques and preparations (the Lamb Navarin, the Duck 'Allard,' the soup en croute). Other dishes start with a French idea and add American influences. Like the snails. Snails are a French ingredient, but we serve them with grits from a water-powered mill in Tennessee and with a marchand de vin sauce, which sounds French but is really from Louisiana Creole cuisine."
So, as you can see, partnerships can arise in the most unlikely of situations. But when it comes to restaurants, it's all about the chemistry. And that's something that Angulo and Crowell have in spades. Making French Louie a must have dining experience.
Interiors and portrait courtesy of Daniel Krieger.
Editors' Recommendations